So, what's going to be in your kitchen?
The traditional pressure cooker – or the Instant Pot?
Both of them offer the same benefits of pressure cooking (energy-saving, time-saving, nutrient retaining, and more).
So:
what's the difference between a pressure cooker and an instant pot, and which one is better in terms of efficiency, safety, and variety of cooking?
This post contains affiliate links. Find more info in our disclaimer.
What's the Difference Between an Instant Pot and a Pressure Cooker?
The biggest differenceד between a traditional pressure cooker and an Instant Pot is the level of pressure that can be reached (A traditional pressure cooker can reach a higher PSI), the convenience level (Instant Pot wins), and the multitasking abilities (Instant Pot is better). 
Pressure (PSI)
Safety
Programs
Price
Instant Pot


PSI of 12
Safety Valve
10+ safety features with UL certification
Up to 13 programs
$$
Instant Pot

PSI of 15
Safety Valve
Low/High Pressure
$
Comparing the Instant Pot with the traditional pressure cooker according to PSI (pressure abilities), auto programs, safety, and price.
Both the Instant Pot and the pressure cooker are closed vessels with a tightly fitting lid that confines the steam until a high pressure is generated, raising the boiling point of the water greatly.
A safety valve stops leaks and prevents explosions, by controlling the pressure inside the container.
Basically,  you can do anything and everything using an instant pot, including:
Slow cooking
Rice cooking (See the best

mini rice cookers

for travel!)
Steaming vegetables
Saute
Keep food warm
Make yogurt
And with the more advanced models, you can even make cakes, eggs, and spaghetti squash!
You can use the Instant Pot for cooking your breakfast, lunch, and dinner with ease. You can even make cold dishes,
On the other hand, a stovetop pressure cooker can only be used for faster cooking of food that takes a long time to cook with conventional methods.
For example, foods like:
Stews
Beans & lentils
Tough cuts of meat
Squash
Soup
Potatoes
Whole chicken, or homemade stocks.
Cooking Time
Pressure cookers save a lot of time compared to traditional cookers.
Foods like rice take about 3 minutes and dry beans can take less than 30 minutes. The Instant Pot is great for busy people with limited time and gets your food cooked as fast as possible.
Thanks to the multi cooking abilities, you can cook several meals in less than 30-40 minutes.
Ease of Use
With an Instant Pot (which is a brand name, often confused with electric pressure cookers in general), you can set the cooking time, the timer, and the food type you want to cook. You do not have to watch it constantly the way you have to do with a traditional stovetop pressure cooker.
Also, with a traditional one, you can only choose between low or high pressure.
With the push of one button, you can make ribs, soups, beans, rice, poultry, yogurt, desserts, and more –  up to 6 times faster than a standard method of cooking.
Also, instant pots are super easy to clean and are dishwasher-safe.
However, when you first look at the Instant Pot manual, you may get a little dizzy. A lot can be done with it, but it takes time to learn and use all the features optimally. Take it under consideration.
Safety
While old-time pressure cookers were often subject to an explosion, that could cause an injury or at least a great big mess,  the Instant Pot is designed with safety mechanisms that make it much safer to use.
The Instant Pot inner pot is made up of stainless steel, so it doesn't flake like conventional non-stick surfaces that can also be a potential health hazard when ingested.
👉 Bottom Line
The modern, electric pressure cooker, and specifically the Instant Pot, is the superior choice in all terms, including the technology, the accuracy of cooking, the ease of use, and most of all – safety.
Instant Pot and Pressure Cooker Pros & Cons
Pros
Cons
Stove top
Pressure Cooker
● More suited for browning meats
● Builds pressure more quickly than instant pots
● Usually comes with a pressure regulator
● More durable than instant pots

● Demands more attention
● Can only be used for pressure cooking
● Extremely noisy

Instant Pot
● A wide variety of models and sizes
● quieter than stovetop pressure cookers
● Set and forget
● More than just pressure cooking
● Adjusting the pressure per your needs

● Demands more attention
● Can only be used for pressure cooking
● Extremely noisy (and scary)

Pressure cooker vs. Instant Pot pros and cons
Best Overall Instant Pot – DUO60 6 Qt 7-in-1
Through our research, the Instant Pot DUO60 6 Qt 7-in-1 is the best Instant Pot model in 2021.
It includes 14 smart preset programs, 6.5 Quart size/capacity, a stainless steel steaming rack, and 7 functions.
The 7-in-1 instant pot can speed up your cooking process by 2-6 times, and keeps the food warm for up to 24 hours, thanks to the automatic "keep warm" mode.
Also, it has 12 preset temperatures, which means you can expect some consistent cooking.
It's not the most versatile model, but it's the best return for your money and costs 50% less than the newest Ultra 10-in-1.
However, there are only 2 colors to choose from, black and silver.
Best Stovetop Pressure Cooker – Calphalon 6-quart Pressure Cooker
Calphalon 1859693 is a high-end electric pressure cooker that is extremely easy to use. You can lock it with the touch of a button, and it reduces the cooking time by over 50%.
You can use this power pressure cooker on all kinds of stovetops, including induction, and it is stovetop and dishwasher-safe.
Also, using the pressure indicator, you can determine the cooking time easily.
The Top 6 Instant Pot Models 
The insanely popular electric pressure cooker – the Instant Pot – comes in 10 available models.
But, what's the difference between the instant pots?
We've selected the top 6 Instant Pots and reviewed them for you.
All Instant Pot models cook food up to 7 times faster, all components touching the food are food-grade stainless steel, including the inner pot, the steam racks and handles, and the lid, and are Ul certified with all safety mechanisms.
1. Instant Pot Duo Evo Plus 9-in-1 Slow Cooker
This best-selling model offers the functionality of 9 different appliances in one powerful electric pressure cooker and cooks any food up to 70% faster. Score!
The Duo Evo 9-in-1 functions as a pressure cooker, slow cooker, rice cooker, yogurt maker, egg cooker, saute, steamer, warmer, and sterilizer, and it makes cake too!
2. Instant Pot 60 Duo Plus 6 Qt 9-in-1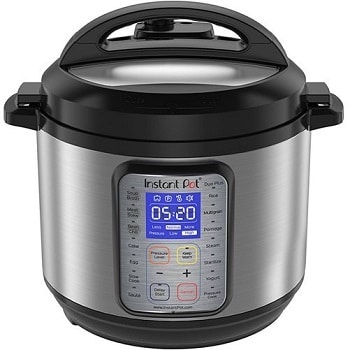 This model is the upgraded Duo version, which includes the easyseal lid that seals automatically when pressure cooking, and a cooking progress indicator, to let you know when the cooking begins.
The 9 functions are the same as in the first model above.
3. Instant Pot Duo Nova 7-in-1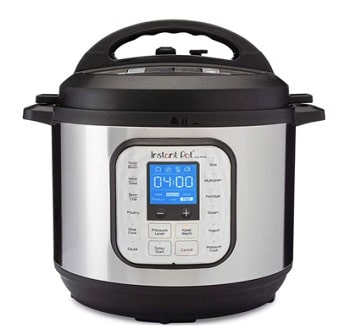 For a much lower price (and just a little less variety of uses), you can choose this model that comes in 2 different sizes – 3 Qt, 6 Qt (the most popular size), and 8 Qt.
The Duo Nova functions as a pressure cooker, slow cooker, rice cooker, steamer, sauté pan, food warmer, and yogurt maker.
4. Instant Pot Smart WiFi 8-in-1
This "smart" Instant Pot is incredibly smart and works with Alexa.
You can add voice control by pairing it with an Alexa device and using the app to access more than 1000 pre-programmed recipes, follow the cooking progress, and receive alerts on your mobile device.
The Smart wifi model functions as a pressure cooker, slow cooker, rice cooker, yogurt maker, cake maker, sauté pan, steamer, and food warmer.
And, it comes with 13 one-touch programs for cooking ribs, soups, beans, rice, poultry, yogurt, desserts, and more.
5. Instant Pot Max 9-in-1
The unique feature of the Max 9-in-1 is that you can use it for home pressure canning!
The large touch screen allows you to set time, temperature (accurate temperature control within +/- 1°C or 1. 8 °F), pressure level, delay start, and Warm.
This is also the safest Instant Pot model, with no less than 13 safety mechanisms.
6. Instant Pot Ultra 10-in-1

Best Value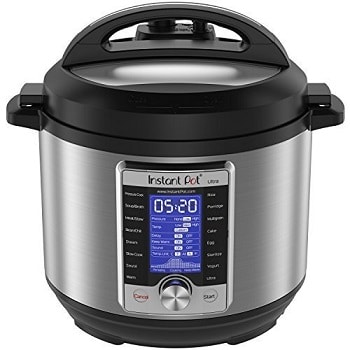 This instant pot is the next generation of cooking appliances. It comes with innovative features such as altitude adjustment, a steam release reset button, and a cooking indicator. You can also custom program it using the Ultra button.
It functions as a pressure cooker, slow cooker, rice/porridge cooker, yogurt maker, cake maker, egg cooker, sauté/searing, steamer, warmer, and sterilizer.
How to Use an Instant Pot
For the beginners out there, here's a detailed video guide for using the Instant Pot:

Instant Pot vs. Rice Cooker
The main difference between an Instant Pot and a rice cooker is that the instant pot is a multi-tasker with many cooking options and abilities, while the rice cooker is supposed to be dedicated to cooking only rice.
However, the best mini rice cookers can also be used for more things, such as making dumplings and steaming vegetables, and are perfect for couples or for travel.
Bottom Line
As shown in this comparison guide, going for an Instant Pot to cook your meals daily is most definitely the better choice.
Instant pots are superior to traditional pressure cookers in almost every aspect – safety, cooking precision, variety of uses, and after a short learning curb – ease of use.
When choosing between the two, we highly recommend the Instant Pots models reviewed above, and especially the cost-effective and best-selling Ultra 10-in-1 model.
The KM Team