If you live alone or have a small family, a small kitchen, or you just travel a lot – a mini rice cooker can simplify your life and help you make that perfect, fluffy rice for 1-3 people – fast and effortlessly – while saving you a lot of space.
Cleaning is a breeze, and operation is easy – just add water, add rice, close the lid, and boom, you've got a hot, steaming pot of rice in no time.
Small rice cookers can cook brown rice, sushi rice, white rice, and a lot more. Some models come with a steamer that you can use to make dumplings and steamed vegetables.
The only question is:
How do you choose the best small rice cooker for your specific needs?
(This post may contain affiliate links, at no extra cost to you)
Top Pick
Our 2023 top pick is the Aroma Stainless Steel Rice Cooker (3-cup), mainly because it has the healthiest inner pot that won't leach chemicals into your food. Here are more reasons:
It has a glass lid that allows you to watch the cooking process (though it's not necessary)
It's super simple to use with the one-button operation and has a keep-warm option
It's dishwasher-safe and easy to clean
It's reasonably priced
Our top pick for travel (and for making brown rice) is the TLOG compact and lightweight 2-cup rice cooker, which comes with a large and stay-cool handle you can use to carry it around, and a special program for brown rice.
How to Choose a Small Rice Cooker
Here are some of the most important features we looked for:
1. Cup Capacity
How many cups of rice can the small rice cooker handle?
Most small rice cookers have 1.5 – 4 cups of rice capacity. Choosing the size depends on your needs. For example, a 1.5 cups rice cooker is most recommended for travel. 4-cup capacity is better for home use.
2. Variety of Uses
Some rice cookers can do much more than just cook rice. Some can be used to steam food and cook oats and grains. If you only need to cook rice, you can purchase a lower-cost rice cooker and save some money.
3. Inner pot
Make sure the rice cooker's inner pot is made from non-toxic materials.
Stainless steel and ceramic are best, but many models include a nonstick inner pot that is toxin-free.
And now, here are the best mini rice cookers of 2023:
See our top 5 choices in a short comparison table first, or jump to our mini rice cooker reviews!
Comparing the best small rice cookers according to cup capacity, inner pot material, best uses, and price.
What Can You Cook in a Small Rice Cooker?
Mini rice cookers are small and lightweight electric pots made for 1-2 people and work similarly to a slow cooker – cooking food over some time through moist heat, trapping the flavors in the pot.
Rice cookers can cook more than just rice:
In a Mini Rice Cooker, you can cook steamed vegetables, all grains, eggs (boiled/Frittatas), oatmeal, pancakes, steamed meats, pasta, beans, soups, stews, and chillis.
You can use it at home, on the road, in the office, or anywhere you want.
The 8 Best Small (Mini) Rice Cookers 
Here are our top choices:
1. Dash 2-cup Rice Cooker

Best Compact Countertop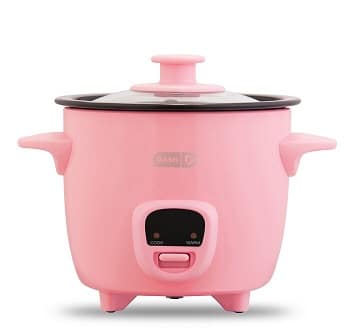 Size – 6" x 6" x  8.5″
Weight – 2.4 pounds
Inner pot – PFOA-free nonstick coating
✅ $22 on Amazon
This popular 2-cup rice cooker is more than just a rice cooker and can be used to steam vegetables, make soup, stew, pasta, oatmeal, and more – for 1-2 people.
Anything you put inside the
Dash rice cooker
– with water – will be cooked perfectly
in less than 20 minutes
 and will keep warm once it's done, and the colorful design will add to any kitchen decor.
The Dash's small size and weight and ease of use make it perfect for travel, small apartments, or college dorm life.
It comes with a rice paddle and a measuring cup, a recipe book, and is made with PFOA-free nonstick coating.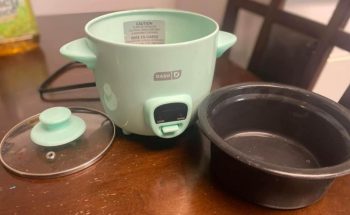 Pros
Great design – 5 colors to choose from
Comes with recipes
nontoxic coating
Lowest price mini cooker on this list
Cool-touch handles
Pot is removable
Cons
Can only make 1 cup of uncooked brown rice
✅ Available on Amazon ($22)
2. Aroma 3-Cup Mini Rice Cooker 

with Stainless Steel Inner Pot
Size – 10″ x 8″ x 8″
Weight – 4 pounds
Inner pot – 304 stainless steel
✅Available on Amazon ($35)
This budget-friendly small rice cooker only requires one push of a button to make up to 6 cups of cooked rice – inside a toxin-free, surgical-grade 304 stainless steel cooking bowl, and a tempered glass lid.
It's simple to use, it has the healthiest inner pot (toxin-free stainless steel), and a see-through glass lid, and it can be used for much more than just rice.
(👉 We always search for PTFE-Free cookware and kitchen appliances, to avoid the dangers of Teflon chemicals)
When you buy it on Amazon, it comes with a rice Measuring Cup and a serving spatula.
Aroma Mini Rice Cooker Pros
Cooks rice within 15-20 minutes
No need to monitor – automatically switches to warming mode when cooking is done
Made of toxin-free materials and is dishwasher safe
Cons
No fuzzy logic
If left too long in the "warm" mode – rice may stick to the bottom
✅Available on Amazon ($50)
3. Zojirushi 3-Cup Mini Rice Cooker

Best Japanese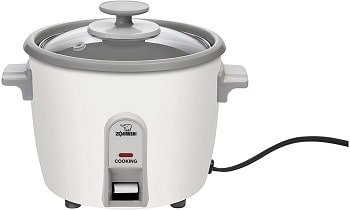 Size – 7.5″ x 9″ x 7.5″
Weight – 3 lbs.
Inner pot – nonstick
✅ $51 on Amazon
This 3-cup Japanese (made in Japan) rice cooker is one of the highest-rated ones on Amazon and comes with a detachable power cord, which makes it very convenient to use when traveling.
This portable rice cooker is very easy to use with single switch control, a see-through lid, and a stay-cool knob and handles. The nonstick inner pot keeps the food warm after the cooking is done, and it comes with a special measuring cup.
When you order from Amazon, you'll also get a Spatula, Measuring Cup, and Steaming Tray.
All in all, a good return for your money.
Pros
Highly portable rice cooker
The glass lid allows you to monitor the cooking
Rice is done in 15-20 minutes – very fast
Fit for travel and easy packing
You won't burn your hands, thanks to the stay-cool handles and knob
Comes with free tech support on Amazon
Cons
Doesn't come with a steamer tray
Nonstick inner pot – potentially includes toxic ingredients
✅ Available on Amazon ($51)
4.  Panasonic 1.5-cup Rice Cooker

Smallest Rice Cooker
Size – 6″ x 7.5″ x 7″
Weight – 1.5 pounds
Inner pot – nonstick-coated aluminum
✅ $39 on Amazon
This single-serving rice cooker comes from the well-known Panasonic brand and has high user reviews on Amazon.
It only weighs 1.5 pounds and automatically cooks rice in one push of a button.
The Panasonic mini rice cooker pot is nonstick coated aluminum and cleans easily, even if you just made a mac n' cheese meal, and the lid is made of glass with a plastic white knob.
Accessories included: a measuring cup
Pros
Lightweight and good for travel
Automatically cooks and shuts off
Can make enough rice for 4 people
Easy to operate
Cons
You'll need to steer the food once the cooking is done to the food at the bottom from becoming crunchy
Nonstick-coated aluminum may contain toxic chemicals
✅ Available on Amazon ($39)
5. White Tiger 1.0 L Mini Rice Cooker

Most Accesories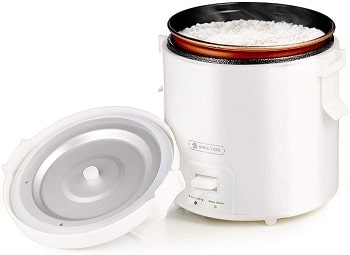 Size – 6.5″ x 6″ x 8″
Weight – 2.55 pounds
Inner pot – PFOA-free nonstick coating
✅ $47 on Amazon
The White Tiger 3-cup super-popular rice cooker (for 1-2 people) perfectly cooks a variety of rice – basmati, jasmine, brown rice, red rice white rice – evenly.
Users report no burning or undercooked food, and many mention how easy it is to clean.
This one cooks fast, and the fact that it is smaller gets your rice done in just 15 minutes!
It comes with a rice paddle, rice spoon, measuring cup, and a removable pot with PFOA-free nonstick coating.
White Tiger Mini Rice Cooker Pros
Great for travel
Very easy to use and clean
Keep warm function keeps the food warm
24-hour customer service & 1-year warranty
Cons
The silicone gasket is thin. It does not seem durable.
✅ Available on Amazon ($47 with code under the price)
6. BLACK + DECKER 3-Cup Rice Cooker

Best Budget
Size – 8″ x 8″ x 6″
Weight – 2.5 lbs.
Inner pot – nonstick
✅ $15 on Amazon
The 3-cup mini rice cooker by the well-known BLACK + DECKER brand is a refreshing surprise that proves that a low price does not necessarily mean a bad product.
This model is the lowest-cost small rice cooker you'll find on the market and is simple to use with only 2 buttons – cook and heat.
After the cooking is done for you (make sure to rinse the rice first!), the heat function will keep it warm for you until you are ready to eat.
The inner pot is nonstick, and you get a nonstick measuring cup and spoon too – to avoid scratching the pot.
The parts are dishwasher safe, and the design is durable and long-lasting, according to consumer testimonials.
For a price of 8 cups of coffee, this is probably the best cheap mini rice cooker in 2023.
Pros
Very affordable price
Durable design, simple to use
Comes with a measuring cup, spoon, and steamer
2-year warranty
Cons
No advanced features
The inner pot is nonstick (Teflon)
✅ Available on Amazon ($15) and at Walmart ($20)
7. TLOG Mini Rice Cooker

Best for Travel
Size – 8″ x 7″ x 9″
Weight – 2 lbs.
Inner pot – ceramic coating
✅ $55 on Amazon
The first thing that jumps into our minds when we see the TLOG mini rice cooker is the large and comfortable handle that allows you to easily carry it with you for travel, work, college, and camping.
Plus, it only weighs 2 pounds!
The handle stays cool if you want to carry it when the lid is still hot.
However, its measuring cup is small, so this one can cook only 1 standard cup of rice.
The TLOG rice cooker is very versatile – it can also serve as a vegetable steamer, oatmeal maker, yogurt maker, spaghetti maker, and soup pot, and it has a special program for making brown rice.
The power cord is removable, which makes it easy to pack, and the user-friendly buttons (with pre-set programs) and LED indicator light make it easy to operate in dark places as well.
The inner pot is made from non-toxic materials, and so are the added accessories – a measuring cup, spoon, steam tray (stainless steel), and a clamp for the steam tray.
Pros
Perfect for travel and camping and lightweight
User-friendly panel and LED indicator light
Auto keep heat
Helpful accessories, made from stainless steel
12-hour pre-set to plan your cooking timing
Dishwasher safe
Cons
Can only cook one standard cup of uncooked rice
Pricier than average
The lid gets very hot, do not touch it with bare hands
✅ Available on Amazon ($55)
8. Cuisinart 4-Cup Rice Cooker

High End
Size – 10″ x 10″ x 10″
Weight – 7.4 ounces
Inner pot – stainless steel
✅$54 on Amazon
This stylish, cube-shaped stainless steel rice cooker makes 4-7 cooked rice cups (3-4 uncooked), but can also be used to steam vegetables and chicken, and automatically keeps the food warm when the cooking is done.
The
Cuisinart
has a
convenient control panel and comes with a stainless-steel steaming basket
, non-stick cooking bowl, glass lid, paddle, and measuring cup.
Pros
Extremely lightweight
Chrome-plated handles stay cool
Dishwasher safe
Has indicator lights to show cooking/warming
chrome-plated handles stay cool to the touch.
No splatter – steam vent prevents splattering
Cons
Filling up to maximum capacity may cause overflow and a mess, so make sure to keep it under 4 cups.
You may need to add more water for brown rice, which means you'll have to reduce the amount of rice itself to prevent overflow
✅Available on Amazon ($54)
Want to HEAT/COOK your lunch on the go?
How to Use a Rice Cooker
Japanese rice cookers are so simple. You just cook water and rice – any kind of rice – with as much water as needed – and press ON.
20-30 minutes later, the rice is perfectly cooked.
At this point, the rice cooker switches to WARM, and the rice awaits at a steamy serving temperature until you are ready to eat it.
So, here are the basic steps:
1. Measure the rice, then rinse it. This is optional but it will give you fluffier and more separated grains.
2. Put the rice in the cooker, measure the water, and add it to the cooker.
You'll need the same amount of water as you'd use for stovetop cooking.
Also, you can refer to the manual and take into account the type of rice.
3. Close the lid and switch the cooker to ON or COOK. Listen and look.
When the rice is cooked, the light will change on the cooker display.
Some cookers will beep or signal you differently.
That's it, rice is cooked and stays warm and steamy until you are ready to enjoy it.
Pretty cool, huh?
What is the Smallest Rice Cooker?
The smallest rice cooker can cook only 1.5 cups of uncooked rice, which makes 3 cups of cooked rice – best for 1-2 people.
This size is perfect for personal use and travel/camping.
We recommend the Panasonic 1.5 cups mini rice cooker.
What Types of Inner Pots Do Rice Cookers Have?
There are 3 common types of rice cooked inner pots:
1. Stainless steel – durable and healthy. They are versatile and can be used to cook pretty much anything, and they do not leach chemicals into your food.
However, they are more sticky than nonstick coating and less easy to clean.
2. Non-stick –  popular because they are incredibly easy to clean.
The non-stick coating keeps the rice from sticking to the bottom and sides of the pot.
However, over time, the coating wears off, and most are made from Teflon, which can leach toxic fumes of PFTE and PFOA.
👉 READ: Health Hazards of PFOA & PTFE
3. Ceramic – becoming increasingly popular because they are supposed to be natural and eco-friendly.
They conduct heat well and cook rice evenly.
They are also non-stick, versatile, and able to withstand high temperatures.
However, they can be easily scratched, and some ceramic pots may contain toxic coatings.
How Long Does It Take to Cook Rice in a Rice Cooker?
It takes about 20-25 minutes to cook more than 3 cups of rice.
The minimum time is 15 minutes. The smaller the quantity, the less time it will require to cook.
White Rice:
1 cup: 20-30 minutes

2 cups: 40-50 minutes

3 cups: 60-65 minutes

4 cups: 80-85 minutes

5 cups: 100-105 minutes
Brown Rice:
1 cup – 60 minutes

2 cups: 120 minutes

3 cups: 180 minutes
Can You Cook Basmati Rice in a Rice Cooker?
Yes, you can cook basmati rice in a rice cooker. In fact, cooking basmati rice in a rice cooker is a hands-free, no-fuss method to make rice during the week.
Here are the general steps to cook basmati rice in a rice cooker:
Rinse the rice with cold water until the water runs clear
Add the rice to the rice cooker
Add water to the rice cooker according to the rice-to-water ratio specified in your recipe
Add salt and any other desired seasonings to the rice cooker
Turn on the rice cooker and let it cook until it switches to "warm" mode
Let the rice rest for a few minutes before fluffing it with a fork and serving
Note that the rice-to-water ratio may vary depending on the type of basmati rice you are using, so it's important to follow the instructions in your recipe.
What Else Can You Cook in a Rice Cooker?
A good rice cooker is surprisingly versatile and can be used to prepare all kinds of foods, including pizza, chili, ribs, other grains (barley/quinoa), and breakfasts such as pancakes or oatmeal.
Here are some things you can cook in a rice cooker:
1. Other grains such as quinoa, pearl barley, and lentils. Basic rice cookers can cook all types of rice, but they can also be used to cook other grains.
Alternative grains can make a great substitution for standard rice to serve with your meals, and they're great to keep on hand as a nutritious and filling addition to salads, meatballs, stews, or soups.
2. Steamed vegetables and fish – you can use a steamer basket to cook vegetables and fish in your rice cooker.
Simply add water to the cooker, place the steamer basket on top, and add your vegetables or fish.
Close the lid and turn on the cooker.
In a few minutes, you'll have perfectly steamed veggies or fish.
3. Cakes and quick breads – most rice cookers have nonstick bowls, so you can pour cake or banana bread batter right in and cook until an inserted toothpick comes out clean.
4. Oatmeal – You can cook oatmeal in a rice cooker by swapping rice and water for oats and milk.
This is a great option if you don't have easy access to a stove or microwave.
5. Hard-boiled eggs – You can cook hard-boiled eggs in a rice cooker by adding eggs and water to the cooker and setting it to cook.
Once the eggs are done, remove them from the cooker and place them in cold water to stop the cooking process.
6. Chili, pasta, and pizza – – the slow-cooking method of a rice cooker is great for making cheaper cuts of meat tender and delicious.
You can also use it to cook soups, stews, and curries, and to prepare ingredients the night before in the lift-out pot and then leave them in the fridge overnight6
7. Beans – simply add the beans and water to the cooker, and set it to cook.
You can also add spices and other seasonings to the cooker to infuse the beans with flavor.
The KM Team