When it comes to cookware, there's nothing as essential as a good nonstick frying pan.
Anything you cook just glides off the surface, and cleanup is hassle-free.
Over the last century, Le Creuset has become one of the most recognized and respected cookware brands in the world, with their durable, beautiful, and versatile cookware.
However, they are also well known for their above-average price tags.
Is the Caraway fry pan just as good as Le Creuset frying pan – for less money?
You'll find out below, in our Le Creuset fry pan vs. Caraway showdown:
This post contains affiliate links. Find more info in our disclaimer.
👉 In a hurry? See our conclusion below:
So, which pan delivers more value for the money?
Le Creuset Brand vs. Caraway 
Le Creuset is a French brand manufacturing durable and some of the best-designed cookware since 1925. Their timeless Dutch Oven was the first colorful cookware and is now considered iconic, but they also offer high-quality enameled cast iron, stoneware, non-stick, and much more.
In 2021, one of their most popular collections is the Toughened Nonstick Pro collection, which includes pots and pans up to four times stronger than the average cookware.
Here, we are going to focus on their Toughened Nonstick Fry Pan – with sizes available from 8" to 12" inches.
Caraway is one of the popular new kids on the block, giving Le Creuset a run for its money, and gaining recognition from trusted consumer review sites online.
Founded in 2018 by CEO Jordan Nathan, New York-based Caraway is a direct-to-consumer cookware startup, offering eco-friendly ceramic cookware, selling exclusively on their site (which enables them to cut prices).
We'll take a closer look at the Caraway fry pan, and compare it with Le Creuset toughened nonstick frying pan.
Materials
The Le Creuset fry pan is made of forged hard-anodized (and dish-washer safe!) aluminum that enhances its strength and durability, while ensuring quick and even heating.
You just have to take a look at the width of the gage to see how substantial the pro pan is, and how it's going to last for years.
The plate at the bottom makes them induction cooktop safe, gas, electric, and oven safe (up to 500°F).
The textured triple-reinforced PFOA-free coating will not chip or flake, it is completely flat and is ideal for browning and searing – with or without oil – and is super-easy to clean. You can even use metal utensils with this one.
The hollow handles remain cool on the stovetop, however, they will become hot when used in the oven.
In comparison, the Caraway fry pan is made from an aluminum core coated with its proprietary, mineral-based non-stick ceramic enamel (Teflon-free and toxin-free) and a stainless steel plate at the bottom for induction cooking.
Their pots and pans are lightweight, truly nonstick, compatible with gas, electric, and induction stovetops, oven-safe to 650 degrees (compared with 500 degrees for the Le Creuset), and they simply look gorgeous.
The interior is smooth to the touch and has a noticeable soft glow to it that adds to its appeal.
The light gray coating makes it easy to see how the cooking is progressing. However, we wouldn't use metal utensils with this pan.
Design & Versatility
Both frying pans are safe for gas, induction cooktop, electric cooktops and are oven safe up to 500 F (Le Creuset) and 650 F (Caraway).
The Le Creuset Pan features its classic and chic design, with a matte black finish and a stainless steel handle. It also has the Le Creuset logo imprinted on the handle.
Caraway offers pots and pans in gorgeous colors and silhouettes. We feel the design is so gorgeous it actually calls you to use them, and cook more.
The frying pan is available in 5 unique colors – Cream, Grey, Perracotta (pink terracotta), Sage, and Navy. You can also purchase a magnetic rack or a canvas holder for the lid and pan –  when you buy the entire cookware set.
👉 While both frying pans are perfect for searing and browning, users have claimed that the Le Creuset is better at browning and creating that crust we all love.
And what about oven safety?
While both are oven-safe, Le Creuset is oven-safe only up to 500 F, while the Caraway is oven-safe up to 650 F.
Where Are the Pans Made?
All Caraway cookware is made in world-class factories based in China and India, all of which maintain the required standards for BSCI or SMETA.
In the past 90 years, all Le Creuset cookware is made in France – about 100 miles north of Paris.
Price & Warranty
The Caraway 10.5″ fry pan costs $95 with free shipping and returns, and you get a 30-day trial. If you are not satisfied with the pan, you can send it back (in its original packaging) and get a full refund.
However, Caraway reserves the right to charge a 15% restocking fee if the pan is damaged and components are missing.
The Le Creuset nonstick pan comes in 5 sizes (8″ -12″) and priced between $100 – $135 accordingly. Compared to the Caraway 10″ pan, the Le Creuset 10″ pan costs $115, with free shipping, a 90-day trial period, and a lifetime warranty.
So basically, for $20 more, you get a much longer trial period, and a lifetime warranty (for defects in material and workmanship).
And, if you add about $80, you can purchase the Le Creuset 3-piece toughened nonstick pro set, which includes the 10″ Toughened Nonstick PRO fry pan and 4 1/4 qt. Toughened Nonstick sauté pan with glass lid.
In comparison, the Caraway cookware set ($395) includes the 10″ fry pan, the 3qts sauce pan, the 4.5 qt sauté pan, and the 6.5 qt Dutch oven – in 5 beautiful colors and designs.
Le Creuset Nonstick Pan & Caraway Fry Pan Pros & Cons
Caraway Pros
Non-toxic coating is safe
No need for oil, everything glides off easily
Heats fast and evenly
Edges are tall to prevent spills
Oven safe up to 650 degrees
Compatible with all cooktops, including induction
Simple cleanup

Price is lower

than the Le Creuset
Cons
The slippery surface may not allow for deep browning, we recommend cast iron skillets or stainless steel.
Restocking fee applies if you return the pan damaged
Le Creuset Pros
High quality and durable
90-day trial and lifetime warranty with a reputable company
Better at browning and searing
Heats evenly
5 sizes to choose from
Not made in China
Compatible with all cooktops
Oven safe up to 550 degrees
Cons
Pricier than the Caraway – check today's price
Some users stated that the pan turned from nonstick to sticky – after about a year.
Nonstick Fry Pan Alternatives
We've also researched and reviewed other popular nonstick frying pans – such as the Ozeri Stone Earth and Ceramic Earth frying pans.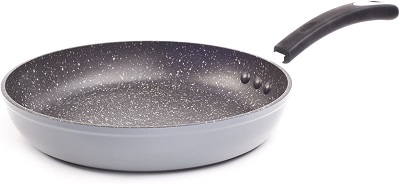 See how they compare to Le Creuset and Caraway – in cooking performance and price!
Any questions? comments? come talk to us on our Facebook page 😊
The KM Team