A good microwave can be used for more than just heating leftover food, and there are many useful and fun microwave accessories and gadgets you can use for different styles of cooking and heating.
In this post, you'll find the best microwave-safe gadgets and accessories to help you make the most of your microwave oven.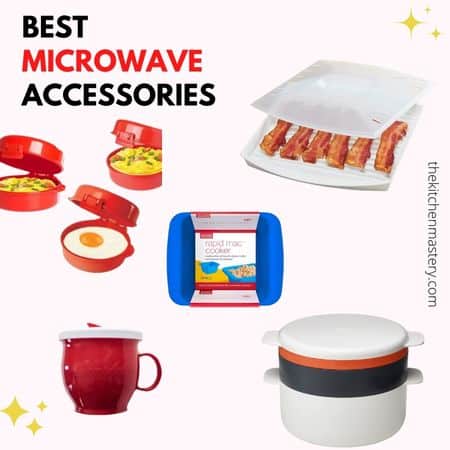 What Type of Microwave Accessories Can You Find?
The most popular microwave oven accessories are microwave plate covers, rice steamers, pasta cookers, bacon/fries crispers or grillers, egg poachers, potato bags, and even mac and cheese cookers.
You can also find microwave replacement parts, such as a glass turntable, a filter replacement, a wheel ring, and more.
👉For small microwaves, see our post about the best mini microwaves.
10 Practical Microwave Accessories & Gadgets
1. Joseph Joseph Microwave Rice steamer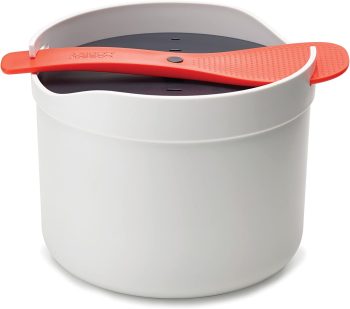 Capacity – 2 liters
Size – 6 inches high (may not fit a mini microwave)
Cook rice easily with a rice measuring jug that allows you to choose how many portions of rice to cook, and it even comes with a small serving spoon. A microwave rice steamer works for all types of, including long-grain rice, and takes about 10 minutes to cook fluffy steamed rice.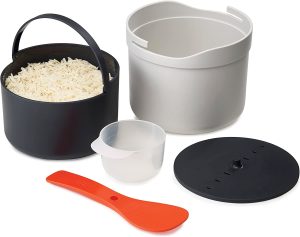 The Joseph Joseph rice steamer is dishwasher-safe, and microwave-safe (no BPA), and can be an alternative to the popular mini rice cooker everyone seems to have these days.
The set contains two large cooking pots with a 2-liter capacity (including a colander with handles for easy serving) and they are all compatible with all microwave power ratings.
✅ Price – $20 at Joseph Joseph, $18 on Amazon
2. Rapid Mac  Cooker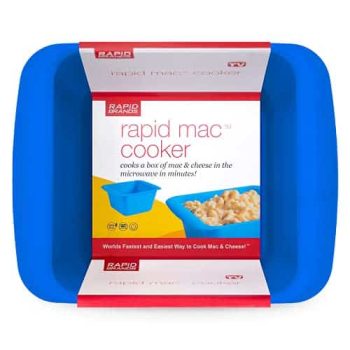 Size – 7.5 x 6.13 x 3.5 inches
Weight – 4.8 Ounces
If you are a mac and cheese fan, for less than $7 you can get the Rapid Mac Cooker – and have your favorite boxed mac and cheese ready – in 5 minutes.
No boiling water, draining, and adding the rest. It takes 1/5 of the time to make macaroni and cheese.
For busy people with hungry kids or college students – this is a well-worth investment (which is reusable for 5 years!)
👉 See the complete list of college kitchen essentials
To get the perfect mac and cheese, all you have to do is add pasta, fill with water to the fill line, microwave for 3 minutes, stir, and microwave for 2 more minutes. Then add seasoning, and enjoy.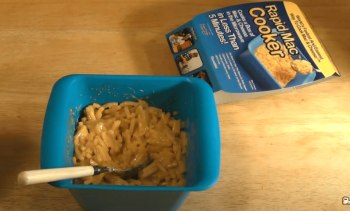 According to buyer reviews, you can also use it for ramen noodles, and oatmeal with no problems.
(However, you'll have to consider the power rating of your microwave for specific cooking time. You may have to experiment a little)
✅ Price – less than $7 on Amazon, or $9 for the 2-piece set at Walmart
👉The Rapid brand (which also makes the popular Rapid Egg Cooker, Rapid Oatmeal Cooker, Rapid Ramen Cooker, and Rapid Cake Baker, makes its microwave cookware from heat-resistant, BPA-free, and dishwasher-safe materials.
3. Microwave Potato Bag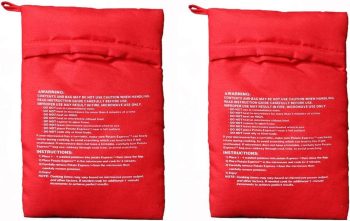 Size – 10 x 8 inch (2-4 potatoes)
Material – polyester
If you regularly cook with potatoes, the OBTANIM microwave potato bag can make your life simpler and easier. It can basically cook any kind of potato perfectly – in about 4-6 minutes. One bag can contain 2 large potatoes or up to 4 small ones.
(It takes about 5-6 minutes for big potatoes and 4-5 minutes for small potatoes)
The potatoes will come out of the microwave soft and ready as if they were boiled for 20 minutes or more. We tried it and were happy to find they didn't come out mushy and dry.
However, the skin will not be as crisp as it is from being baked in the oven.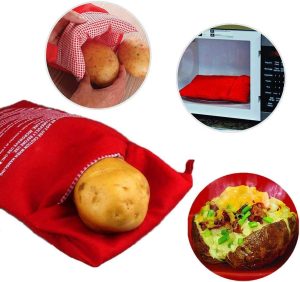 Made from polyester, the potato bag can be reused and machine washed for next time with no hassle, and you can also use it for corn cobs, and cornmeal tortillas!
✅ Price – check the price on Amazon
4. Prepsolutions Microwave Bacon Rack with Lid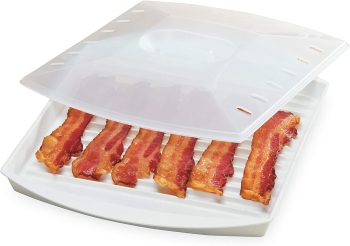 Size – 12 x 10 x 2.25 inches (doesn't fit small microwaves)
If you often cook bacon in a microwave, the PrepSolutions Microwave Bacon Griller is a great alternative to the crisper most people use. It can cook 7-9 bacon strips to perfection, comes with a vented lid (to prevent grease splatter), and the design keeps the bacon elevated to the fat drips off, leaving you with a healthier version, and an easy-to-clean rack (dishwasher safe).
According to buyer reviews, it takes 1 minute per slice of bacon to get them perfectly cooked and crispy.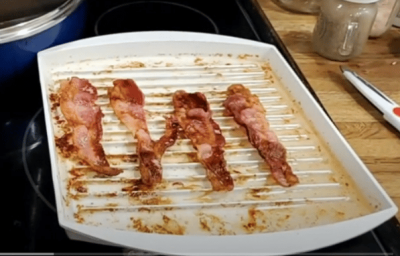 The minimum turntable size for this popular Bacon Griller is 12.5 inches, so make sure your microwave is big enough to accommodate this one (it is too wide for a small microwave turntable – it won't spin).
Use it for more than bacon – cook sausage links, pizza rolls, and taquitos.
✅ Price – $10 on Amazon, same price on Walmart
For a small microwave, we recommend the Bad Boy Bacon Maker, which is made from silicone and accommodates 6 slices of bacon that you put inside, strap it to fold it to a small size and cook for 5 minutes.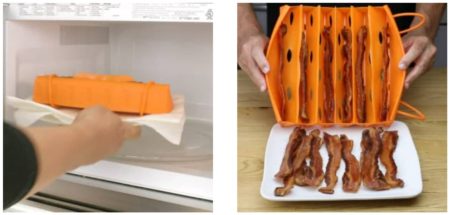 5. Sistema Microwave Egg Cooker and Poacher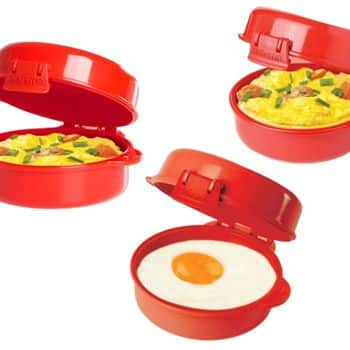 Size – 5.3″ x 4.9″
Material – 100% virgin plastic
The Sistema egg cooker is the most popular microwave egg maker on Amazon and comes with a lid and a steam release vent to make the perfect poached egg, scrambled egg, omelet, or egg muffin for breakfast – in a flash.
Made from 100% virgin plastic (BPA- and phthalate-free), it is dishwasher-safe (on the top rack), and microwave safe. It is even fridge and freezer safe. The small handles are very helpful.
✅ Price – about $9 on Amazon, higher price on Walmart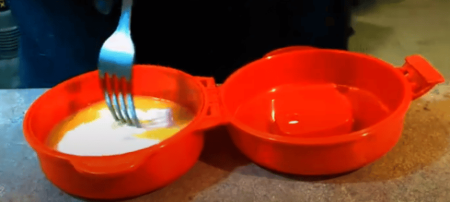 The only problem is that it can only make up to 2 eggs. For 3-4 eggs we recommend the Sistema 4-egg Poacher.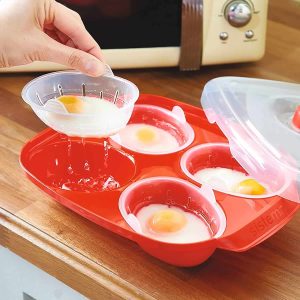 Note: Sistema products are not made in China – they are made in New Zealand.
6. Microwave Plate Cover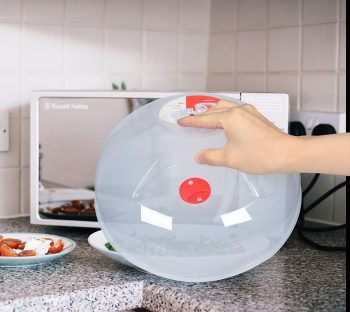 Size – 11.5″ x 4.5″
Material – polypropylene
Probably the most essential microwave accessory, the microwave plate cover acts as a layer on your food and prevents splatter inside so it will be easy to clean.
Most plate covers are made from BPA-free plastic, and the best ones have a steam vent (to allow moisture to escape) and comfortable grip handles.
The popular Layron plate cover is made from PP (polypropylene) – a material for making nursing bottles, is melamine-free, has large grip handles, a steam vent, and is dishwasher safe.
✅ Price – about $12 on Amazon
If you prefer a plate cover made from silicone, we recommend the Kichwit Collapsible Silicone Microwave Plate Cover, which takes less storage space and is made from a natural material. Fits most microwave sizes (11″x3.8″)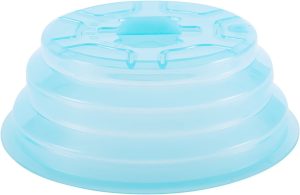 7. Sistema Microwave Steamer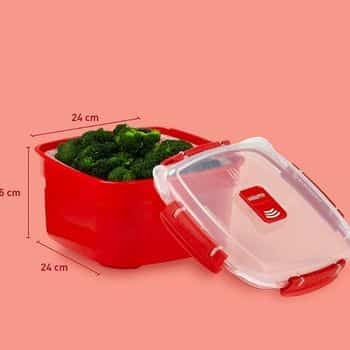 Size – 9.4″ x 9.4″ x 4.3″
Material – Phthalate- and BPA-free virgin plastic
For steaming vegetables, fish, and poultry, we recommend the Sistema Microwave Steamer, which comes with a steaming basket and an outer pot with a steaming vent. The easy-lift tabs help lift it when it is done, and the pot stays cool to the touch.
When you are done eating and you have some leftovers, you can use the same pot to fridge or freeze it.
If you prefer a silicone steamer, we recommend this collapsible silicone steamer with a handle and lid.
✅ Price – $26 on Amazon
8. Microwave Soup Mug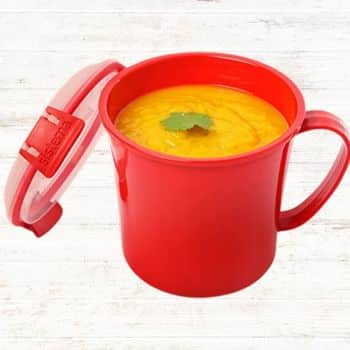 Capacity – 22 ounces
Material – BPA-free plastic
Microwave-safe soup mugs and cups are a safer alternative for to-go containers. Standard mugs may create air pockets that can trap steam underneath the surface, which can sometimes cause the soup to explode in the microwave.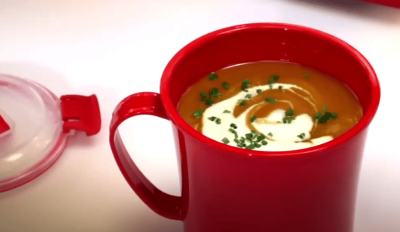 The best-selling soup mug on Amazon is the Sistema Microwave Soup Mug with a lid and steam vent, that can hold 22 ounces (large soup cans) and is made from 100% Virgin plastic (Phthalate- and BPA-free).
✅ Price – about $14 on Amazon
We also like the prettier Evriholder Campbell's Micro Microwave Mug, which can also hold 22 ounces and is made from hard plastic (BPA-free), and has an airtight and leakproof lid with a built-in steam release vent.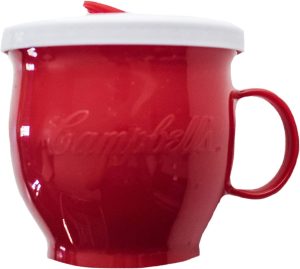 You can use soup mugs to make hot chocolate for kids, and even to reheat noodles, pasta, and more – and take it on the go.
9. Joseph Joseph Microwave Cooking Set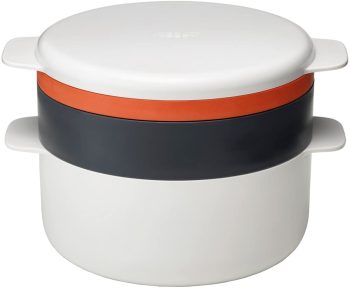 Size – 9.6″ x 6″ x 7.7″
Capacity – 2 liters
A microwave cooking set can be a practical solution for all your cooking and reheating needs, and this microwave cooking set by Joseph Joseph is stackable – which means you can use it for cooking an entire meal – in minutes.
For example, you can cook a few fish filets on the bottom container, a bunch of small whole potatoes, and a few pieces of asparagus on the griddle – at the same time. However, you'll have to consider the cooking time needed for each one and start with the potatoes first, then add fish, then the asparagus.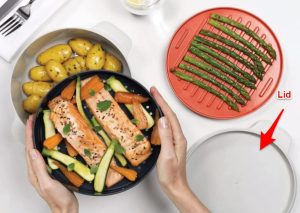 The 4-piece interchangeable set includes two large pots, a steamer, a griddle, and a lid. Both the top and bottom parts of the set include integrated handles for easy and safe removal and the lid doubles as a base for the griddle and steamer or as a stand-alone microwave plate.
A very useful and practical set, but note that it may be too big for a small microwave.
✅ Price – $30 at Joseph Joseph, lower price on Amazon 
10. Universal Wall-Mounted Microwave Rackets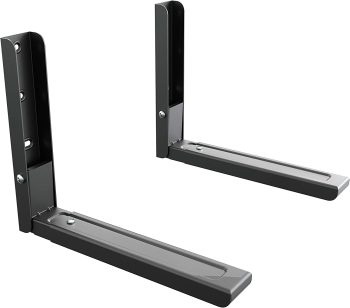 Capacity – 99 pounds
Colors – black/silver/white
Microwave brackets are a great way to save counter space, perfect for small kitchens, and the AVF Universal Wall-Mounted Brackets are fully adjustable to fit any standard microwave, small convection ovens, air fryers, and our new favorite – microwave air fryer combo.
The arms extend from 11.29″ to 17.71″ and can hold up to 99 pounds, and you can from 3 colors – black, white, and silver.
The included wall anchors are only made for use in a solid wall (concrete or brick – don't use them on drywall.
✅ Price – check the price on Amazon
Where Can I Find Microwave Replacement Parts?
You can find almost all microwave replacement parts (for the most popular brands) on Amazon, including Whirlpool, GE, KitchenAid, and more. You can also find a few universal replacement parts, that can fit most standard microwaves.
For example, this universal-fit 9.6" Replacement Microwave Glass Plate can be used for Magic Chef, LG, Kenmore, Hotpoint, Panasonic, GE, and Westinghouse with a 9.6″ microwave glass tray.
Where Can I Find Whirpool Microwave Parts and Accessories?
You can find Whirlpool microwave replacements parts and accessories at the Whirlpool website, but you can find them for a lower price on Amazon here, where you can replace the glass turntable, the support ring, the grease filter, light bulbs, oven door switch, and more.
Where Can I Find GE Microwave Parts?
You can find most GE microwave replacement parts on Amazon (for the lowest price), including grease filters, turntable tray support, oven door handles, wheel ring, light bulbs, thermostat, and more.
Can You Microwave Without the Spinning Plate?
Yes, if you have a turntable microwave, you can heat the food inside it – without the spinning plate. However, if the food it not constantly rotating, the food will not heat evenly. You'll have to stop the microwave a few times during cooking time to change the position of the container.
What Does Microwave Safe Mean?
A microwave container or accessory is considered microwave-safe if it doesn't directly heat up when nuked inside, even if there is no food or water. The most common microwave accessories and pots are made of plastic or silicone, which should be BPA-free because BPA in plastic is released from it when heated.
China and pottery, ovenproof glass, and glass ceramic dishes are also suitable for microwave cooking, as long as they are used for a short cooking time only, as they would crack with excessive heat. Paper cups, cling films, and cartons are also microwave-safe.
Do not use any metals inside a microwave because the metal will get quite hot inside, and it may have some points where the electrical currents can build up high voltages, which may start a fire inside.
The KM Team