USA-made dinnerware sets are becoming a rare sight as the years go by, but for people who want to support the local economy and encourage American businesses that employ Americans – there are still a few great options left.
In this post, you'll find the top 6 American-made dinnerware sets, including the best bone china sets, the best modern dinnerware sets, the best ceramic sets, and glass sets.
All our recommendations are made with non-toxic (cadmium and lead-free) materials.
(👉 See the best PFOA and PTFE-free cookware brands!)
How to Choose a Dinnerware Set 
Dinnerware is considered the main attraction of any dining table and can enhance your eating experience, make the food more attractive, and express your personal style.
Place Settings – first, decide the number of place settings to get and how much you want to spend.
We recommend 4-6 place settings for a 2-person household, and 8-12 settings for a household of 4-5. If you entertain often, you may want to invest in another set for gatherings and special occasions.
Formal/Everyday dinnerware – Most people have at least one formal dinnerware set – used for guests and special occasions at home. The more formal dinnerware sets are usually made from fine china, bone china, porcelain, or stoneware.
For everyday use, we recommend choosing porcelain, Vitrelle glass (used in Corelle dinnerware), or stoneware because these materials are affordable, easy to care for, and sturdy.
Material safety – we recommend making sure the set is made without any hazardous materials such as cadmium and lead. When you buy cheap plates from China, you are at risk of buying plates that will leach these toxins into your food.
The 6 Best USA-Made Dinnerware Sets 
American-made dishes are known for their high quality and are made with care and attention to detail.
American companies are subject to strict environmental regulations, so you know that you'll support the environment, and reduce carbon footprint by shipping inside the USA.
Spare parts are easier to find, and you'll have better access to customer service.
Through our research, and after going through hundreds of consumer reviews, here are our top choices, followed by full reviews.
This post may contain affiliate links, at no extra cost to you.
1. Corelle Dinnerware 

Best for Everyday Use
Corelle Livingware dinner sets are made in the USA – except for the cups that are occasionally made in China.
So, if you order cup-less sets – you'll enjoy an all-American dinnerware set.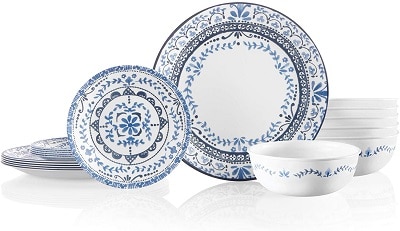 The Corelle factory is located in Corning, New York, and is one of the most popular American household dinnerware. Here's why:
For a more affordable price, you'll find a large variety of lightweight yet highly durable and chip-resistant, gorgeous sets that are extra hygienic, non-porous, lead and cadmium-free, and stackable – taking up half the space of ceramic dishes.
Their high durability, stackability, and the fact they are easy to clean – make them also suitable for small kitchens (including motor homes), and households with toddlers and children.
These eco-friendly sets are made from up to 80% recycled glass, for environmentally conscious consumers.
They are dishwasher-safe, easy to clean, and oven-safe up to 350 F.
Their most popular set on Amazon is the Winter Frost 18-piece dinnerware set – in classic white: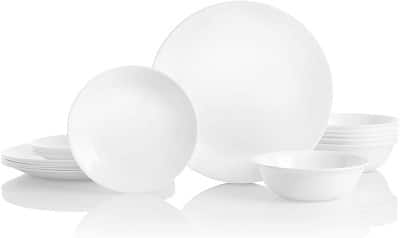 Material – triple-layer Vitrelle glass
Includes – 6 dinner plates (10.25″), 6 appetizer/snack plates (6.75″), and 6 soup/cereal bowls (18-ounce)
Warranty – 3 years
The combined weight of all of the plates and bowls in this set is only 9 pounds, and they are highly durable, stackable, and space-saving and the price is affordable.
2. Fiesta Dinnerware

Best Colorful Dinnerware
FiestaWare tableware company manufactures all their toxin-free dinnerware sets in their factory at Newell, West Virginia – for almost 75 years.
Their bright and beautiful glazed dinnerware sets are durable, dishwasher/oven/microwave safe, and the glazing is lead-free (since 1992).
The classic American design has stayed the same over the years, so you can easily replace a plate or a bowl if it gets broken, and the color options are amazing.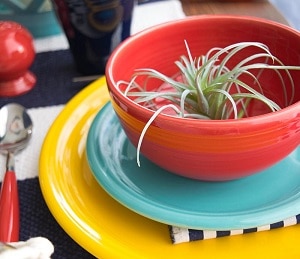 You'll find a variety of collections to choose from, and many people love to mix and match.
We especially love the Fiesta 3-piece Bistro set, made with restaurant-grade vitrified ceramic, and 11 beautiful colors to choose from, including white.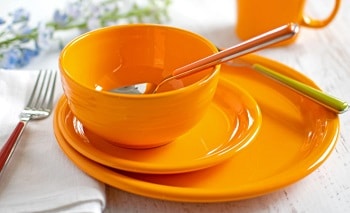 Material – fully vitrified lead-free china with a color glaze
Includes – small bistro bowl (holds 22 ounces), salad plate (7.25″), dinner plate (10.5″)
Warranty – 5-year chipping warranty
Many reviewers prefer this set because it doesn't have a cup they don't need, and the bowl is large – approximately 5 inches wide and 3 inches deep. They hold 22 ounces (or almost 3 cups.)
Their sets are all dishwasher, microwave, and oven-safe.
However, A few reviewers claimed that the color of the set is not exactly the way it looks in the picture.
3. Lenox Dinnerware

Best Bone China
Update: Lenox closed its USA manufacturing in April 2020.
Lenox is internationally renowned for its American-made, hand-crafted fine china, and they owned the only bone china factory in the USA, located in Kingston, North Carolina – for more than 125 years.
You can choose from a large variety of patterns, all of them are chip-resistant and dishwasher safe, and you can expand your collection any time and mix and match colors and designs.
They offer a Lifetime Breakage Replacement Program, so you can enjoy these sets for years to come.
The Kingston factory manufactures some of the most beautiful and sophisticated china patterns in the world, including these special occasion designs below:
Lennox Eternal Ivory Dinnerware Set with Gold Trim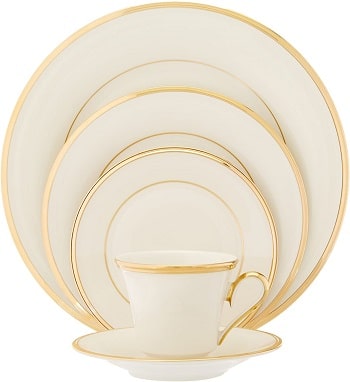 Material: ivory bone china
Includes – 10.37″ dinner plate, 8.12″ salad plate, 6.37″ bread plate, 6-ounce teacup, 6.12″ saucer
 Warranty – Lifetime warranty for chipping and breaking
This Lenox Eternal Ivory set adds elegance and style to any dinner table, with its 1/4-inch rim of 24-karat gold, a narrow interior band of gold, and a gleaming glaze.
Any bride and groom will love this set, and it's a great addition to your own cabinet as well.
All the pieces are dishwasher safe according to Lenox, but we wouldn't test them and wash them by hand.
And here's another set, with beautifully handcrafted detailing and a beautiful floral motif with jeweled colors of autumn flowers. This set was originally introduced in 1918!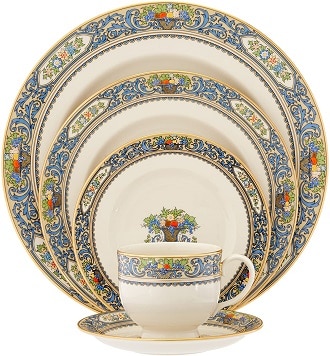 4. Kate Spade New York Dinnerware

Best Modern China
The Kate Spade New York dinnerware sets are all made by the Lenox company we've just reviewed.
Their collections offer a more modern and fresh take on classic china dinnerware, and all the pieces are handcrafted and painted, yet still – dishwasher safe.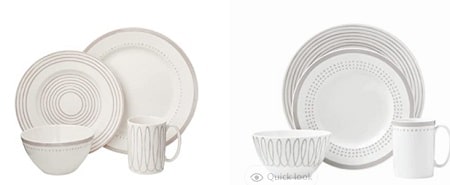 These sets can be enjoyed for a lifetime, thanks to their strong and durable finish.
However, you cannot use them in a microwave due to their gold/platinum accents.
👉 See all classic and elegant sets on Amazon, or Bloomingdale's
We especially love the Cypress Point Dinnerware 5-Piece Place Setting, which suits any occasion, any season, and any group of people.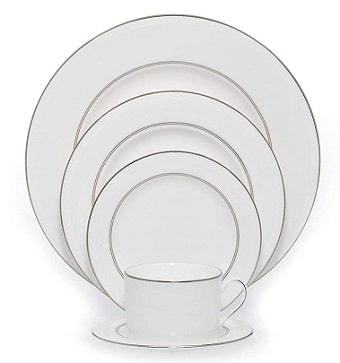 Material – White bone china
Includes – dinner plate, salad plate, bread plate, cup, saucer
Reviewers say that this elegant, understated set holds up even against knife blades, collisions with crystal glasses, and "accidents " with the kitchen faucet. With some care, it can last a lifetime.
5. Anchor Hocking Dinnerware

Best Budget Glassware
Anchor Hocking is known for its high-quality glass bakeware, food storage, beverageware, serveware, and pantry storage products manufactured in the USA since 1905.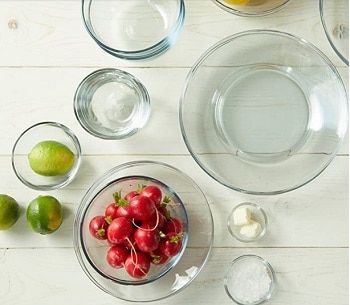 Located in Lancaster, Ohio, the Anchor Hocking glass dinnerware doesn't warp, stain, smell, retain or leach chemicals (cadmium/lead) into your food.
The plates are stackable and take little space compared with ceramic plates, and you can buy individual pieces of everything and customize a set according to your needs.
All of their American-made glass dinnerware is microwave, dishwasher, and freezer-safe.
On this Amazon page, you'll find 6-piece sets of 10″ dinner plates, 13″ serving plates, 6″ glass bowls, 8″ inch salad plates, and platter sets.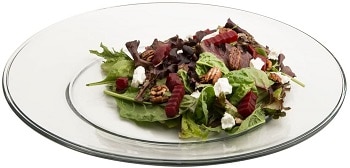 The company also offers high-quality bakeware, food storage, and drinkware that we love.
6. Pickard China Dinnerware

Best High End
Pickard China is a family-owned made-in-America company, located in Antioch, Illinois.
It is the oldest fine china company- making American-made dinnerware since 1893 and handcrafted by skilled artisans.
Each piece of china produced at Pickard passes through a minimum of 21 stages and three inspections and is handled by Pickard employees averaging 18 years on the job.
All patterns are decorated with 24K gold (never anything less), pure platinum, and brilliant cobalt.
These qualities have made them become the official China makers for Air Force One, Camp David, and US embassies.
We especially love their simple and modern designs, such as the Solstice 5-piece dinnerware set: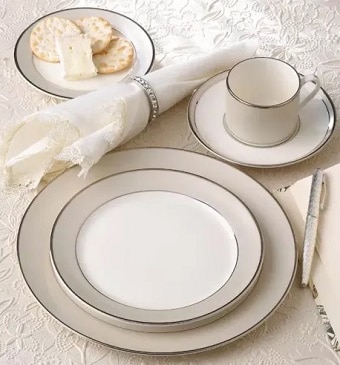 Material – Bone china
Includes – dinner plate, salad plate, bread/butter plate, teacup, saucer
Beautiful and elegant matte porcelain, with a silvery border and platinum framing.
However, all this goodness comes with a higher price tag, and you cannot use this set inside a microwave, or a dishwasher.
What Is the Most Durable Dinnerware Material?
Through our research, Vitrelle glass (used in Corelle dinnerware) is the most durable dinnerware material for everyday use.
Vitrelle glass is made of a mix of raw materials that is not porous or fragile.
This results in durable, chip and break-resistant, and dishwasher-safe material that is lightweight and thinner.
Out of all ceramic dinnerware sets, bone china is the least fragile material and is actually the strongest and most durable ceramic material, which is dishwasher and microwave-safe unless it has a metallic banding.
What Color of Dinner Plates is Best?
The color of your dinner plates affects the food presentation and the style and look of your dinner table, so it's mostly a personal preference choice.
However, many chefs choose white dinner plates to frame their food creations and make them pop against the white frame.
Almost any color of food looks good against white and the food seems more vibrant and appealing.
What Is Bone China?
Bone china is made from the same ceramic material as porcelain (China is the birthplace of porcelain making), but with the addition of at least 30 percent calcified bone, which is derived from animal bone.
Bone china is typically creamier and translucent than porcelain and is more expensive and hard to manufacture than porcelain.
The KM Team