While nonstick pans and pots are ideal for frying, risking your health by inhaling toxic fumes that come out of your cookware – may not be worth it.
So, how can you protect yourself and your family from cookware toxins?
It's important to make sure you are using PFOA and PTFE-free cookware – to avoid breathing in tiny toxic chemicals when you cook your favorite dishes – for you and your family.
To save you time (and possibly a headache), we researched and found the top 5 eco-friendly, non-toxic, PFOA & PTFE free cookware brands in 2023 and their best-selling set.
👉 In a Hurry? See our top picks in the table below:
Comparing the best PFOA & PTFE free cookware according to material, coating, and price.
(This post may contain affiliate links, at no extra cost to you)
What's the Difference Between PTFE and PFOA?
PFOA (perfluorooctanoic acid) is a synthetic chemical compound used along with PTFE to manufacture certain fluoropolymer and telomer-based products, including nonstick pan coatings like Teflon.
According to cancer.org, PFOA has the potential to be a health concern because it can stay in the environment and in the human body for long periods of time.
Studies have found that it is present worldwide at very low levels in just about everyone's blood.
PTFE is another man-made chemical, most commonly known as Teflon, and has been in commercial use since the 1940s.
It is used in nonstick coatings since it's very stable and can provide an almost frictionless surface.
Health Hazards of PFOA & PTFE
While PTFE is stable and nontoxic at lower temperatures, it begins to deteriorate after the cookware temperature reaches about 260 °C (500 °F), and decomposes above 350 °C (662 °F).
Increased exposure to PFOA and PTFE has been proven to potentially cause flu-like symptoms, kidney damage, liver damage, increased blood pressure, thyroid damage, coronary artery disease, and more (see studies at the end of the post).
The safest and healthiest way to cook would be using cookware that is PFOA & PTFE free, though we should note that While PFOA was used in the past in the US in making Teflon, it is not present (or is present in tiny amounts) in Teflon-coated products (made in the USA).
According to Dr. Eric Berg, bile transformation is the body's way of breaking down these toxins through the liver.
Eating cruciferous vegetables like kale, Brussels sprouts, broccoli, arugula, and radish can help with detoxifying the body from these chemicals.
Can Swallowing Teflon Hurt You?
No, eating Teflon does not hurt you. Ingesting small flakes of nonstick coating is not dangerous.
The material will most likely just pass through the body.
However, it produces toxic fumes when strongly heated, and inhaling those fumes can be harmful.
The 5 Best PFOA & PTFE Free Cookware Brands
Cooking healthy food? why not start cooking it with healthy cookware?
Here are 5 toxin-free cookware brands you can trust – reviewed:
1. GreenPan Cookware

Best Coating
GreenPan is a Belgian company that excels at making top-quality, non-toxic cookware.
Their products, such as frying pans, are coated with Thermolon – a non-stick layer usually made from sand.
Thermolon doesn't give off toxic or smelly gases. It is safe at extremely high temperatures, and the pots or pans coated with it can be used in an oven as well.
GreenPan specializes in producing PFOA & PTFE and cadmium-free cookware, including frying pans, grilling pans, woks, saucepans, sauté pans, and casseroles.
All of these can resist heat temperatures as high as 450 degrees C.
Best Set – Greenpan Valencia Pro 
The Greenpan Valencia Pro Ceramic non-stick (hard-anodized) cookware set contains 11 pieces, including  8", 9. 5", 11" frying pans, 2QT & 3QT saucepans with lids,  3QT skillet with a lid, and 5QT casserole with lid.
All pieces are PFOA & PTFE free,  and cadmium & lead-free.
They are all oven and broiler-safe.
They can withstand temperatures as high as 600 degrees Fahrenheit, and the high-end glass lids can withstand up to 425 degrees Fahrenheit.
The Valencia Pro pots and pans are made with the unique Magneto Induction Base which is proven to have great searing and browning results when placed on all stovetops, including induction.
The cookware comes with ergonomic, polished handles, and they are all scratch-resistant, warp-proof, and dishwasher-safe.
✅Available at GreenPan ($402 with code SAVE30 + free shipping) and on Amazon ($350)
It was chosen as the best ceramic frying pad out of 5 competitors by America's Test Kitchen!
👉 GreenPan is also featured in our list of the best Teflon-Free Waffle Makers in 2023
2. MadeIn Cookware

Best Full-Clad Steel
MadeIn was founded in 2016 in the US when the founders decided to partner with some of the best raw material suppliers in the US, France, and Italy, and produce top-quality cookware – made without PFOA.
MadeIn consistently invests its earnings back into the R&D department to look for new, innovative ways to help improve its customers' experience.
Their products include stainless-steel pans and pots, grillers and carbon steel paella pans, different types of chef knives, saucepans, sauté pans, and sheet pans.
All of these are made from stainless steel and carbon steel that are 100% safe and do not blow off toxic fumes of any kind.
And the best news?
All MadeIn cookware comes with a lifetime warranty!
Best Set – MadeIn Starter Set
MadeIn's top seller is The Starter Kit, which was announced as the best stainless steel set by consumer reports in 2019.
It is a 6-piece set of pots and pans made of 5-ply stainless clad, and stay-cool handles, and their very own blue carbon steel.
RELATED: Carbon Steel vs. Cast Iron Pans
Stainless steel is non-toxic and doesn't react with the food cooked inside it, and blue carbon steel is a new material introduced by the company; it is non-stick and toxin-free as well.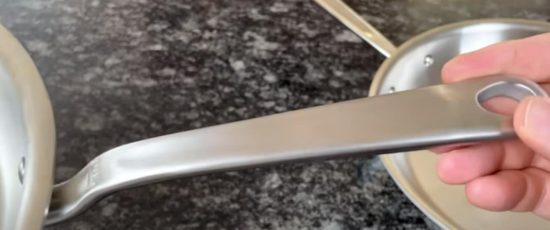 The kit includes 2 Frying Pans (10-inch), a Saucepan (2 QT), and a Stock Pot with old (8 QT).
✅ Available at MadeIn ($499 with free shipping and returns)
3. Cuisinart Cookware

Popular on Amazon
Another top brand that focuses on ceramic cookware is Cuisinart, founded by the late Carl Sontheimer, who introduced the food processor to America in 1973.
Cuisinart is not about just food processors anymore and is a full-service culinary resource with a wide array of products, including kitchen appliances, bakeware, flatware, outdoor grills, tools, and gadgets.
The new
GreenGourmet Line
by Cuisinart (a universally recognized name) uses the exclusive
Cuisinart Ceramica nonstick technology that is PTFE and PFOA-free
 for coating, while the hard-anodized construction allows for high heat conductivity.
All cookware comes with stainless steel stay-cool (70% recycled) handles, and everything is designed in a way that saves energy and is toxin-free at the same time.
Best Set – GreenGourmet 12-Piece Nonstick Cookware Set
The GreenGourment Line 12-Piece Set stands out from the rest. All of the pots and pans are ceramic coated and the base is hard-anodized aluminum.
The set includes a skillet, a lidded deep fryer, 2 lidded saucepans, a 3-quart lidded everyday pan, a 6-quart lidded Dutch Oven, and a steamer insert. These can withstand high temperatures of up to 400 degrees Fahrenheit.
However, if needed, there's a lifetime warranty you can claim at any time.
✅ Available on Amazon ($206)
4. Xtrema Cookware

Best 100% Ceramic

 
Xtrema is a US-based company founded by three kitchen-passionate friends.
They focus mainly on manufacturing products entirely made from ceramic, which helps distribute heat optimally in all pots and pans.
Ceramic cookware does not produce harmful gases of PFOA and PTFE. It can be heated at higher temperatures without worrying about health hazards, and the surface can not be scratched.
Their eco-friendly cookware includes different types of ceramic skillets, saucepans, stockpots, teapots, bowls, bakeware, and a lot more.
Best Skillet – Xtrema Covered Ceramic Skillet
One of the brand's best-sellers is the 7-inch Traditions Covered Skillet. It is a revolutionary, textured frying pan made of 100% ceramic.
The skillet evenly distributes heat and is great for frying, searing, and browning your food – without burning off harmful chemicals in the process.
Even if you forget to turn down the heat, the ceramic material won't produce any kind of fumes. It is also lightweight and can withstand extreme temperatures of up to 550 degrees Fahrenheit.
It can also be used on the grill or in the microwave as well, and it is scratch-proof.
✅ Available on Amazon
5. Ozeri Cookware

Best Budget
The Ozeri brand manufactures a wide range of lifestyle products for the modern home,  in 2 categories – "housewares for modernity", and "healthy living".
Ozeri "Healthy Living" products range from eco-friendly cookware  (entirely free of APEO, GenX, PFBS, PFOS, PFOA, and lesser-known chemicals such as NMP and NEP) to 100% plant-made biodegradable dishware that doesn't contribute to landfill waste.
Ozeri cookware comes in 4 lines:  Ceramic Earth, Stone Earth, Stainless Steel, and Professional. All of these include pans, pots, and other basic items that are free from toxic materials.
Best Set – Ozeri Green Earth 3-Piece Frying Pan Set
One of the best and most affordable cookware sets in 2023 is the brand's Green Earth frying pan Set – which includes 8″, 10″, and 12″ frying and with textured ceramic nonstick coating from Germany (100% PTFE, PFOA, and APEO Free)
The honeycomb textured frying surface allows for even heat distribution to avoid bottom food burning. It is scratchproof, abrasion-resistant, and withstands wear and tears pretty well.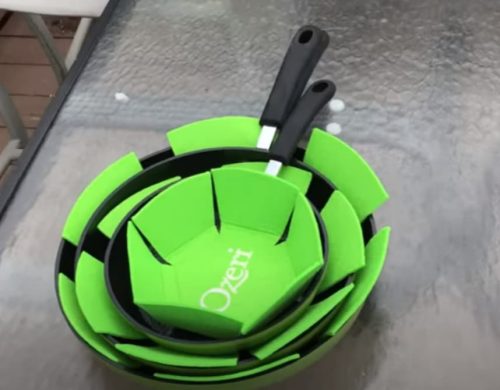 The ergonomic handles are made from silicone, they are easy to clean, and safe for induction.
And the price? lower than all the brands on this list.
✅ Available on Amazon ($55) and at Walmart ($60)
What Is the Best Alternative to Teflon?
100% Ceramic cookware and stainless steel sets are probably the best alternatives to Teflon. However, some brands are not completely open about the exact materials inside their ceramic coating, which is suspicious. We recommend avoiding ceramic cookware brands that are not transparent about their ceramic nonstick coating.
Cast iron pans and pots are also good options.
You can also find non-Teflon air fryers, which are usually made without Teflon inside.
The KM Team
Studies
Andrea Winquist and Kyle Steenland, 2014, Modeled PFOA Exposure and Coronary Artery Disease, Hypertension, and High Cholesterol in Community and Worker Cohorts, Environmental Health Perspectives 122:12
Vaughn Barry, Andrea Winquist, and Kyle Steenland, 2013, Perfluorooctanoic Acid (PFOA) Exposures and Incident Cancers among Adults Living Near a Chemical Plant, Environmental Health Perspectives 121:11-12
https://www.cancer.org/cancer/cancer-causes/teflon-and-perfluorooctanoic-acid-pfoa.html