Yes, you can enjoy a steak without a good steak knife, but real meat lovers argue you will be doing it a great disservice.😉
Buying American-made steak knives supports the local economy and encourages American businesses that employ Americans (while helping you cut through that steak like a hot knife through butter).
Unfortunately, you won't find a ton of options for steak knives made in the USA, but as you'll see below, there are a few good options, and two of them won't cut into your steak budget.
👉 RELATED: The 6 Best USA-Made Dinnerware Sets – in 2023!
Comparing the best USA made steak knives according to blades and handles material, and price.
This post contains affiliate links, at no extra cost to you.
How to Choose a USA-Made Steak Knife?
If you eat meat regularly, like to entertain, or searching for a special gift for a steak lover, you appreciate a well-made blade designed for these purposes.
Even today, there is no universal agreement on what makes a good steak knife. Some are straight-edged (fine-edged), some are serrated (like bread knives) and others are micro-serrated (fine-toothed blades).
Other factors include the blade length, shape, material, (a high percentage of carbon is better), handle material, and whether the blade is forged or stamped.
Reading through dozens of expert opinions online, we've discovered that most steak enthusiasts prefer straight-edged blades over serrated blades, as long as they are properly sharp and maintained.
Why?
Because fine-edged blades slice through the meat smoothly and easily, without sowing back and forth as with serrated blades – that makes the cut somewhat ragged.
How We Picked the Best American-Made Steak Knives
High Carbon Stainless Steel Blade 
We looked for high-carbon stainless steel for rust prevention and strength, where the blade is sharp out of the box (a sign of hand grinding instead of cheap factory stamping). We also looked for steak knives that respond well to sharpening, a sign of longevity.
Also, carbon content is the most significant influence on steel performance.
Good Handle Construction
Steak knife handles are made from a variety of materials (wood/rubber/aluminum and more), but the most important factor is the handle construction and comfort.
Well-Constructed Hilt
The area where the blade meets the handle should be well constructed, and without a gap that may make it difficult to clean and weaken the knife.
The 4 Best Steak Knives (Made in the USA)
Who makes the best steak knives made in the USA?
And now, here's our research and results for the finest steak knife sets made in the USA, how we picked them, their pros and cons, and where to find the best price for them.
1. Rada Steak Knives Set

Best Value
Blade – T420 surgical grade stainless steel, all blades (4.75-inch long) are hollow ground.
Handle – black stainless steel resin, or aluminum handles that should be hand washed and dried (the first option is more practical)
Warranty – Lifetime
Rada Mfg. Co. is making cutlery since 1948 and is located in Waverly, Iowa.
All their products are 100% American Made, and Rada manufactures and oversees everything from raw materials to packaging.
Rada steak knives
are a rare find in the USA cutlery knife market. Fair-priced yet top-notch steak knives with high consumer reviews (and lifetime warranty!) – are hard to find.
These straight-edged, super-sharp knives not only cut through meats easily, but are equally useful for food preparation, including chopping, cutting, and slicing vegetables, fruit, and more.
They are lightweight, relatively thin, and just a bit flexible.
The handles are made from stainless steel resin that is dishwasher safe, so they won't get stained and last for years.
RELATED: The 5 Best Slimline Dishwashers
Rada Knife Set Pros
Great value steak knives at this price point
The knives come in a beautiful box to hold them in place
Dishwasher-safe handles (no stains will be found)
Lifetime guarantee
Cons
The blades are a bit thin and flex a little
Stainless steel handles (if you chose this option) – are not dishwasher tolerant
✅ Available on Amazon ($68) and Walmart ($68)
2. Lamson Steak Knives Set

Extra Sharp
Blade – 4116 high-carbon steel
Handles – triple-riveted acrylic handles
Warranty – lifetime (for manufacturer defects)
Lamson is the oldest cutlery manufacturer in the USA (established in Massachusetts in 1837), oversees every step of knife creation in New England, and still handcrafts each piece in Western Massachusetts.
To this day, a 62-piece Lamson dinner set, owned by former President Ulysses S. Grant, is presented at the Smithsonian Museum.
Lamson steak knives
are forged with the finest grade 4116 high-carbon steel, with beautiful fire-like acrylic handles (triple-riveted) that will make anyone take a second look before cutting smoothly into their steak. The full-tanged, hard, and extremely sharp blade retains the edge and is corrosion-resistant and elastic.
These steak knives offer the best balance between balance and weight, and you'll love the comfortable thumb and finger support when you easily cut through your meat.
The Lamson company stands behind its products and offers a lifetime guarantee, along with a lifetime supply of complimentary professional sharpening.
Lamson Steak Knives Pros
Beautiful, eye-catching design
Water-resistant and dishwasher safe
Extra sharp out of the box
Choose between straight-edge or micro-serrated blades
Balanced yet not too heavy, excellent grip
Lifetime warranty and professional sharpening service at no cost
Cons
Expensive (but well worth it)
✅ Available at Lamson ($269 with code LAMSON25 and free shipping) and on Amazon
3. Cutco Table Knife Set

Best Serrated
Blade – 440A high carbon steel steel
Handle – ergonomic thermo-resin
Warranty – lifetime sharpening and replacement
Cutco, established in 1949, employs more than 600 American craft workers at their factory in Olean New York.
Cutco's table knife set
(4 pieces) is made from double D edge 440A high carbon stainless steel blades and thermo-resin ergonomic handles that will not crack or chip. They are comfortable to grip, have a great balance, and are useful for more than steaks (cutting vegetables, spreading butter, and more)
They fit large or small hands and customers who are left-handed praise these knives as well. They come in a dishwasher–safe tray.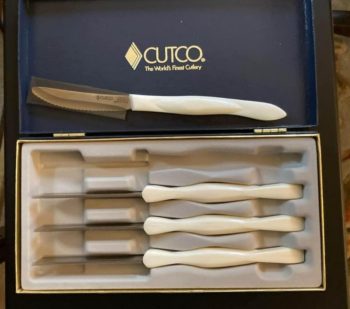 Customers who have had these sets for more than 15 years claim they are still sharp, but if they lose sharpness – you can send them to the factory for sharpening – at no additional cost.
Cutco Knives Pros
Extra sharp, use with care
Come in a gift box!
Stay sharp for years and can be sent for sharpening at no cost
Versatile uses (more than just cutting meat)
Lifetime guarantee
Cons
✅ Available on Amazon ($269)
4. New West KnifeWorks G-Fusion Set

Best High-End
Blade: S35VN high-end steel
Handles: G10 handles
Warranty – lifetime and free sharpening
All kitchen cutting tools made by New West are made in the USA with the best materials, which is why they offer a lifetime warranty.
Their best steak knife set is the G-Fusion lineup, with its gorgeous, colorful, and unique G10 handles (looks like art!), and the high-quality S35VN high-end steel blades.
You can choose between one knife, two knives, or the full set of 6 steak knives (inside a wooden box) – and have them laser engraved as well.
The handles are basically bombproof, made from an aerospace-grade, fiberglass epoxy composite dressed up with color)
The blade is half serrated (where it needs to protect the edge from cutting on hard plates), and half razor-sharp straight edges to finish the cut.
The knives are very comfortable to grip with just enough weight – not as heavy as German steak knives.
They are very expensive, but certainly well worth their cost.
Beautiful, unique, colorful
Finest blade and handle materials
Lifetime warranty
Last a lifetime
Half serrated and half straight-edged
Cons
✅ Available at New West KnifeWorks ($160 per knife) 
5. Oneida Flight Steak Knives

Best Budget
Blade – 18/10 stainless steel
Handles – 18/10 stainless steel
Oneida is an American manufacturer and seller of tableware and cutlery, that was founded in upstate New York in 1848. However, these days they have outsourced their manufacturing to Vietnam.
The Oneida 4-piece serrated steak knife set is perfect for family dinners – without emptying your pocket.
The classic design of 18/10 stainless steel blades and handles coordinate well with most flatware, they are mirror finished, extra-strong – but still not too heavy.
They easily cut the meat without any "give" or bending, but they are not as sharp as other steak knives on this list.
And the price? For less than $25, these American-made knives are a risk-free investment.
Oneida Knives Pros
Heavier weight, feel sturdy
Dishwasher safe
Cons
Come without a box
Fully serrated blades
✅ Available at Oneida ($21), and on Amazon
How to Care for Steak Knives
When you take good care of your steak knives, you can reduce the frequency of sharpening and keep them looking good and cutting smoothly for years to come.
We advise keeping the knives in a knife block or box – to protect the edges from contacting other utensils (so they won't become dull).
RELATED: The Top Rated Kitchen Utensil Sets of 2023
If you want to save space and prevent kids from reaching them – use a magnetic strip. Do not use them on a glass cutting board.
Always dry the knives fully before storing them. Storing them while they are still wet can make them rust and deteriorate faster than normal.
Don't wash them in a dishwasher, unless the manufacturer states they are dishwasher safe.
Stainless steel handles tend to get stained if not hand-washed and dried.
The best way to sharpen your steak knife is to send them to the factory for professional sharpening (premium American brands offer this free of charge once you buy from them).
If that's not an option, use an electric knife sharpener for straight-edged blades, but make sure it fits a serrated blade should you choose one.
Straight-Edged Blades vs. Serrated – Which is Better?
While serrated blades last longer because of the fewer exposed edges, the cut made by them is more like a tear into the streak fibers compared to the clean and smooth cut of a sharp straight-edged blade.
Some choose serrated blades due to the illusion of a sharper blade, but they are more difficult to sharpen and maintain so you end up stuck with a dull steak knife.
A straight-edged blade, properly maintained, will get a clean cut that keeps all the meat flavor intact inside the slice and most meat enthusiasts prefer them.
What Are American-Made Cutlery Brands?
In this post, you've found the 4 best USA-made steak knives, but if you want to have the full list of American cutlery brands, here it is:
Rada Cutlery
Cutco
Lamson
Warther Cutlery
Dexter-Russell
New West KnifeWorks
R. Murphy Knives
Case Cutlery
Buck Knives
The KM Team