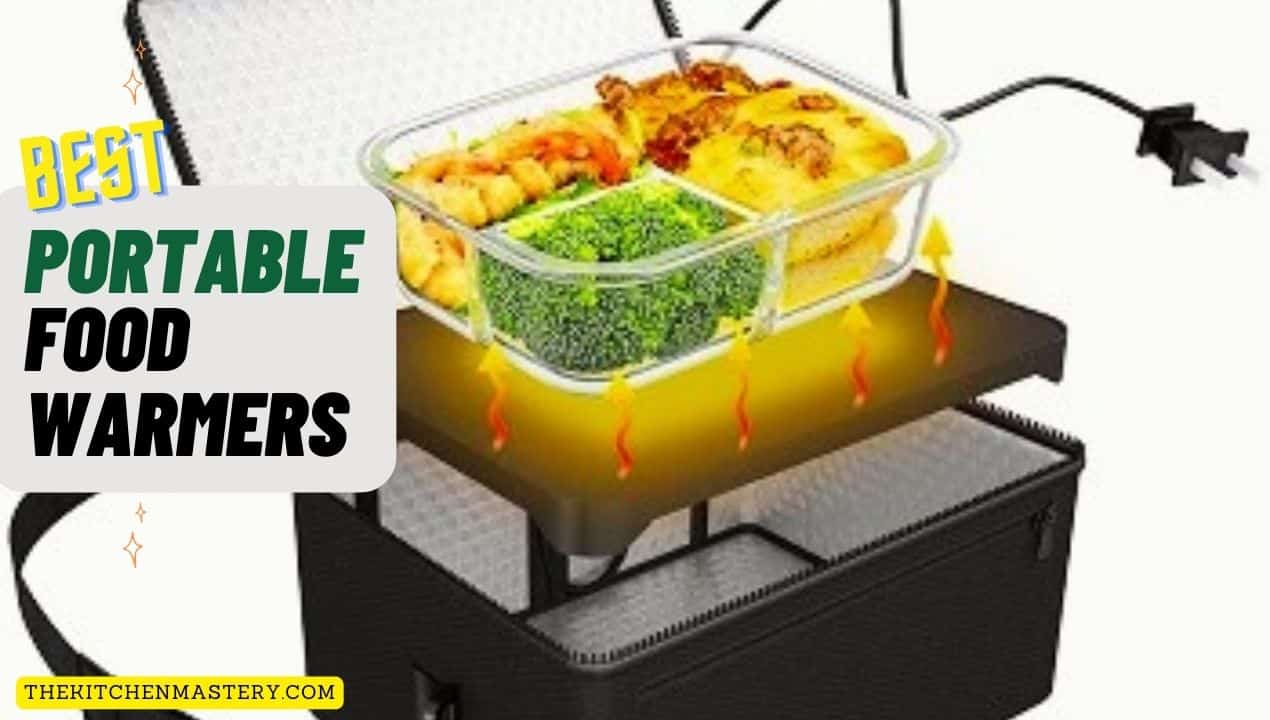 A portable food warmer (electric lunch box) is a game-changer for people who need to heat their food on the go or to keep it hot while they are away from home.
The best electric lunch warmers can heat your food (or cook it) – in about 20-30 minutes, and keep it piping hot until you are ready to eat – anywhere you are.
These portable food warmers have saved my bacon more times than I can count. They're especially useful on road trips. You know that moment when you're driving down the highway and your stomach starts to rumble? With a portable food warmer, you can be snacking on a hot, fresh burrito in no time.
We set out to research and find the best portable food warmers for the price – in 2023.
👉 In a hurry? See our top 3 picks, or jump to the full portable food warmer reviews!
This post may contain affiliate links, at no extra cost to you.
How Do You Choose a Portable Food Warmer?
Here are the most important features to check before you buy a portable oven:
1.  Size and capacity – make sure the size and capacity fit a good-sized meal, and that it fits the space you have in your vehicle or office.
2. Container material – choose nontoxic containers (preferably glass/stainless steel) to ensure food safety. Some food warmers come with a container and some don't, so you'll have to find the right-size heat-resistant container to place inside.
3. Power plugs – some mini ovens can be plugged into a car/truck, some can only be used with a 110/120V, and some come with both plugs for multi-use.
4. Safety – make sure the food warmer has safety features to prevent overheating or short-circuiting.
5. Ease of use – check that the food heater is user-friendly, without too many buttons and controls. Who has time for that?
6. Price and warranty – portable food warmers' price range is about $29 – $39, depending on what's included inside (containers/spoons/forks), power plugs, and brand reputation.
The 5 Best Portable Food Warmers 
The electric food warmers you'll find below are great for personal use, are high quality, heat food evenly and thoroughly, have nontoxic containers, and are easy to clean and maintain.
1. Hot Logic Mini Portable Oven (120V) – Best for Work 
Size – 8.75″ x 6.75″ x 2.5"
Weight – 1 pound (lightweight!)
Containers – any flat and heat-resistant container (not included)
Temperature – up to 165 F
The Hot Logic portable oven and food warmer can cook your food (even frozen food) evenly or just warm it – without drying or burning it – for up to 1.5 hours.
And:
It will also keep it warm (at 165 F) for 12 hours.
It works with a 120V plug, but buyers told us that if you want to use it in your car – just get a 75W power inverter (that will work even if the car is not running).
You won't need to monitor your food. You just place your meal inside, plug it in, and come back when you are ready to eat it.
The heating plate can get up to 200 F and uses only 0.11kWh of electricity over a 3-hour use (without releasing any smells while heating!).
The Hot Logic food light and compact warming tote comes in 9 beautiful colors to choose from and is a highly rated, fantastic, and reliable little meal helper.
However:
Consumers recommend searing/browning your meat before placing it inside it.
✅ Available on Amazon ($34) and at Walmart ($40),
2. Travelisimo Electric Lunch Box (110V/12V/24V) – Best for Travel
Size – 10″ x 8″ x 5″, Capacity – 1.5 L
Weight – 2.37 pounds
Containers – stainless steel, included
Temperature – up to 158 F
The Travelisimo  3-in-1 electric lunch box is the only one that has 110V, 12V, and 24V – which means you can use it anywhere you go, including driving (car/truck), at the office, at school, on picnics, when camping, and for fieldwork.
The upgraded 60W model will heat your food in 20-30 minutes and comes with a new leak-resistant seal ring – that prevents any spills (even soup!)
The 1.5 L tray is made from food-grade stainless steel which is always healthier than plastic, and the cord is extra long (1.5 L). You even get a stainless steel fork and knife inside!
(👉 Check out the top 6 mini rice cookers for personal use/travel!)
Buyers say that this is a safe and reliable portable oven that is easy to carry, use, store, and clean, and only requires about 25 minutes of heating – depending on the food and surrounding temperature.
However, if the food is just taken out of the refrigerator, heating may take a bit longer. The only downside is you can only use a metal container inside it and no frozen meals in cardboard boxes, or plastic microwave meals.
✅ Available on Amazon ($30)
3. Rottogoon Personal Portable Oven – Hottest Portable Oven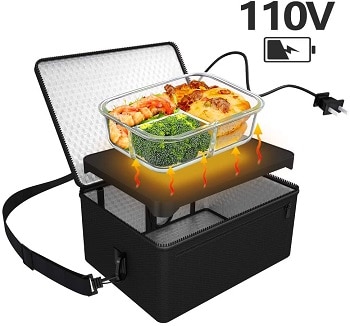 Size – 9.4" *7.2" *3.9"
Weight – 1.4 pounds
Containers – heat-resistant flat containers (not included)
Temperature – up to 239 F (keeps warm at 149 F)
The Rottogoon unique and multi-functional belt lock allows you to carry it in 3 different ways: grabbed in your hands, as a shoulder bag (with the adjustable shoulder strap), or hanging on the straps of your backpack.
It's extremely lightweight and compact, (only 1.4 pounds) and easy to carry around.
This powerful mini oven slowly heats your food to 239 F (in only 30-40 minutes!), then auto reduces the temperature to 149 F and keeps it at this temperature – until you want to eat. It can even cook raw food such as chicken. If you leave it inside for more than 2 hours – it acts as a slow cooker!
It can be used with almost any heat-resistant flat-bottomed containers, including glass, plastic, Tupperware, metal, and foil – up to 9″W x 6.75″L x 3.5″H.
✅ Available on Amazon ($30)
4. YOHOOLYO Electric Lunch Box (110V/12V) – Best for Students
Size – 9.45 x 6.69 x 4 inches
Weight – 2.2 pounds
Container – only use with stainless steel container (included)
Temperature – up to 158 F
The YOHOOLYO 110V electric lunch box food heater comes with a convenient and toxin-free stainless steel container – divided into 3 compartments to separate your food the way you do at home.
It's a dual-use food warmer that can also be used in a car/truck.
In about 30-40 minutes it will heat your homemade meal to 158 F, while the handle stays cool (in wintertime heating may take 40-60 minutes).
The food stays hot until you are ready to eat it, but most consumers recommend not to leave it in for more than 2 hours to avoid overcooking.
The container is easy to clean and fill, and when you order from Amazon, you'll also receive a fork and spoon inside the package.
While this is a great portable food warmer, keep in mind that you have to keep it bottom down to avoid leaking when you carry it.
✅ Available on Amazon
5. Skywin Portable Oven (120V) – Small & Lightweight
Size – 10 x 7.2 x 4.7 inches
Weight – 1.8 pounds
Containers – any flat-bottomed containers (leak-proof)
Temperature – up to 180 F
The lightweight and fast-heating Skywin lunch warmer oven comes with a 12v hot plate that any flat-bottomed container (size up to 9″x7″x4″) can be used on, and with a stainless steel container (with cover).
The Skywin heats your homemade meals in no more than 30 minutes, and the automatic temperature (up to 180 F) keeps it warm for when you are ready for your lunch break.
Raw vegetables will be cooked to perfection. Meats and seafood do not dry out and get rubbery.
Buyers report that the food pan is big enough for a good-sized meal, but you'll have to be careful to not burn your fingers when you take it out – it gets really hot.
However:
You won't be able to use it in a car unless you add a 75W power inverter.
For a fair price, this portable food warmer is highly rated on Amazon and is the perfect solution for anyone who wants to enjoy a healthy homemade meal – on the go.
✅ Available on Amazon($28) and at Walmart ($35)
Portable Food Warmers FAQ
How Do You Keep Food Warm When Traveling or at Work?
The portable food warmer is the best way to warm/cook your homemade meal on the go while keeping the original taste and without waiting in line for microwave heating at work. Just plug it in your car/home/work, and come back when you are ready to have lunch!
However, there are more ways to keep your food warm at the office or while traveling, including insulated food containers (like vacuum-sealed stainless steel or double-walled plastic), a mini slow cooker that plugs in anywhere, and thermoses (but make sure to fill them with hot water first to help retain the heat).
See the TOP 7 Mini Microwaves for small spaces – in 2023!
How Long Does it Take to Heat a Meal in an Electric Lunch Box?
The average heating time for food inside a food warmer is about 30-40 minutes for food just taken out of the refrigerator, and about 1-2 hours for cooking raw food or frozen meals.
The time it takes to heat a meal in an electric lunch box depends on the size of the lunch box, the type of food being heated, and the power of the heating element.
What Temperature is Maintained in Mini Food Warmers?
High-quality food warmers will keep your food piping hot at 149 F – 170+ F  – until you are ready to eat your homemade meal. This temperature range is considered safe for keeping most cooked foods warm for a reasonable amount of time without overcooking or causing food spoilage.
👉 Any questions? anything we can help with? Message us directly on our Facebook page! 🙌
Here's to never having to eat another cold, disappointing sandwich,
The KM Team