For a small kitchen space, a compact or slimline dishwasher (18 inches) is the best way to get your dishes done for you while saving on your electricity and water bills.
Small (apartment-size) dishwashers save space, are energy efficient, and use less water – when taking care of those mountains of dirty plates after mealtimes.
Are small dishwashers any good?
A slimline dishwasher is not necessarily any less capable than a full-size dishwasher, but you need to shop wisely, which is what we're here to help you with.
👉 In a hurry? Jump straight to our Compact Dishwashers Reviews
Small Dishwasher Dimensions
Dishwashers come in a variety of dimensions – the standard dishwasher size is 24 x 35 inches.
Small dishwashers are defined as smaller than 24 inches wide.
They can be built into cabinets, and attached to the sink via hoses, and there are countertop models (table dishwashers) as well.
Most Slimline dishwashers measure up to 18 inches in width.
The smallest dishwashers are 16-inch dishwashers.
You can also go for under-sink, in-sink, and single-drawer versions that come in varying dimensions.
The Top 5 Small/Short/Narrow Dishwashers 
Here's a short comparison table. Below you'll find the pros and cons of each mini dishwasher.
There are different types of compact dishwashers:
Built-in (cabinets)
Countertop (portable/table dishwashers)
Under the sink
Freestanding
We know how challenging it can be to find the right kitchenette dishwasher for small spaces.
The great news is:
We've done all the research for you (and us) and below you'll find the 5 best space-saving dishwashers on the market.
No ads – reader supported: this post may contain affiliate links, at no extra cost to you.
1. Farberware Portable Dishwasher – Best Table Dishwasher
Size – 17″ x 16.5″ x 17″
Place settings – 6
Wash Programs – 5
😍 Pros – quiet, doesn't require a water hookup, leak protection, sanitize option
😣 Cons – some labor with filling up the container, relatively expensive
✅ $213 on Amazon
While most condo-size dishwashers require hooking up to a faucet (which means you can't use the sink for hours) and others are complicated to install, the Faberware portable 17″ dishwasher has a built-in five-liter tank and doesn't require a water source or a hookup.
(But it still offers this option if you want)
And if that's not enough, the Farberware table dishwasher is pretty enough to leave out on the counter or table (with its see-through door to watch the cleaning) and is big enough for 12-inch dinner plates!
This practical apartment-size dishwasher requires no assembly, and once you've filled up its 5-liter tank, you are ready to go.
Choose from 5 wash programs (normal/rapid (40 minutes)/ baby care/glass/fruit wash), and after 2 hours your dishes come out fully clean and dry – without soap spots or leftover food.
And, this one is so quiet you'll probably forget you turned it on for the first time.
The Babycare program sanitizes baby bottles using steam, and you also get a fruit basket to wash your fruit with the fruit wash program.
The Faberware maxes out at about 2 glasses, 8 pieces of flatware, and one storage container – it won't be enough for a household with more than 2 people.
We tested it with the normal load program (which takes s a little over 2 hours) and found that the silverware and other items were thoroughly cleaned with no residue from the detergent tablet, and even a very dirty plate came out perfectly clean. 
Pros
Very quiet – won't interrupt those important kitchen conversations 😉
Doesn't require a water source or hookup – a true table dishwasher
Sanitize option in baby care program
Leak protection mechanism that prevents water damage
Cons
requires filling it 3 times with a 1.8-liter pitcher (included), sometimes it's hard to not miss the mark without some splashes
You'll need to run the exit hose to the sink – below the dishwasher
You still have to hand wash your pots and pans – that won't fit inside.
✅ Available on Amazon ($213)
👉 Farberware Alternative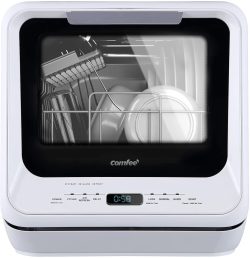 Consider the Comfee Countertop Dishwasher, which is the same size and capacity and also doesn't require hookup but has 6 programs (with an air freshener program to speed up drying).
However, it is a bit noisier (58 dB) than the Faberware (51 dB).
2. hOmeLabs Compact Dishwasher – Best Countertop Mini Dishwasher
Dimensions – 17″ x 19.5″ x 21.5″
Place settings – 6
Wash Programs – 6
😍 Pros – efficient wash cycle, easy set up (a few minutes), simple display, quiet
😣 Cons – loud beep when finishes, no rinse-only option
✅ $339 on Amazon
The hOmeLabs small countertop (& portable) dishwasher is great for small kitchens or small office spaces.
This lightweight dishwasher comes with a six-place setting rack, and no tools are needed for assembly – thanks to the quick connect assembly with accessories included.
It fits perfectly on the counter next to the sink and it's so effective we didn't need to wash anything for the second time – for all dishwasher-safe dishes.
Pros
The controls are user-friendly.
Efficient wash cycle – only 3.1 gallons of water are used in each cycle
Easy setup, takes only a few minutes
Portable – you can take it with you when you move
Does not require any extra tools for assembly
Seamless digital display, just 4 small, white in-keeping buttons
Cons
No water softener
No rinse-only option
Constant beep when finished
✅ Available on Amazon ($340)
3. Frigidaire 18″ Built-In Dishwasher – Best Built-In 
Dimensions – 17″ x 23″ x 32″
Place settings – 8
Rack Style – 2 Stainless steel racks
Wash Programs – 5
😍 Pros – with a stainless steel tub, highly durable, high capacity but energy efficient, adjustable upper tray, quiet
😣 Cons – hookup kit not included, front drain outlet, expensive
✅ $600 on Amazon
Made with a stainless steel interior and exterior, the Frigidaire narrow (18-inch) durable dishwasher has a sleek and modern design that we love and no less than 8 place settings.
It offers 5 wash cycles, a 24-hour delay start, easy-to-use electronic controls, and a heated drying system, and is a highly efficient cleaner.
A powerful yet time and money-saving dishwasher from a well-known American brand.
Pros
Highly durable dishwasher, with a stainless steel tub
High capacity, yet energy-saving
Sanitize option – operates at a higher temperature to fight bacteria and enhance drying results.
You can choose between heated dry or energy saver (no heat) dry option
Cons
Requires a hookup kit that is not included and has to be bought separately,
Not the quietest one – Noise level is 58 dBA
✅ Available on Amazon ($600)
4. Danby Portable Dishwasher –

Best on Wheels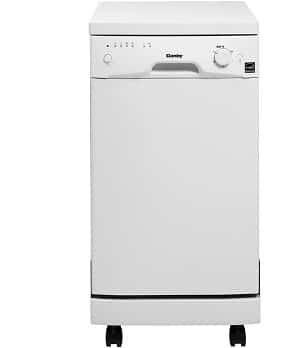 Place settings – 8
Dimensions – 26″ x 18″ x 36″
Wash programs – 6
😍 Pros – portable, relatively high capacity, water saving, simple and easy hookup
😣 Cons – short power cord and water hose
✅$435 on Amazon
The Danby portable, free-standing dishwasher measures only 17.7 inches wide but can accommodate up to 8 place settings and comes with easy-rolling wheels that make it easy to move around and store.
It uses up to 3.5 gallons of water per wash and offers 6 wash cycles, including intensive, economy, normal, glass, soak, and rapid.
Pros
It can hold around 8 plates, 8 bowls, and 20 utensils, with a top rack for cups and glasses.
Stainless steel interior
Water-saving
Large capacity for an 18″ dishwasher
Easy hookup, takes a few seconds to connect
Cons
You'll need an outlet close – the power cord is only 5 feet long, and the water hose is 3 feet long.
✅Available on Amazon ($435) and at Walmart ($579)
5. Edge Star Dishwasher 

Most Energy Efficient
Dimensions – 21″ x 19″ x 17″
Wash programs – 7
Place settings – 6
Rack Style – Cup shelf, cutlery basket, and dish rack
Pros – saves water and money, easy to operate and set up, kills bacteria, good accessories
Cons – May leak if not assembled properly
✅$298 on Amazon
The Edge Star short dishwasher uses only 200 kilowatts per hour (about 61% less than most countertop models) and uses only 2.85 gallons of water per wash.
It fits under most kitchen cabinets, and most under the sink spaces as well, and comes with a drain hose that you would place in the sink for it to drain.
It requires no permanent setup (comes with a quick-connect adapter that fits standard-sized kitchen faucets) and is super easy to operate.
The Edge Star includes essential accessories: a dish rack, cup shelf, and cutlery basket – all you need to optimally organize your dishes and utensils.
Pros
Saves a lot of money on your water and energy bills
Super easy to operate with a digital display
Built-in rinse agent dispenser to minimize water spots
Water temperature is raised up to 149 F to kill bacteria
Highly rated by Amazon buyers
1-year warranty
Cons
You have to be gentle when you screw the hoses to avoid leaking
✅Available on Amazon ($298)
Why Are 18-inch Dishwashers More Expensive?
You may expect to pay a little less for a smaller dishwasher, but featurewise, they are in line with the standard-size ones, and you buy them to save space while having the same efficiency.
Also, slimline dishwashers are not as common as the standard 24-inch models, which means less competition on the market and higher prices because they are less produced.
Can You Put a Countertop Dishwasher in a Cabinet?
No, you cannot put a countertop dishwasher in a cabinet. It is not intended or designed to be fixed inside a cabinet or under the counter.
It can only be used and installed as instructed, mainly because the heat needs to be exhausted as it was designed.
In some cases, you can put it in a cabinet, if there is enough clearance around the dishwasher for proper ventilation and the cabinet is strong enough to support its weight.
What is a Portable Dishwasher?
A countertop or portable dishwasher has a hose that can temporarily attach to your kitchen sink's faucet.
However, this will only work in case the sink faucet contains a threaded faucet spout.
For instance, faucets that contain built-in sprayers do not possess threaded faucet spouts.
These dishwashers are an excellent choice if you wash small loads of dishes daily.
How Long Does a Small Dishwasher Take to Run?
The standard run time of dishwashers is up to 2 hours.
It can also sometimes be less, or more, according to the model type. On some models of dishwashers, you can even see the timer display.
Is an 18-inch Dishwasher Too Small?
Although 18-inch dishwashers are relatively smaller in size, they can take care of all the functions that full-sized dishwashers can.
The only difference is that these dishwashers can take up fewer loads of dishes at a time while also taking up less space in the kitchen.
The KM Team