A small (compact) microwave is a cost-effective choice for any small space, including small kitchens, small apartments, dorms, camping, caravans, offices, vacation homes, and more.
(See the complete list of small kitchen/student kitchen essentials)
This post contains affiliate links. Find more info in our disclaimer.
A mini microwave quickly heats your meal or beverage while saving a lot more space and electricity  than the average microwave oven.
We've spent 22 hours of research to find how to choose the best mini microwaves (o.5 – 0.9 Cu Ft) – and the best ones for the money – in 2021.
How to Pick the Best Small Microwave
1. Size – Size does matter when it comes to mini microwaves. Make sure you measure the space available for the microwave and its dimensions – before you buy. Add 1-2 inches to the space you have for clearance.
2. Capacity – small microwaves' capacity ranges from 0.5 Cu. Ft. to 0.9 Cu. Ft. The larger the capacity, the more power (in watts).
The amount of food you can cook is determined by both the capacity and the turntable size and design.
3. Power – Power is measured in watts. The more watts, the faster your food will cook. Small microwaves' power range from 700W to 950W.
4. Pre-set cooking options – most mini microwaves come with pre-set programs to help you determine how much heating time you need for various foods and beverages.
Need a Portable Oven for Your Car/Truck?
Instead of a microwave, use an electric
portable food warmer
that plugs in your car and heats your food evenly – without drying it!
The 7 Best Mini Microwaves [2021 Reviews & Comparison]
The 7 cost-effective compact microwaves below range from 0.5 Cu. Ft to 0.9 Cu. Ft.  in capacity, making them perfect for tiny homes, small kitchens, dorms, mobile homes, vacation homes, offices, and more.
1. Toshiba 0.9 Cu. Ft. Small Stainless Steel Microwave

Best Value
The compact size of the Toshiba mini microwave is ideal for small apartments, vacation homes, dorms, and offices – yet has enough space for the average dishes.
The electricity-saving eco-mode reduces standby power by 50%, and it comes with a wonderful buzzer disabling mode, for quiet operation.
The 6 auto menus are pre-programmed to cook 6 types of food (popcorn/pizza/potatoes and more), and it has 10 power levels to choose from.
This mighty little microwave has a 10. 6 inches glass turntable inside and can run for 6 minutes straight in full power, has LED lighting inside the cavity, and an easy-to-use control panel.
Dimensions: 19.2″ (W) x 15.9″ (D) x 11″ (H)
Weight: 27.3 pounds
Power: 900W
We highly recommend the Toshiba compact microwave and agree with the high ratings it has on Amazon.
✅ Toshiba 0.9 Cu. Ft. Stainless Steel Microwave Price – best price found on Amazon
2.  Whirlpool 0.5 Cu. Ft. Compact Countertop Microwave

Smallest Microwave
The Whirlpool compact countertop microwave is the smallest microwave on the market and will only take 15 inches of width, 14 inches of depth, and 14 inches of height from your space.
However:
With only 0.5 Cu. Ft. capacity, it still accommodates a standard dinner plate (cavity size is 11.5″).
You can quickly set this small microwave to cook for 30 seconds at 100% power with the "Add 30" option or choose from 1-10 power levels.
Dimensions: 13.75 (H) x 15.38 (W) x 14.13 (D) inches
Weight: 32.6 pounds
Power: 750W
The important control lock feature helps you avoid unintended use or other changes to your cooking settings by disabling the control panel with the touch of a button.
The Whirlpool microwave cooks fast (1-2 minutes to evenly cook a frozen meal), and easily fits corners to save maximum space.
It's small but mighty, everything you need from a space-saving microwave.
✅ Whirlpool countertop microwave Price – $179 at Home Depot 
3.  Panasonic 0.8/0.9 Cu. Ft. Small Microwave Oven (950W)

Most Features
The Panasonic microwave small but mighty (950W) stainless steel microwave won't take much of your space but cooks your food fast and evenly, with some unique smart features that make it a great buy.
The automatic Genius sensor instantly adjusts the power and cooking time based on different foods (but also has 9 preset menu items to choose from), and the Keep Warm button maintains the heat until you are ready to eat (without overcooking!)
This high-power microwave (with inverter technology) delivers consistent, evenly cooked food (simmer without overcooking), and the advanced inverter turbo speeds up defrosting time.
Other pros are the quick minute timer, delay start, and the child safety lock.
The only con is the display light seems a bit dim and disappears in sunlight.
Turntable size: 11.25 inches
Dimensions: 14.8 (D) x 19.2 (W) x 11 (H) inches
Weight: 20.9 pounds
Power: 950 W
✅ Panasonic small 0.9 Cu. Ft. microwave Price – best price found on Amazon
👉 Larger Option
The Panasonic larger mini microwave (0.9 Cu. Ft.), has 7 preset cooking settings, and 3 power levels for popcorn popping.
It doesn't have the automatic genius sensor, and the turntable is smaller, but it costs much less.
4. AmazonBasics o.7 Cu. Ft. Voice-Controlled Microwave

Alexa Enabled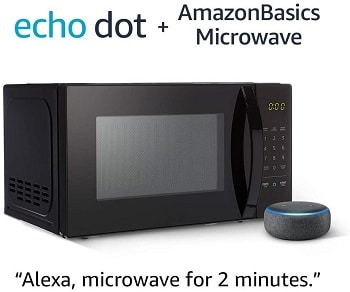 The Amazon Basics small microwave has a unique feature no other microwaves on this list have.
Instead of choosing from the many confusing setting and options – you can use your voice to start the microwave – using an Alexa device.
After connecting it to the app, simply say "Alexa, microwave popcorn", or "Alexa, reheat one cup of coffee" – and the microwave will set the right power level and time to get the job done.
The second option is to press the Alexa button on the keypad and just say the type of food you want to cook ("frozen vegetables"), or the cooking time ("2 minutes").
Otherwise, you can use the buttons just like with every normal microwave.
👉 If you are a popcorn fan, Amazon offers a 10% discount on popcorn orders (choose from the popcorn brands on the app), and Alexa will know when to reorder for you when you run low.
The 10″ turntable size is a bit smaller than average for compact microwaves, but users say it fits a standard dinner plate.
It also has 10 power levels, a kitchen timer, and a child lock.
Dimensions: 17.3″(W). x 10.1″ (H). x 14.1″ (D).
Weight: 21.9 pounds
Power: 700W
✅ AmazonBasics Voice-Controlled Microwave Price – best price on Amazon
5. Comfee 0.7 Cu. Ft. Mini Microwave (700W)

Budget Friendly
The Comfee mini microwave is very popular and highly rated on Amazon, and we believe it's because it has all the great features of the Toshiba microwave reviewed above – for a lower price.
With the easy one-touch button, sound on/off, eco mode, 11 power levels, and 6 auto cooking functions, this 0.7 Cu. Ft. stainless steel microwave is perfect for small spaces.
It is small, but the turntable plate size (10 inches) is big enough for standard plates.
Of course, it is a 700W microwave so the food takes a bit longer to cook/heat, but the price, space-saving, and quality –  make it a great buy.
Dimensions: 19.2'' (W) * 15.9″ (D) * 11.5'' (H)
Weight: 20.3 pounds
Power: 700W
✅ Comfee 0.7 Cu. Ft. Mini Microwave Price – check today's price on Amazon
6. Daewoo Retro Countertop Microwave Oven 

Retro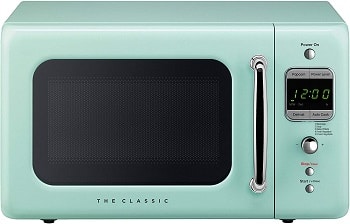 The Daewoo super cute small microwave comes in 3 colors – including mint green and red, and a retro design that upgrades any countertop.
It has 4 auto-cooking options, two-way defrosting, zero standby function, 5 power levels (up to 700W), and a recessed turntable (10 inches) to free up space for large dishes.
It's a great little vintage microwave will all the basic functions, yet cooks fast thanks to the CRS system inside – that uses dual waves to cook/heat evenly and thoroughly.
Dimensions: 12.7 (D) x 17.6 (W) x 10.6 (H) inches
Weight – 23.4 pounds
Power – 700W
✅ Daewoo Retro Countertop Microwave Price – check priceon Amazon
7. Nostalgia Retro Turn Dial Mini Microwave 
The Nostalgia Retro vintage-style microwave goes all the way retro with its turn-and-push dial, and a sleek chrome door handle, aqua color, and a round LED display light that looks gorgeous in any kitchen.
It has no less than 12 pre-programmed cooking settings (popcorn, pizza, potatoes, veggies, and more), 5 power levels, a delay timer, and express cooking.
However:
The turntable size is less-than-average for small microwaves (9.63 inches) and a standard dinner plate may not fit in.
Dimensions: 10.25" (H) x 17.5" (W) x 15" (D)
Weight:23.55 pounds
Power: 700W
✅ Nostalgia Retro Turn Dial Mini Microwave Price – best price found on Amazon
👉 Lower Price Alternative
Mini Microwaves FAQ
What is the smallest size countertop microwave?
The Smallest Microwave on the Market is the Whirlpool 0.5 Cu. Ft. microwave, taking up just 213.1 square inches of counter space. It has a unique rounded back so that it will fit nicely in corners too.
Is a 700-watt microwave powerful enough?
When it comes to microwaves, wattage equals power. A 700W power is decent enough when it comes to small-mini microwaves. It will cook/heat food a bit slower than the average-size 1000W microwave (but saves space and electricity costs).
How much does a mini microwave cost?
Prices for small microwaves range from as low as $40 to as high as $300, depending on the heating technology, power (in watts), extra features, and more.
The KM Team