If you are just starting college or university but you are not exactly a chef (yet), you'll need a few basic recipes that are cheap, easy, and quick – to help you save time and keep your energy levels high.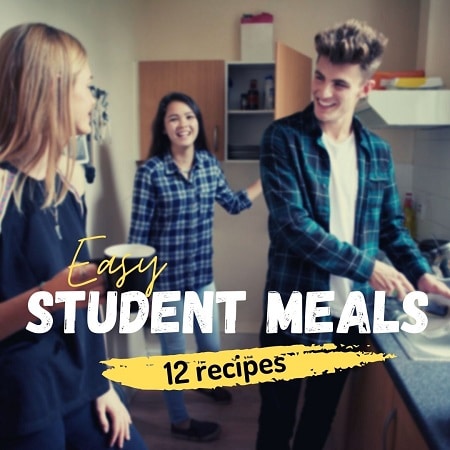 These typical student meals will only require a good frying pan, which is a great tool for creating comfort food for you and your friends – quickly and easily.
How to Meal Plan as a Student
Having a meal plan is important for students. Students need meal planning that will save them time and money, without compromising on nutrition values and great taste.
The first step is to make sure you have all the student kitchen essentials, to be fully prepared. Those include a fridge and freezer space, containers, a good frying pan, etc.
We recommend choosing your protein carefully (animal-based products are more expensive) – chicken breasts have more versatile recipe options, buying some ingredients in bulk (such as pasta, beans, and frozen vegetables), choose dishes you can portion and freeze (such as pasta and chili), and choosing your favorite foods to find multiple recipes around them.
12 Student Meals Recipes (for a Frying Pan)
Once you conquered the basics, try out some more challenging student meal suggestions – you'll find them all below.
👉 A good frying pan is one of the most important student kitchen essentials. See our list to be better prepared!
1. Sloppy Joe Macaroni
A simple beef and macaroni skillet recipe flavored with tangy Sloppy Joe sauce and topped with shredded cheese – done in 20 minutes including prepping and making, and serves 4 people.
Prep. Time – 10 minutes
Cook time – 20 minutes
2. Cheeseburger Pasta
this is one-pot cheeseburger pasta you can make in a large frying pan, and you are adding the pasta straight into the pan with the beef and for flavor.
👉 See our comparison between the popular Caraway Fry Pan vs. Le Creuset
Cheeseburger pasta is exactly what it says, all the best parts of a cheeseburger turned into a delicious pasta dish that you and 3 of your friends are going to love.
Prep. Time – 10 minutes
Cook time – 25 minutes
3. Beefy Rice
The Beefy Rice is an easy dinner recipe using lean ground beef, brown rice, vegetables, and juicy tomatoes for a delicious one-skillet dish, that takes 30 minutes total time to prepare and cook.
Inside the link, you'll find the meat-free version for this recipe, if you are a vegetarian.
Prep. Time – 10 minutes
Cook time – 20 minutes
4. Frying Pan Lasagna
We simply love this easy frying-pan chicken lasagna. Doesn't it look amazing?
We added some parmesan inside and cooked for a little longer to make it softer. what a little surprise this was – full of flavor and very filling, a great dish for wintertime, and so easy and time-saving – perfect for a student kitchen.
Prep. Time – 10 minutes
Cook time – 25 minutes
5. Chicken Thighs
Crispy Chicken thighs are everyone's go-to choice for a quick Monday dinner and also for a weekend supper.
With only a few ingredients and one pan, you can cook baked chicken thighs in no time! Crispy on the outside, tender and juicy on the inside, these chicken thighs are a must-try.
Another plus: it's just as flavorful and crispy when reheated as a leftover.
Prep Time: 5-10 min
Cook time: 25 min
6. Easy Chicken Parmesan
While there are tons of chicken recipes out there, we prefer this one. Crispy chicken, a savory tomato sauce with a hint of sweetness, and plenty of melty cheese. It's straightforward and classic.
When you're craving something cheesy, this is your best bet. Serve this chicken parmesan with pasta, a simple green salad, or some garlicky, peppery broccoli rabe to amp up the taste.
Prep Time:15 min
Cook time: 1 hour
7. Scrambled omelet toast topper
What better way to celebrate sandwiches than with an omelet? Probably none. Whisk together the eggs, crème fraîche, cheese, and chives with seasoning.
In a pan, heat the oil and cook the spring onions for a few minutes until tender. Warm through the tomatoes before adding the egg mixture… Get the full recipe here.
Prep Time: 5 min
Cook time: 5 min
8. Pizza Melts
Pizza melts are a hybrid of two of your favorite comfort foods: pizza, and grilled cheese sandwiches. They're cheap, simple, and the ideal quick dinner!
Make sure to try out this pizza-inspired sandwich recipe and enjoy a fusion of both in less than 15 minutes.
Prep Time: 5 min
Cook time: 10 min
9. Sausage Pasta
This creamy sausage pasta is a one-pot meal that's easy to make. It's a great midweek dish where the pasta is made in a single pan with a flavorful sauce.
It's easy, cheesy, fresh, and creamy. You can also make some changes to the dish, such as adding more cheese and baking the pasta, or omitting the cream cheese for a healthier version.
Prep Time: 5 min
Cook time: 25 min
Who'd have guessed you could make delicious chocolate chip cookies right on the stove?
These cookies have a lovely, crisp crust and a chewy interior, making them almost the ideal chocolate chip cookie! So, if you're craving something sweet, skip the oven and prepare cookies in a pan instead. Warning – these won't last to the end of the day 😉
Prep Time: 20 min
Cook time: 15 min
11. Sesame Chicken with Rice
This 15-minute recipe is so easy to make and so incredibly good that you'll never want to order sesame chicken takeout again.
Prepare rice (with your mini rice cooker of course) and serve the delicious sesame chicken on top of it. Garnish with crispy spring onions and enjoy your meal.
12. Tomato Braised Eggs
Tomato braised eggs – your new favorite weekend breakfast. Braised eggs in a saucy mixture of tomatoes, spring onions, crushed garlic, and seasoning.
It's healthy, lightweight, and delicious. Sop up every last bit of goodness with your favorite crusty bread! You can also serve it with a side of mushrooms and spinach.
Prep Time: 15 min
Cook time: 20 min
We hope you like these recipes, go to our Facebook page to get more inspiration and to connect with us!
Don't forget to go over the list of dorm kitchen essentials for college/Uni!
The KM Team