Who makes the best 12 inch cast iron skillet?
In this post, we've researched, reviewed, and compared the 6 best-selling 12 inch cast iron skillets, to help you make the best choice for your kitchen and your family.
Skillets with a diameter of 10″ to 12″ give enough cooking surface for most of your home cooking needs and are best for families of three or more.
This post contains affiliate links. Find more info in our disclaimer.
In a Hurry?
See our short comparison table below, or jump to our 12 inch cast iron skillets reviews and top picks!
How We Chose the Best Cast Iron Skillets
1. Durability and Convenience
As we briefly mentioned before, skillets made with cast iron are more durable than steel cookware.
However, you should still ensure that the product you've picked is made of high-quality iron. And your cookware should be easy to handle and easy to clean.
2. Design, Weight, and Handles
We've also judged the Skillets based on their shape, design, and the overall structure of the handles and sprouts. Deeper cooking pans are preferred for casseroles and most baking uses, but what if they don't have a firm handle as well as a helper handle on the opposite side for a firm grip?
The weight of the skillets matters as well; you'll find it very difficult to toss your food around the skillet if it's too heavy.
The 6 Best 12-Inch Cast Iron Skillets 
Below you'll find the 6 best selling 12″ cast iron skillets – reviewed and compared, and our top picks for 2021:
RELATED: Cast Iron vs. Carbon Steel Pans – Which is Better?
1.  Stargazer 12 Inch Cast Iron Skillet

Best Overall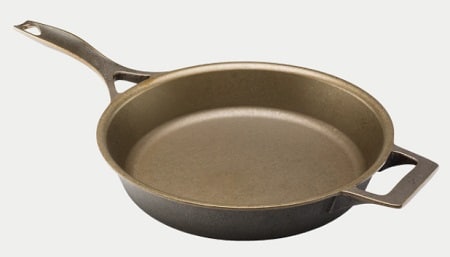 Through our research, the Stargazer is probably the best 12 inches cast iron skillet on this list and offers the best balance between weight and performance.
Here's why:
The smooth cooking surface (unlike the usual raw-looking iron), optimized weight (only 6.5 pounds, compared to Lodge's 8 pounds), and the stay-cool handle make the Stargazer cast iron skillet super-fun and easy to cook with.
The surface is as non-stick as cast iron can get, and you can use it for almost anything you'll cook (grill, induction, open fire) – with minimal oil.
This family-size skillet is 2.3 inches deep and can contain 13.8 cups of liquid.
Best of all:
This USA-based company focuses on sustainability and uses recycled iron, recycled sand for their casting molds, and recycled paper for their shipping box.
And did we mention the lifetime warranty and excellent customer service?
✅ Stargazer 12″ skillet cost – best price and warranty on the official site
See the new texture of the StarGazer in the video below:
 2. Lodge 12″ Pre-Seasoned Cast Iron Skillet

Popular on Amazon
Lodge is a family-owned, USA-based company for over 120 years, and is well known for its high-quality cookware.
The Lodge pre-seasoned cast iron skillet comes with an assist silicone handle holder that protects your hands from heat up to 500 degrees F and can be used on any heat source, from the stovetop to a campfire, as long as you know how to season it and clean it.
Though it comes pre-seasoned (with natural vegetable oil), some users recommend seasoning it again before your first use and cleaning it only with mild soap.
The
Lodge 12-inch cast iron
skillet is one of the best ones you can get. It's lighter than other cast-iron skillets, better at searing, comes with a good factory seasoning, and has easy-to-grip handles.
This 12-inch deep skillet (that weighs 8 pounds) gets better the more you use it, and cooks like a champ, but is heavier and less smooth than the next skillet you'll find on this list.
✅ Lodge Cast Iron Skillet Cost – average price, check on Amazon
3. Victoria Cast Iron Skillet Frying Pan

Budget Pick
The Victoria 12 inch cast iron skillet, made by the Colombia-based family business (since 1939), weighs only 6.7 pounds and is made with recycled cast iron that's completely purified to its rawest form.
The safer handles are larger, curvier, and more ergonomic than average, and allow for a better grip while handling hot iron.
Everything about this skillet is designed for optimal ease of use, including the large hanging holes, the contoured pour-spouts, the pre-seasoning (with non-GMO flaxseed oil), and the excellent heat retention.
No wonder it gets such high user ratings on Amazon.
Victoria's large spouts allow you to pour off hot oil without a single drip. Its slightly sloped sides make the capacity a little more generous.
👉 The only con is that the handle can get too hot to touch, and its long design makes it seem heavier than it is.  We recommend ordering the silicone handle cover from the same brand.
✅ Victoria cast iron skillet Cost – lowest price on this list – see on Amazon
4. AmazonBasics Cast Iron Skillet

Best Deep Skillet
One of the best-selling cast iron skillets on Amazon is the AmazonBasics 12″ preseasoned skillet, and it's the deepest cast iron skillet on this list. However, it "pays" for it with weight – this skilled weighs about 8 pounds, which is heavier than others on this list.
It is oven safe to 500 degrees F and you can use it on any cooking surface, including the broiler, barbecue, stovetop, oven, and more.
The heat spreads across the base and up the sides for the best cooking results and Amazon recommends using it on medium heat with a small amount of oil on the cooking surface.
(Don't forget to use oven mitts with this one, it gets hot very fast)
While Amazon buyers like this skillet, they do complain about its weight (more than 8 pounds) and believe that it needs another seasoning before the first use.
✅ AmazonBasics Skillet Cost – check today's price on Amazon
5. Utopia Kitchen Pre-Seasoned Cast Iron Skillet

Best PreSeasoning
The Utopia Kitchen 12.5 inches cast iron skillet pre-seasoning (with soy-based oil) is equivalent to about 10 rounds of normal home seasoning and is ready to use out of the box.
It is compatible with every heat source, including oven, stove (gas/electric), ceramic glass-top stoves, grill, or over a campfire. The larger than average size makes it a bit heavier than 12-inch skillets (8 pounds), but it has high sides, a helper handle, high consumer ratings.
The price is also almost unbeatable.
✅ Utopia Kitchen  Cast Iron Skillet Cost – check today's price on Amazon
6. Field Cast Iron Skillet

Most Smooth Surface
The Field company 12-inch skillet is the closest modern cast iron skillet that reminds us of vintage cast iron skillets (such as Griswold and Wagner's) – on this list.
And the best news?
It's the lightest skillet on this list (only 6 pounds, and it has the smoothest surface.
The great craftsmanship is apparent with the smooth, natural nonstick surface, and the ease of cleaning.
Users claim that nothing sticks to this skillet from your first use, the preseasoning is perfect and the assistance handles are very well made.
This skillet can contain 11.3 cups of liquid, or 3 steaks, or 6 fried eggs – perfectly.
(RELATED: The Top 4 American Made Steak Knives)
The only improvement we can think of is to add pour sprouts. It's not the lowest-cost cast iron skillet, but we think it's worth every penny and can last for generations to come.
✅ Field Cast Iron Skillet Cost – check today's price on the official site
Cast Iron Skillet Unique Benefits
Most of us know that cast iron cookware is non-toxic, stays hot longer, and is very hard to destroy. But, there are a few more benefits that some of us are not aware of:
A cast-iron skillet cooks your food evenly and will keep your food warm longer (up to 30 minutes!)
Cast Iron skillets are completely toxin-free
The more you use it, the better seasoning it gets
If adequately seasoned, food won't stick to the skillet, and it'll be easy to clean.
During the cooking process a small amount of iron is absorbed into the foods (free iron supplementation)
When you bake with a cast-iron skillet, you don't need to preheat it.
How Are Cast Iron Skillets Made?
The manufacturing of cast iron skillets starts off with a mixture of pig iron, recycled steel, and recycled cast iron. All three metals are melted into a molten form which usually takes around 15 minutes in a 2,800 degrees Fahrenheit furnace.
Once melted, a chemical, Vermiculite, is added to remove any impurities from the metals. The melted form is then poured into sand molds in the shape of the desired skillet. Then, it is grounded, polished, and rinsed.
Some brands follow the drying sessions with a uniform seasoning process with vegetable oil across the surface.
Cast Iron Skillets FAQ
Should I get a 10 or 12-inch cast iron skillet?
A 10-inch skillet is the best size for cooking eggs and other small and quick meals, while a 12-inch pan is best for larger meals, is more versatile and the best size for frying, roasting, and searing for 3 or more people.
Once you go bigger than 12 inches, you get a cooking surface with hot and cold spots and the weight may become too heavy to toss food in and may strain your hands.
How do you clean a cast-iron skillet?
Clean the skillet immediately after use, while it is still warm. Wash the skillet by hand using hot water and a sponge (no soap). Scrub off stuck-on food with a paste of coarse kosher salt and water. Then rinse or wipe with a paper towel until fully dry.
How do you season a cast iron skillet?
First, Clean and dry thoroughly.  Apply a thin layer of vegetable oil on the dry inner surface. Place it upside down on a middle oven rack at 375°. Bake for 1 hour and let cool in the oven. The best cast iron skillets are preseasoned and can be used out of the box.
What is the best oil to season a cast-iron skillet?
The best oils to season a cast iron skillet are vegetable oils such as grapeseed oil, Flaxseed oil, olive oil, and Sunflower oil. Use non-GMO oils.
The KM Team