In this hustling modern world, a small and portable blender is a must-have for any super busy health enthusiasts, who want their superfood smoothie or a protein shake on the go – at work, on travel, and anywhere.
Having a battery-operated, personal blender is a great way to get all the energy-boosting nutrients you need for the day (and even the occasional margarita) – ready in minutes, on the spot.
But:
👉 How do you find the best cordless blender from the dozens available on the market?
In this post, you'll find reviews for the best portable blender bottles for personal use and travel, their unique uses, and their pros & cons – to help you make a quick and wise decision.
This post contains affiliate links. Find more info in our
disclaimer
.
Are Portable Blenders Any Good?
Portable blenders are small, cordless, battery-operated blenders for personal use, designed to make your smoothies, protein shakes, and even your margaritas – on the go. You can also use a battery-operated blender to chop, mix, whip, grind and blend small quantities of food.
The best portable blenders do not only perform just as well as full-size home blenders, but they also offer some innovative elements and features that, in many cases, make them even better.
How's that?
Well, here are the unique benefits of portable blenders:
Portable Blender Benefits
1. Simple to Operate
Rechargeable blenders are convenient and very easy to use, and the best ones come with accessories that are easy to detach and clean.
They are all lightweight and small, without any tangled cords around them.
2. Time-saving
As long as you charge a personal blender in advance, you can make your favorite smoothie anywhere you are – in your car, on the way to work, when you are hiking, or at the airport – in just a few minutes.
(👉 Find out: what's the best mini rice cooker for travel/personal use?)
Since portable blenders are smaller, the blender speed is slower, but this won't matter since you won't need it for "heavy-duty" work and large quantities, so it will not take long to make a smoothie.
Now that you know why you should get a cordless blender, here are the top 6 portable blenders right now.
Every product has unique features and its pros and cons.
The 6 Best Portable Blenders (Reviews & Comparison)
Here are the results of our 15-hour research:
1. Blendjet Personal Blender

Best USB Blender Bottle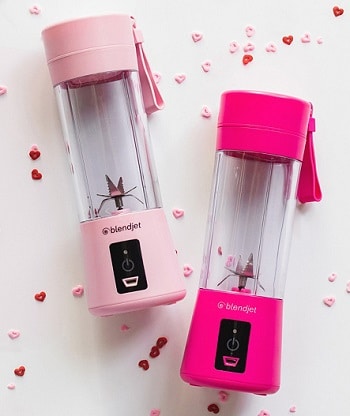 The Blendjet one portable blender blends 8-12 beverages per charge (which takes 2.5 hours), and the 6 stainless steel blades are so powerful that they can crush ice.
The strong 5V motor won't overheat thanks to the built-in safety feature that keeps it from heating, and it comes with a strainer that filters out the extra pulp, and a convenient carrying strap.
The newest model, the Blendjet 2, has a larger, 16-ounce capacity, blends 20 beverages per charge, and is now water-resistant (so you don't have to worry about getting liquid in the USB-C).
Dimensions: 3.2 x 3.2 x 10 inches
Weight: 13 ounces
Blendjet Two Pros
Can blend frozen fruit and big chunks well
Safe to use – safety features that prevent overheating and using the blades until the bottle is connected to its base
BPA free
Compact and lightweight
Quieter than the original version
✅ Price – best price and warranty is at Blendjet
Cons
The motor lacks some power
The container is relatively small which limits what you can make
2. Hamilton Beach Personal Blender 

Best Budget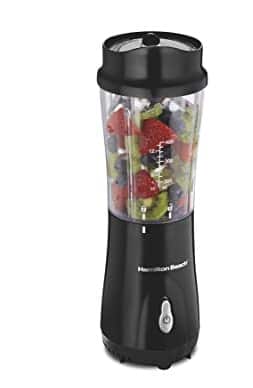 The Hamilton Beach portable blender operates with a simple one-touch button and makes it easy to blend shakes, smoothies, marinades, salad dressing, and baby formula – on the go.
It serves as a stationary blending jar in blending mode, and a detachable travel mug with a lid  – that lets you drink straight from the jar, and fits in most car cup holders.
The 175 motor and the stainless steel blades have ice-crushing power and the travel lid allows you to "blend and run" – where you are.
The BPA-free jar and lid are dishwasher safe.
👉 Hamilton Beach Pros
Stainless steel blades for smooth crushing (ice too)
Easy to operate – one button for start and end
Great as a stationary blender and a travel blender as well – detachable and simply built
Tightly sealed that reduces chances of leakage to almost zero
Cons
Does not work well with hot drinks
Blades sometimes miss chunks of fruits
✅ Best price on Amazon
3. PopBabies USB Portable Blender

Most Quiet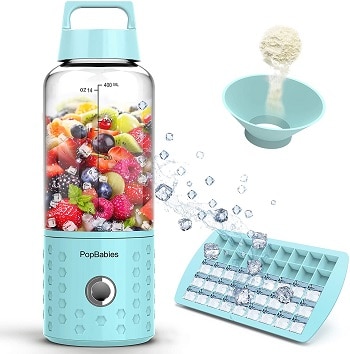 This unique, mini smoothie maker is a detachable camping battery-operated blender that is versatile and convenient to use.
It is one of the smallest models by PopBabies and comes with either a 17oz or 14oz bottle and is powerful enough to blend ice along with the pieces of frozen fruits for your smoothies.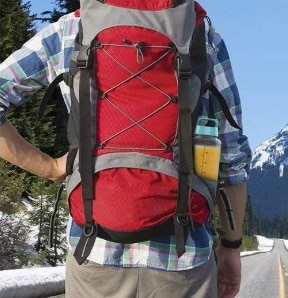 Unlike other portable blenders, this can also work while charging.
The cup is made with toxin-free food-grade material and is dishwasher safe, and the plug fits all countries.
(Read: the 5 best compact dishwashers – of 2021)
PopBabies Pros
Quiet
Great for travel – easy to pack, compact, plug fits all countries
Crushed ice and nuts
Dishwasher safe
Makes very little mess
Comes with a free funnel
Cons
You may need to slice your fruits into small pieces before putting them into the blender
✅ PopBabies Cost – Check price on Amazon
👉 A similar model by PopBabies is the P1001W portable blender.
This one comes with a bigger battery of 5200mAh and can go as much as 25 blends in one charge – yet it costs the same!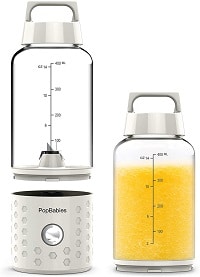 It can also blend the hardest nuts in 15-20 seconds.
4. Nutribullet Pro Blender with Travel Cup

Most Powerful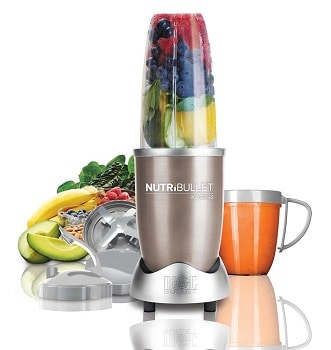 This Nutribullet model is one of the best-selling portable blenders of 2021 and for good reasons. This compact size 13-peace portable blender is easy to assemble and makes it a top-notch choice for home use and on the go.
The 13 pieces include a power base, 32 oz. colossal cup, 24 oz. tall cup, flip-top to-go lid, handled lid ring, and non-handled lid ring.
The 900-watt motor is powerful and easily handles all your shakes, smoothies, sauces, and purees, and can be used for grinding, mixing, and stirring.
A hard copy recipe book is included, shipping is free and fast, and you'll love the design and all the gorgeous colors you can choose from.
👉 Nutribullet blender pros
Versatile and feature-packed
You can choose from the 3-cups according to your needs. Choose the best size for the gym, office, or outdoor.
Powerful base
Larger capacity
Lasts for years with no malfunctions
Cons
A bit heavy (weight about 8 pounds)
✅ Best price on Amazon
 5. Ninja Fit Personal Blender 

Best for Travel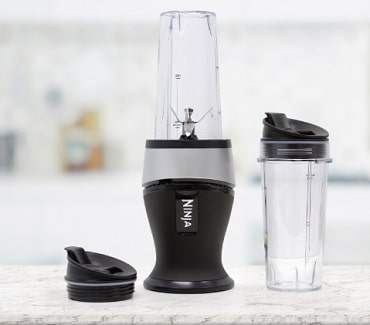 This small and lightweight personal blender bottle comes with 2 cups, 2 sip-and-seal lids, and a recipe guide with 50 healthy smoothies ideas.
The special lid allows you to push the food down for another blend, and also functions as a sip and seal lid.
The cyclon push technology enables the blades to grind and pulverize whole fruits and vegetables – without losing any nutritional value, and the 700-watt motor is strong enough to crush ice.
👉 Ninja Fit pros
Convenient and easy to use
Durable and fast blending
Good size and weight
Looks great and stylish modern design
Blends frozen foods well
Hard to find replacement cups
✅ Check today's price on Amazon
6. Tenswall Portable, Personal Blender

Best Budget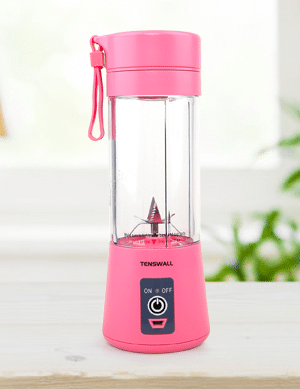 The Tenswall small yet mighty 4-blade portable blender comes with a battery that lasts for 15 shakes or smoothies in one charge, and a smart safety system (magnetic sensing switch).
Its small size makes it a great fit for travel.
The self-cleaning mode allows you to easily wash the blender without leaving any dead corners.
This USB juicer bottle comes with a built-in 2000mAh rechargeable battery that can be easily charged by a power bank, computer, laptop, mobile phone, or any USB device.
(👉 See the top-rated cold press juicers – of 2021!)
TensWall Blender Pros
Fair price
Very safe to use and take for travel
Self-cleaning mode
Very high user reviews on Amazon
Food grade/non-toxic material
Sharp blades
comes with 50 recipes
Cons
Some users claim it's too small
✅ Check today's price on Amazon
How to Use a Portable Blender
Here are a few tips to know before you use a portable blender bottle:
Break the ice into smaller pieces.
Start with the liquids, then add the rest.
Clean and dry the blender after each use.
Do not microwave the blender, it's not made to use in the microwave.
Portable Blender FAQ
What is a portable blender?
A portable blender is a cordless blender that usually works on batteries; the batteries could either be rechargeable or replaceable.
How do you clean a portable blender?
Most portable blenders are dishwasher safe. All you need to do is detach the parts and let the dishwasher do its work. In case your product is not dishwasher-safe, you separate the detachable parts and soak them in water with a little bit of dish soap. This way the stains will easily come off with a single wipe.
Are a blender and a food processor the same?
Although both consist of blades that spin at very high speeds, they are a little different. A blender is commonly used to make liquid products like smoothies and shakes. On the other hand, a food processor is used for tasks like cutting and slicing fruits and vegetables or mixing dough.
👉 Want to HEAT/COOK your lunch on the go? Check out the top 6 portable food warmers (electric lunch boxes) – of 2021!
The KM Team