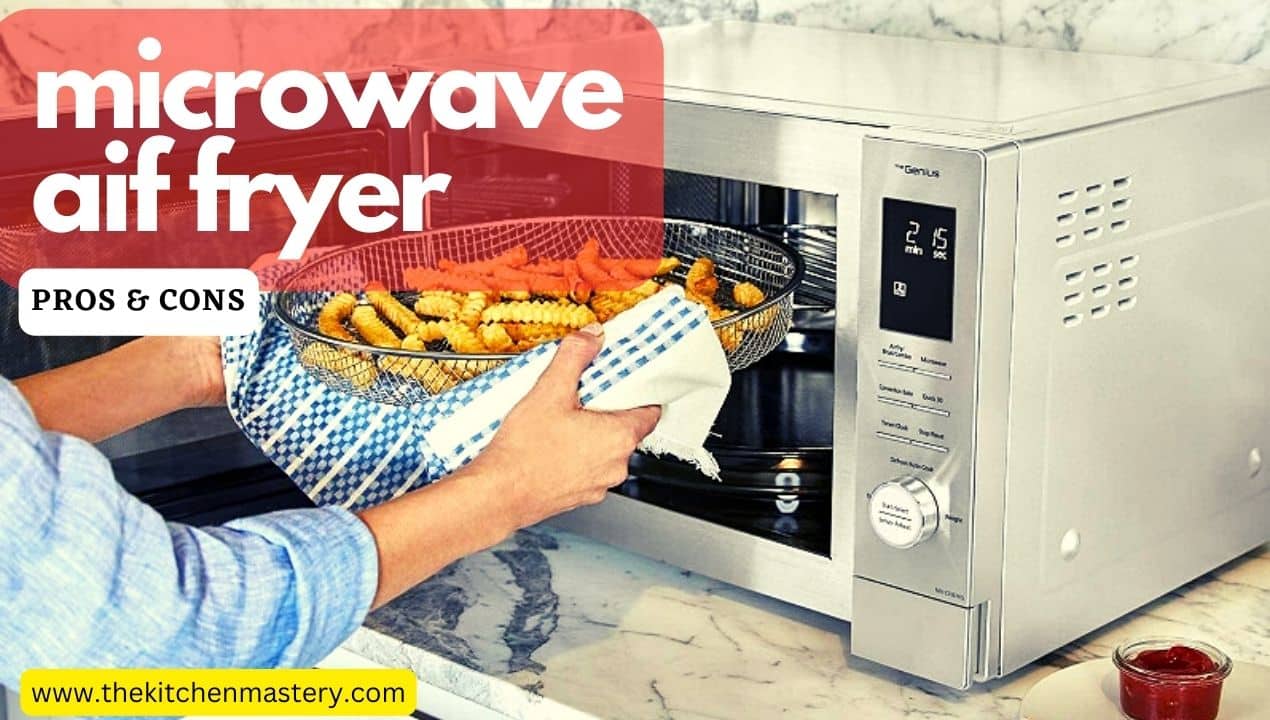 Do you wonder whether to choose a microwave or an air fryer?
Well, now there's no need to choose anymore.
A microwave air fryer combo is like a peanut butter and jelly sandwich, but for your kitchen appliances: it gives you the convenience of a microwave and the crispiness of an air fryer – a double win!
But, is it worth the price? does it work as promised?
The answers are here.
The microwave air fryer combo saves precious counter space and allows for versatile cooking – including air frying, roasting, baking, broiling, and quick heating of leftover food.
But:
Is it a good appliance? What are the pros and cons? And how do you choose the best one?
(This post may contain affiliate links, at no extra cost to you)
What is a Microwave Air Fryer Combo?
A combined microwave oven and air fryer offers the quick-heating ability of a microwave, and the versatile cooking abilities of an air fryer – in one compact device.
Instead of reheating leftover food in one device, and air frying, baking, and roasting in another – you can just use this one compact appliance, to cook and crisp your food – with little to no oil or added fat.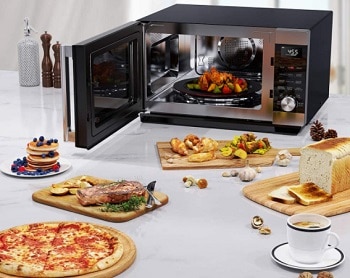 The microwave option quickly heats (or defrosts) your food and hot beverages with electromagnetic radiation – that doesn't melt plastic containers.
The air fryer option can fry (without oil), bake, roast, or just give your pizza that perfect crisp on the edges – with the convection technology heating element and fanning system that circulates superheated air for even cooking with a golden crisp.
What Can You Cook in a Microwave Air Fryer?
Since an air fryer microwave oven includes hot air frying and microwave abilities (and sometimes convection too), this space-saving device can be used for frying, baking, grilling, roasting, and quick (30-second) heating.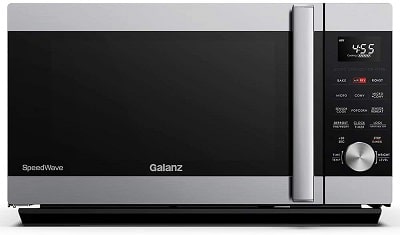 Here are some of the meals you can make:
Breakfast recipes – you can see good ones

here

Frozen/unfrozen meals
Crispy chicken wings
Bacon
Potato chips
Steak
Pork chops
Crispy mozzarella sticks
Salmon and other fish
Pizza
Roasted vegetables
Tofu
French toast
Cookies, cinnamon rolls, apple chips
Quick heating of leftover food and hot beverages
Here's what to NOT cook in an air fryer microwave combo:
Battered foods – avoid placing wet batter in the air fryer
Fresh greens – leafy greens like spinach will cook unevenly due to the high-speed air.
Whole roasts
Raw grains
Microwave Air Fryer Combo Pros and Cons
Through our extensive research, here are the pros and cons:
Microwave and Air Air Fryer Pros
1. Space-saving – Whether you have a small kitchen or not, combining two of the most used kitchen appliances saves precious counter space and is more cost-effective.
Some combos include convection as well, so this device can replace a toaster and serve as a second oven as well.
2. Best for small kitchens – a great choice for apartments, college student kitchens, and RVs as well.
3. Almost unlimited cooking options – baking, broiling, grilling, oil-free frying, and super-fast microwave heating – all in one compact device.
The best ones are powerful enough to make a full-size dinner.
4. An Air fryer helps get that crispy golden exterior to everything – including pizza, chicken nuggets, bacon, etc.
5. Healthy and oil-free frying
6. Saving time on baking by not needing to preheat the oven
7. Microwave air fryer combos use less power – most devices use up to 1000 watts  – something that is tough to achieve from a similar-sized air fryer (which would be more like 1500 watts).
8. Any frozen meals, beverages, and leftover food can be quickly heated inside the microwave.
9. Easy to clean – both microwaves and air fryers are easier to clean
 Air Fryer Microwave Combo Cons
1. Microwave air fryer combos are smaller in capacity than ovens and regular air fryers, so less food fits inside – you can't cook a lot of food at once.
However, you can still make full-size meals inside a 1.0 Cu. Ft. microwave air fryer combo.
For example, inside the compact Toshiba Multifunctional Microwave, you can fit a whole roasted chicken, a 12-inch pizza, and an 8*4-inch casserole.
2. Some microwave manufacturers just add the "air fryer" feature in their features in the hope of selling more – without it being a true air fryer.
You have to make sure all the functions it offers work well.
3. The versatility of cooking options and pre-settings can be confusing for some people.
For example, an added metal rack can be used for air frying, but cannot be used for microwaving.
It's important to be familiar with the manual.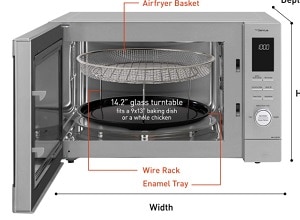 4. While you can use the microwave air fryer for baking, the smaller capacity will force you to resort to batch baking and make adjustments to some of your recipes.
5. Finally, air fryer microwaves can get pricy, sometimes even more than the most expensive air fryers.
What is the Best Microwave Air Fryer Combo?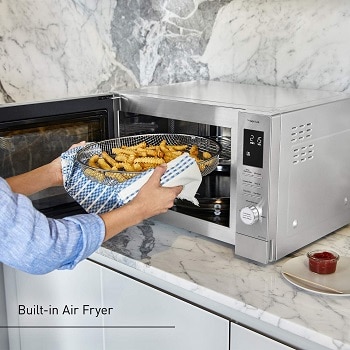 Our top pick for the best air fryer microwave combo in 2023 is the Panasonic HomeChef.
It combines a microwave with inverter technology, an air fryer, a convection oven, and a broiler in one cost-effective appliance, and the consumer reviews are very promising.
Air Fryer vs. Microwave
An air fryer is a totally different method of cooking (and baking) than a microwave.
It uses very hot air to circulate around the food (via a powerful fan) and therefore cooks it.
A microwave heats up the water in the food you are cooking via microwaves – by making the molecules in this water shake or vibrate.
This method is super fast, but it doesn't brown the food and there are a few health concerns about this type of radiation. Also, microwaved food can also be dry if you are not careful.
The air fryer was originally designed to fry in a healthier way – without added oil or fat, so browning and crisping food are some of the main features it has.
When you are able to combine both of these highly common kitchen appliances, some kind of magic starts to happen.
Air Fryer vs. Convection Oven
Air fryers are countertop appliances while convection is usually built into full-sized ovens and toaster ovens.
The countertop size allows air fryers and toaster ovens to heat quickly.
It also allows you to position the food closer to the heating elements, which helps cook the food faster.
What is the Best Air Fryer Microwave Combo?
When we searched for the best microwave air fryer combo for 2023, we checked for the optimal size, power (the highest watts for the money), auto cook and smart sensors, and the variety of functions it offers.
The best ones are those that have the capacity needed for average-size families, a lot of pre-set functions or adjustable power settings, and those that perform as well as their stand-alone counterparts.
The popular Panasonic 4-in-1 HomeChef (1.2 Cu. Ft) includes inverter technology microwave, air fryer, convection, and broiler.
It lives up to its price, thanks to the well-known brand quality, inverter technology, the simple control panel (important), and the looks and design – that fit the classiest kitchens.
Our runner-up, costing almost half the price of the Panasonic, is the Galantz 3-in-1 microwave air fryer with convection oven, which is larger in capacity (1.6 Cu. Ft.) and can bake, air fry, microwave, roast, and a combination mode with speed cooking technology.
It does not come with an air fryer basket, it has an air fryer pan to use over the food instead of the basket, and it takes some time to get to know all the functions, but this may be worth it to pay much less.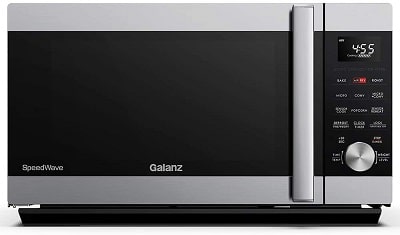 Conclusion
Through our research and going through hundreds of consumer testimonials, we believe that a microwave air fryer combo is one of the best kitchen appliances for small kitchens, small families, college and UNI students, and apartments.
It effectively satisfies most of your cooking and heating needs, uses less power, and saves space. Some would argue that it's a must-have in any average-size kitchen – not cooking for large families.
If you are not convinced, see the best small microwaves for a small kitchen – they cost much less.
The KM Team