In our search for the top quality stainless steel cooking and baking utensils, one online store – Gourmet Easy – has caught our attention with its innovative stainless steel kitchen utensils.
We decided to try the two most intriguing Gourmet Easy utensils – the stainless steel multipurpose rolling pins, and the eye-catching garlic press.
We'll find their pros and cons, and the difference between stainless steel kitchen utensils and wooden utensils as well.
Gourmet Easy Overview
The Gourmet Easy boutique online store offers carefully selected stainless steel cooking utensils (peeler set, garlic press, meat tenderizer) and baking utensils (rolling pins set), nonstick paring knives, and a few excellent bundles.
All of the utensils are made from food-grade stainless steel, with a carbon and chromium composition that is very durable, corrosion-free, bacteria-resistant, and affordable.
All of the tools are very attractive to the eye, ergonomically designed, nonstick, easy to clean, and dishwasher safe.
Warranty for all products is at least 2 years.
Why We Chose the Garlic Press and Rolling Pins Set
We love the innovative aspect of the utensils, and we chose the garlic press because it is large enough to crush 2-3 garlic cloves in one press, there is no need to peel the cloves (yay!), and the press can be easily taken apart for easy cleaning.
We wanted the stainless steel rolling pins to prevent the dough from sticking to them, but they are much more than just rolling pins – the integrated mill on the end can grind nuts and spices, tenderize meat, crush cocktail ice, and more.
In fact, I have ditched my former garlic press and wooden rolling pin and use these instead (well, not ditched them but store them on those high shelves I can't reach).
Here's why:
Gourmet Easy Garlic Press Review
This high-quality and sturdy stainless steel garlic press is almost 8 inches long and has a larger-than-average basket, that can hold 2-3 garlic cloves.
The Garlic Easy length is designed to be just the right one for the leverage needed to press 2-3 cloves – even without peeling them first. No smelly hands from peeling garlic!
This press easily separates the skin from the clove and you get minced garlic in one motion. It's ideal for meals that require a lot of garlic (or ginger) – like garlic bread and dressings.
You can see it is so easy my 10-year-old boy can do it.
After easily crushing the cloves, you can take the garlic press apart for easy cleaning.
With the 5-year warranty and the great customer service, this seems like a very good purchase. The only con I could detect was that sometimes the press is taken apart too easily, and I have to re-attach the 2 parts to keep using it.
✅ Price – $30 at Gourmet Easy – save 5% with our coupon code KITCHENMASTERY
Gourmet Easy Rolling Pin Set Review
The rolling pins set caught our attention for several reasons:
first, they are made from food-grade stainless steel (304), which prevents the dough from sticking to it, and is lightweight and easier to use than wooden rolling pins.
Second, the rolling pins are integrated with a mill on one end, which makes them much more useful.
You can use it to tenderize meat, crush ice and spices, and easily grind nuts.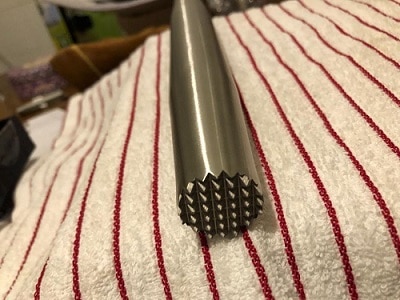 The flat mill on the other side can also be used for the same purpose.
Stainless steel rolling pins are much easier to clean, and these are dishwasher-safe.
The rolling pins set includes one 12.8″ rolling pin – most practical for most baking needs, and a smaller 10″ rolling pin which is great for smaller hands (my kids love to bake with me) and is perfect for pie crusts.
With a 10-year warranty, I don't have to worry about whether this is a good investment. Plus, the material is odorless and doesn't absorb odors, color, or flavor over time, and is rust-resistant.
✅ Price – $44 for the set (which comes with a baking mat as well) at Gourmet Easy (save 5% with our coupon code KITCHENMASTERY)
Stainless Steel vs. Wooden Cooking Utensils 
While both stainless steel and wooden kitchen utensils are toxin-free and safe to use, there's still a debate over which is better. The answer depends on the amount of heat being used and the type of dish being made.
RELATED: The Top 5 Toxin-Free Cookware Brands of 2023
For high heat, wooden utensils are better than stainless steel, because wood is more heat-resistant.
You can leave t on a hot pan and it won't retain heat.
Also, some types of cookware can be scratched when you use stainless steel cooking utensils (for example, cast iron pans, and nonstick cookware).
On the other hand, stainless steel utensils are stronger, more durable, provide a better grip, and are easier to clean.
They are always dishwasher safe as well.
As for baking, we've found that stainless steel baking utensils, and especially rolling pins, perform better than wooden utensils that make dough stick to them.
The KM Team