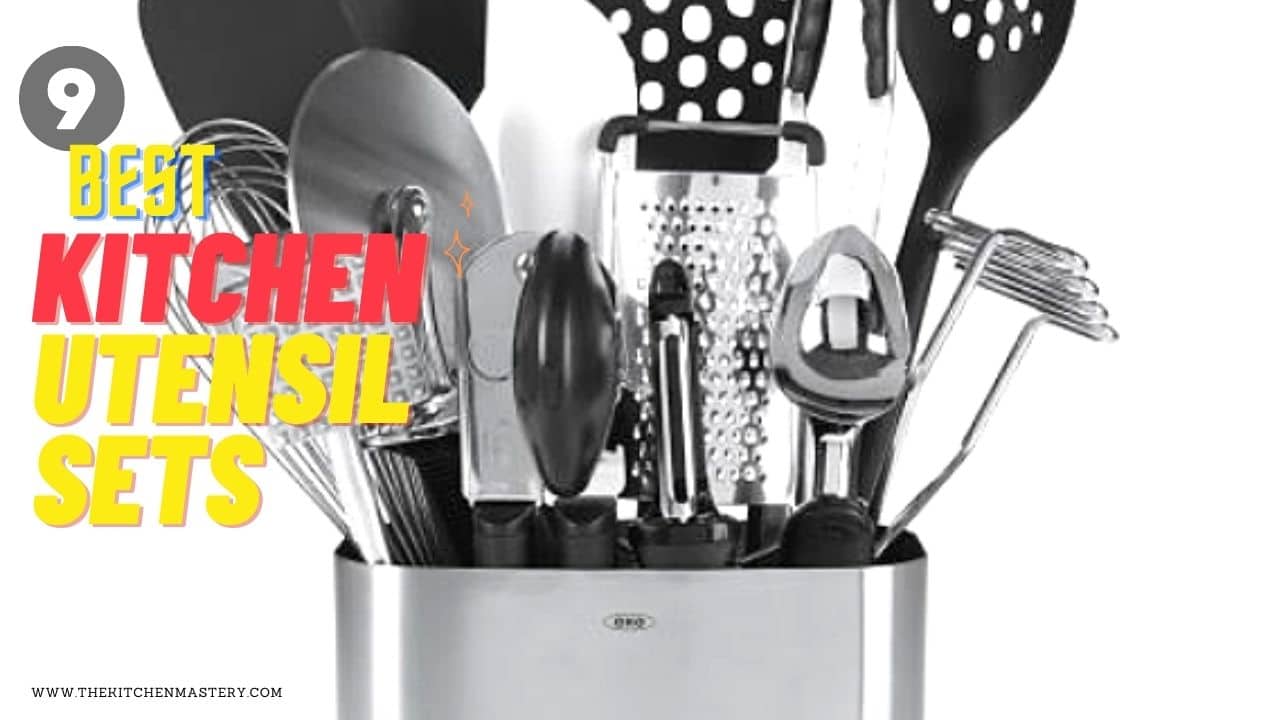 If you're anything like us, the kitchen is the heart of your home and the utensils are the pulse.
But with so many options out there, it's easy to feel like you're drowning in a sea of spatulas and whisks.
Fear not, because this is exactly what we're here to solve.
The kitchen utensil sets we've found will have you whipping up culinary delights in no time – and maybe even impress your mother-in-law.
So, let's dive in and find the perfect kitchen utensil set for you!
In this post, we'll show you the best value kitchen utensil sets, including the best silicone sets and stainless steel sets – and the benefits of stainless steel utensils vs. silicone utensils.
Top Pick
Our best value winner for 2023 is the OXO 15-Piece Cooking Utensil Set, which combines both stainless steel and silicone utensils:
Comes with a stainless steel utensil holder
Has everything you need both for prepping and serving (including a pizza wheel and a potato masher)
Trusted brand, utensils do not break or bend
If you are looking for a silicone set, our top choice is the Home Hero 8-Piece set, with high-grade silicone and durable Acacia wooden handles, which is highly rated by Amazon buyers.
No ads, reader-supported: This post contains affiliate links, at no extra cost to you.
Silicone vs. Stainless Steel Utensils 
Both silicone and stainless steel are equally popular because both have their advantages and disadvantages.
Stainless steel is 100% safe when it comes to toxic components, and will never leach into your food. It's also more durable and sturdy than silicone, and won't break, melt or bend (too much).
On the other hand, it can scratch your delicate nonstick pots and pans.
Silicone is more versatile and flexible, and won't be scratched (or scratch) your cookware.
On the other hand, many silicone utensils on the market are flimsy, and some melt and can leach into your food. They are also harder to clean because food sticks to them.
The best solution for your kitchen would be to have both stainless steel and silicone utensils, that will all your cookware materials and cooking needs.
In a Hurry? See our short comparison table below, or scroll down to our full cooking utensil sets reviews.
Best Stainless Steel Cooking Utensil Sets
Stainless steel cooking utensils are highly durable, heat-resistant, and toxin-free. However, we do not recommend using them with nonstick pans and pots.
Here are the best sets for 2023:
1. Home Hero Kitchen Utensil Set – Best Value Stainless Steel
Material – mostly stainless steel, some high-grade silicone (that resists heat up to 392°F)
Tools – 29
✅ $70 on Amazon 
This kitchen tool set is certainly a home hero.
It is the largest utensil set on this list, with 29 tools for cooking and serving, each of them is made with durable and safe stainless steel, that can stand the highest temperatures.
Why buy a 29-piece set? well, here's my take on it:
You have this giant utensil set, so now you have to use it, right? So, you start using all these weird utensils that you never knew existed.
And suddenly, you're a master chef, whipping up soufflés and sauces with a whisk you never even knew you had. 🤣
Whether you're looking to flip an omelet or stir pasta in your pan, this set has got you covered.
It comes with measuring cups and spoons, a garlic press, a cheese knife, a wine opener, a potato peeler, a tea strainer, and much more.
The carefully designed tools give your kitchen a professional look and can be a great gift idea as well.
The set includes:
A skimmer and Egg whisk, a slotted turner and non-slotted turner, an extra-wide Asian turner, a garlic press & tea strainer, a cheese knife and Pizza cutter, a bottle opener and can opener, a potato peeler and potato masher, barbecue tongs/kitchen tongs, a spatula and Soup ladle, a grater and strainer, 4 measuring spoons, 4 measuring cups, a slotted spoon for draining, a serving spoon and a pasta server.
Home Hero Pros
Safe for all cookware and won't melt
Shiny, sleek gourmet look,  looks like a professional set
Comes with both slotted and non-slotted turners
Includes Barbeque tongs that you can take while you travel
Great customer service, replaces the complete set even if you only one is damaged.
All set is dishwasher safe (👉 See the top

compact dishwashers

of 2023!)
Makes a great gift set
Cons
Utensils may bend when used aggressively
Users have reported that the whisk broke after 1 year of use
✅ Available on Amazon ($70) and at Walmart ($80) 
👉 We Tried the Gourmet Easy Stainless Steel Rolling Pins & Garlic Press!
 2. All-Clad Utensil Set – Best High End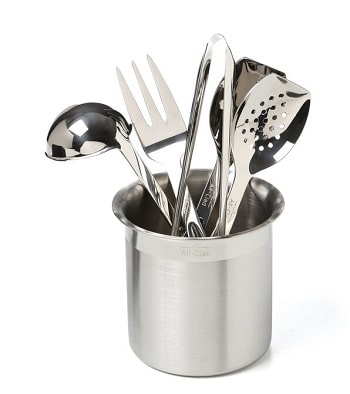 Material – stainless steel
Tools – 5
✅ $120 on Amazon
The All-Clad high-end kitchen utensil set with holder is made of heavy 18/10 stainless steel that is polished to a mirror finish and is a chef-worthy addition to your kitchen.
This is not anything cheap – we couldn't bend any of the utensils no matter how hard we tried. The stainless steel is ultra-durable and non-reactive, and the unique thumb holders give you a firm and secure grip.
The set contains an 11-1/2-inch, 4-ounce ladle; a 13-inch solid spoon; a 13-inch slotted spoon; a 13-inch turner; and a 13-inch fork. A sleek caddy holds all utensils in one place for easy access and serves as a showpiece for your kitchen.
They feel good in your hand and the handles are long enough to reach inside any pot pr pan.
The lifetime warranty ensures you'll be able to use this one for years to come, and it is USA-made!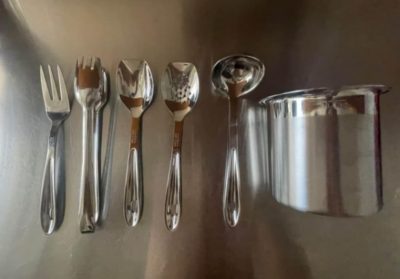 The set includes: 
A ladle, solid spoon, slotted spoon, turner, fork, and caddy
All-Clad Utensil Set Pros
High-quality and durable stainless steel material – won't melt/warp/chip
Comes with a holder
Dishwasher safe
Beautiful design, and looks great on the counter
Lifetime warranty
Cons
We wish there were more tools in this set
✅ Available on Amazon ($120)
3. OXO Good Grips Kitchen Tool Set – Best with Holder
Material – Mostly silicone/nylon, some stainless steel
Tools – 15
✅ $138 on Amazon
The OXO 15-piece cooking utensil set is made with BPA-free silicone and nylon,  and non-slip nylon/stainless steel handles and has everything you need both for prepping and serving.
(Read: PFOA & PTFE free cookware brands you can trust)
In addition to different types of spoons, a grater, and a can opener, it also contains a pizza wheel and a potato masher.
We think it looks great with the classic black and silver colors combo, and we like and trust the OXO brand, which makes high-quality cookware, bakeware, and organizing kitchen products.
The Set Includes:
Nylon Spoon, Nylon square turner, Nylon slotted Spoon, Nylon Ladle, Nylon solid Spoon, 12-in Nylon tongs, medium silicone spatula, 11-in balloon whisk, Nylon flexible turner, wire potato masher, small silicone spatula, grater, silicone cookie spatula, ice cream scoop, pizza wheel, soft-handled can opener, garlic press, and swivel peeler.
OXO Pros
Handles are comfortable and do not slip even when wet
Sturdy and easy to clean
Most pieces are Dishwasher-safe
Great design
Cons
The pizza wheel is not very sharp; you may have to roll it over a few times.
The tools are not made to be sitting in a hot pan or on top of the rim of a hot pot for too long
✅ Available at OXO ($170) and Amazon ($138)
Best Silicone Cooking Utensil Sets
When it comes to silicone utensil sets, research is important. You have to watch out for flimsy silicone, wobbly heads that detach after a few uses, and chemical smells leaching from the tools.
Silicone sets make the best fit for nonstick pans and pots because they won't scratch the nonstick coating and keep it intact.
In the list below you won't find low-quality sets, and here are the best ones in 2023:
 1. KitchenAid Utensil and Gadgets Set – Best Budget
Material – silicone and stainless steel
Tools – 15
✅ $34 on Amazon
This 15-piece set by KitchenAid is one of the best starter kits for any new cook or aspiring chef and includes all the essential utensils, such as nylon tongs, basing spoons, measuring cups, and spoons.
All the utensils included in the set are heat resistant and can sustain up to 450 degrees Fahrenheit, and are safe to use on any cookware, including nonstick pots and
frying pans
.
All pieces are dishwasher safe (except for the can opener) and easy to clean.
The Set Includes:
A slotted turner, basting spoon, slotted spoon, and nylon tongs. This set also includes a flat grater, euro peeler, can opener, utility whisk, set of 4 measuring cups, and set of 5 measuring spoons.
KitchenAid Pros
Does not easily scratch or wear, doesn't bend or break
Great for both beginner cooks and training chefs, has everything you need to get your kitchen up and running
Reasonable price
1-year warranty
Cons
Not for professional chefs
The can opener has to be hand-washed and hand-dried
✅ Available on Amazon ($34) and at Walmart ($34)
 2. Home Hero Silicone Utensil Set – Best value Silicone Set
Material – silicone, wooden handles
Tools – 8
✅ $20 on Amazon
The Home Hero 8-piece silicone utensil set is made with high-grade silicone, that won't melt into your food, and durable Acacia wooden handles that are both beautiful and long-lasting.
The non-scratch and flexible silicone heads can withstand temperatures up to 392°F, and the handles are comfortable and easy to grip.
These are the best-value silicone utensils you'll find on the market.
The set includes:
Solid spoon, slotted spoon, ladle, pasta fork, turner, slotted turner, spatula, and a round spatula.
Home Hero Pros
Doesn't scratch or melt and is easy to clean
Sustains high temperatures
Durable and sturdy handles and silicone heads
Large hanging holes
Great design and look with the wooden handles and grey heads
Lifetime money-back guarantee
Cons
Not dishwasher safe due to the wooden handles
✅ Available on Amazon ($20) and at Walmart ($18)
 3. AILUKI Kitchen Utensils – Popular on Amazon
Material – Silicone & stainless steel
Tools – 17
✅ $23 on Amazon
The AILUKI set combines well-made silicone heads and durable and heavy stainless steel handles, and is one of the top 3 best-selling silicone utensil sets on Amazon, with thousands of good reviews.
The food-grade and BPA-free silicone is safe and won't rust, break, bend, or melt, and can sustain up to 482℉!
Customer service is excellent and the brand offers a no-questions-asked money-back guarantee.
The Set Includes:
Slotted Spatula, Slotted Spoon, Flexible Spatula, Slotted Turner, Solid Turner, Pasta Server, Solid Spoon, Kitchen Tongs, Draining Spoon, Spoon Spatula, Oven Mitt, Whisk, Deep Soup Ladle, Spatulas, and Brush
AILUKI Pros
Well-made and high-grade non-toxic material
Sturdy handles
All the tools you need in one large set
Money-back guarantee
Cons
Some users claim the tools are too flexible and soft
✅ Available on Amazon ($23)
4. EAGMAK Kitchen Utensil Set – With a Stainless Steel Holder
Material – silicone. wooden handles
Tools – 15
✅ $25 on Amazon
Researching dozens of consumer reviews, we found the EAGMASK silicone and wood set to be one of the best utensil sets for the money and a beautiful match with white kitchens.
The material of the food-grade silicone and the wooden handles are high quality.
The silicone bases are firm enough for flipping and scraping, yet soft and flexible.
The stainless steel stand can not hold all the utensils, but the package comes with extra hooks you can use for hanging the rest of them on a bar or an extra stand.
The Set Includes:
2 slotted turners, a slotted spoon, a large spatula, a solid turner, a pasta server, a solid spoon, a skimmer, a deep soup ladle, a basting brush, a whisk, tongs, and 6 hooks, and a stainless steel stand.
EAGMAK Pros
Gorgeous vintage design – looks much more expensive than its price
Sturdy and well-made utensils
Low price
Cons
Must be hand washed to protect the wood, and can not be soaked in water for long
The stand can not hold all the utensils
Not dishwasher safe
✅ Available on Amazon ($25)
5. M KITCHEN WORLD  Set – Best Silicone Spatula Set
Material – Silicone, plastic handles
Tools – 4
✅ $10 on Amazon
The M Kitchen World kitchen spatula set is the best-selling set for mixing and baking on Amazon and comes with a fair price tag (less than $12) and thousands of high reviews.
The set contains 4 heat-resistant (up to 480 degrees) silicone spatulas – in 4 colors to choose from.
The jar spatula, small spatula, spoon spatula, and large spatula are enough for any kind of mixing, baking, and cooking you'll need.
Users say they are not too firm, not too soft, and thus perfect for any kind of job. The handles are easy to grip and comfortable.
The only con is the fact that there's a small gap between the silicone head and the handle, which requires careful cleaning.
✅ Available on Amazon ($12) and Walmart ($19)
Best Wooden Cooking Utensil Set
The main benefit of using wooden cooking utensils is the fact that they do not change or interfere with the natural flavor of your food.
They can also easily withstand high temperatures and will not burn your hands. On the flip side, wooden utensils tend to absorb odor if not washed properly.
Through our research, the best value wooden utensils for cooking is the AIUHI Teak Wooden Kitchen Utensil Set:
Each piece in this versatile 10-piece set is handcrafted from 1 piece of natural, non-coated Teak wood, that is toxin-free and eco-friendly.
The tools are so smooth they feel like satin in your hands, they are easy to hold and lightweight, and there are no dents, splinters, or small gaps.
And you'll like the price (only $22) too!
What is the Best Kitchen Utensil Holder?
The best kitchen utensil holder or tool bucket depends on personal preference, needs, and counter space.
A classic choice would be the ceramic utensil holder, which is both stylish and functional.
It can add a decorative touch to your kitchen, is toxin-free, and is easy to clean.
A stainless steel utensil holder is a more durable option that can withstand wear and tear.
It is easy to clean, toxin-free, and can match any kitchen decor.
A bamboo utensil holder is an eco-friendly option that is both stylish and sustainable.
It can add a natural touch to your kitchen and is lightweight.
However, it tends to retain moisture so you'll have to look out for mold and make sure it stays dry.
What Can I Use Instead of a Utensil Holder to Store My Utensils?
Instead of the classic utensil holder, which takes up counter space, you can use a magnetic utensil holder, which can be mounted on the wall or the side of the fridge where they are easily accessible.
If you don't want to purchase a utensil holder, you can put them in a drawer, place them inside a mason jar, hang them on the side of your cabinets, hang them from a pot rack, or use a magnetic knife strip.
We like to get creative and love the years we've used old old planters or pots to store utensils and add a decorative touch to our kitchen.
also repurposed tin cans by painting them to give them a rustic touch.
What Kitchen Utensils Do I Need?
For a starter kitchen and beginner cooks, the most important and practical utensils are measuring cups and spoons, spatula, vegetable peeler, garlic press, grater, can opener, masher, balloon whisk, chef's knives, and of course – serving tools.
What is the Best Material for Cooking Utensils?
Through our research, a combination of stainless steel utensils and silicone utensils will make sure you cook your food safely, without toxic materials that can leach into your food.
Wooden cooking utensils are gentle and won't scratch your cookware, are strong, do not conduct heat, and won't react badly with your food, but they can absorb odor and develop splinters and cracks.
We hope you've found our research useful, and our comment section below awaits your questions and feedback 😍
KM Team