Most of us have at least one cast iron pan in our kitchen and use it for everything from searing steaks to frying, roasting, baking, and more.
Carbon steel, (mostly known for its use in Woks) is still less popular than cast iron, though it can do almost everything cast iron can – without some of the disadvantages.
In this post, you'll find all the differences between carbon steel and cast iron pans when it comes to health, cooking, heat retention, cooking surface, durability, seasoning, best uses, and more.
The battle of cast iron vs. carbon steel: which one wins for cooking?
(This post may contain affiliate links, at no extra cost to you)
Cast Iron Pans vs. Carbon Steel Pans 
While both pans retain heat very well, carbon steel heats up faster and won't keep the heat as long as cast iron. Carbon steel is not as heavy and thick as cast iron – without it affecting the cooking experience.
Plus:
The sides of the cast iron pan are usually vertical (great for baking) while the carbon steel sides tend to be angled (best for sauteing).
Ultimately, the differences between the two are not enough to invest in just one of them. Mix and match to enjoy the slight difference in cooking with them.
Cast Iron
Carbon Steel
Thicker and heavier
Thinner and lighter
Durable
Durable, less brittle
High heat retention
Less heat retention
Heats up faster
More pores in the surface
Smoother surface
Better for roasting
Better for stir-frying
Lower price
Higher price
👉 In a Hurry?
Jump to the

price difference

between carbon steel and cast iron pans!
What is Cast Iron?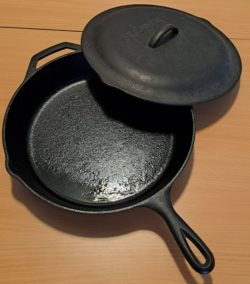 Cast iron is an alloy of carbon and iron (like steel), but with more carbon in it, compared to steel.
Cast iron contains 2%-3.5% carbon (compared with 1-2% only in steel).
The carbon gives cast iron its rough feel and makes it more fragile than steel.
This is why cast iron pans are heavy and thick. This also means that cast iron pans are slower to heat and cool down, but retain heat longer.
In reality, cast iron is tough as nails.
That's why you'll find 50-year-old pans at yard sales.
It is built to last and is difficult to ruin.
However, experts claim that in the past few years, cast iron pans' quality has deteriorated, and is not as durable as it used to be.
👉 You can find cast iron skillets, griddles, dutch ovens, muffin pans, and other specialty shapes.
What is Enameled Cast Iron?
Enameled cast iron is a cast iron pan that has an enamel glaze applied to the surface.
The glaze prevents rusting and thus the pan does not need seasoning and allows for harsher cleaning.
Enameled cast iron is excellent for slow cooking and drawing flavor from foods.
What is Carbon Steel?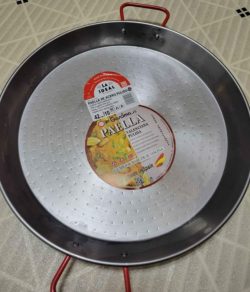 Steel is also an alloy of iron and carbon, but it has to have less than or exactly 2% carbon.
Carbon steel pans are thinner and lighter than cast iron, and also more responsive to temperature changes.
This means that you can use them on all cooktops, including induction, barbecue grill, or campfire.
👉 You can find carbon steel woks, skillets, carbon steel paella pans, and specialty cookware.
Uses
Cast iron and carbon steel have a lot in common: their high durability, nonstick capabilities, and the special care you need to keep them for years.
However, there are a few important differences to know about, we'll go over them below:
Carbon steel pans don't work so well with water-based cooking (stewing or braising) compared with cast iron.
Carbon steel loves fat and "hates" water, while cast iron is not a great match for stir-frying because it retains heat and will overcook your vegetables very fast.
Since carbon steel pans are made from stamped or spun from sheets of metal (instead of cast in a form), they have sloped sides and are thinner and lighter than cast iron.
Those two features make them much better suited to tossing foods.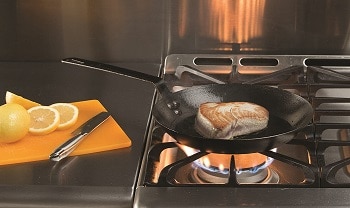 Cast iron is the type of cookware you can use on the stove and then transfer to an oven.
Also, it is the better choice for searing and giving color to meat, because the surface is not as temperature-sensitive as carbon steel, and won't change once you put the meat in the pan.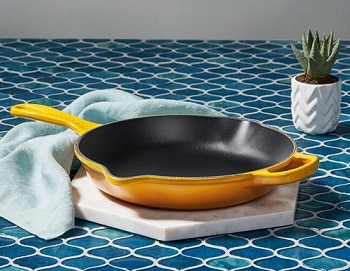 Cast Iron best uses – pan-frying, searing, roasting, baking, braising, and stewing (for enameled cast iron)
Durability
According to experts, carbon steel pans from a reputable company can be more durable than cast iron (which is known for its durability for generations), even though it is usually thinner and more lightweight.
It is less brittle than cast iron and there's a lesser chance it will break when dropped.
Toxic Chemicals
Both carbon steel and cast iron pans do not contain toxic chemicals sometimes found in nonstick pans (see the best nonstick cookware without PFOA & PTFE) – that can break down at high temperatures and leach into your food.
Cast iron's ability to retain heat promotes healthy cooking, including water-based methods such as poaching and braising.
Also, cast iron was proven to impact iron levels in the blood, and there is some evidence that eating food cooked in iron pans increases the hemoglobin concentration of anemic/iron-deficient individuals.
Remember the iron percentage in carbon steel? Yep, carbon steel pans have even more iron in them than cast iron!
👉 Both of these cookware options are safe under extremely high heat and can be used both on the stovetop and in the oven.
Carbon Steel vs. Cast Iron Cooking Surface
While both cast iron and carbon steel pans retain heat well, carbon steel heats up and cools down quickly and is more conductive – thus no hot spots are created.
Both types of pans can be used on a stovetop and in ovens, but carbon steel is a better fit for making eggs, crepes, and omelets.
When it comes to seasoning, carbon steel usually requires one more step compared to cast iron – you'll have to season it yourself.
However, some carbon steel pans come pre-seasoned, such as the Lodge carbon steel skillet.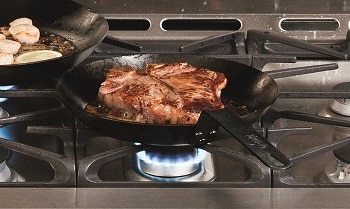 A Well-seasoned Cast iron naturally creates a nonstick surface, so you can use it with less oil. Carbon steel has a smoother surface, making it more slippery than cast iron, so you can even use it for fish, which is known to stick.
Carbon steel provides a more even surface than cast iron, which is formed in a cast and created uneven surfaces with bigger pores.
The smoother surface of carbon steel pans makes it a bit easier to season.
Just one application of oil is enough to make it nonstick.
However, cast iron holds its seasoning better thanks to its rougher texture.
Weight
Carbon steel fry pans and sauté pans weigh only about half of cast iron pans and skillets – without sacrificing quality and longevity.
For example, A 12-inch Lodge cast-iron pan weighs about 8 pounds, while a 12-inch  Mafter carbon-steel pan weighs 4 pounds.
Cast iron pans are manufactured in a process resulting in a much thicker pan compared to carbon steel.
That's why a  cast iron pan weighs more and has more heat capacity.
A common myth is that heavy weight equals sturdiness, but that is not always the case, and carbon steel pans are just as sturdy as cast iron.
However, make sure not to purchase a pan that is too thin because you may find yourself with a warped skillet made with cheap carbon steel.
Handles
Generally, cast iron skillets have shorter handles, to support their weight properly. Shorter handles come in handy for use in the oven and storage.
Carbon steel cookware has longer handles, making them great for cooking over an open flame and outdoors.
Cast iron pans are usually made from a solid piece of iron, including the handles.
Carbon steel has a handle riveted on; some handles on carbon steel pans can't take high oven heat, so check the owner's manual
Cast Iron vs. Carbon Steel Pans – Which is More Expensive?
Generally, carbon steel pans are more expensive due to the material cost and labor required to make them. While you can find good cast iron pieces for as low as $19, a good-quality carbon steel pan starts at about $60.
Cast iron is made by pouring the steel/carbon mixture into an existing cast.
Carbon steel pans are made by manually pressing and rolling carbon steel into the shape of the pan, which requires more energy and labor.
The materials are more expensive as well.
The most popular cast iron manufacturer today is Lodge, which sells its 10" cast iron skillet with handle for just $19.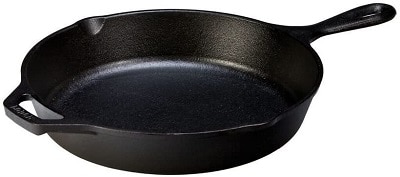 Made In, which makes some of the best carbon steel pans on the market (their pans are used in Michelin-star restaurants), sells a 12" blue carbon steel skillet for $129.
What is Blue Carbon Steel?
"Blue" refers to a heat treatment process known as "blue ironing" which prevents rust and corrosion and has nothing to do with the steel's composition. Blue carbon steel pans, manufactured only by Made In, are made in France, in a factory that's been doing this for hundreds of years
Another popular brand is Misen, which sells its 12″ carbon steel pan for $90.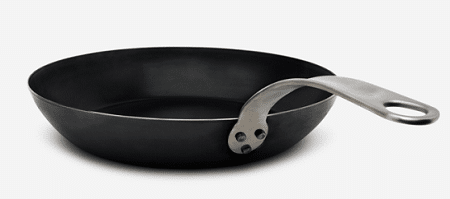 Premium cast iron skillets, such as the Field Company vintage cast iron skillet, and Finex cast iron skillets, cost between $145-$245.
The Finex 12″ cast iron skillet is made in the US, with a smooth-polished surface, stainless steel handles, and seasoned with organic flaxseed oil.
The gorgeous design and construction will last a lifetime.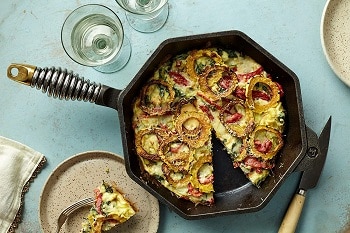 On Amazon, you'll find good quality cast iron skillets costing between $17 to about $45 (depending on the size), and the most popular brand is Lodge 10″ pre-seasoned cast iron skillet (with handle) – which costs only $17.
The highest-rated cast iron set (4 pieces) is Cuisinel Cast Iron Skillet Set – 4-Piece Chef Pan, which costs only $75.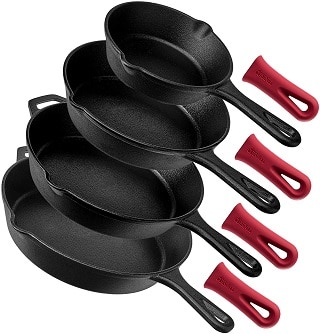 Amazon's Choice for the best carbon steel skillet is Matfer Bourgeat 12″ Black Carbon Steel Fry Pan, which costs  $74.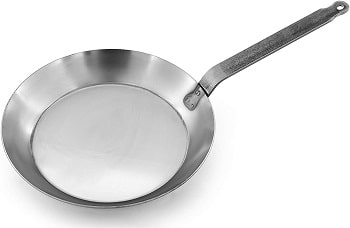 Cleaning and Caring for Carbon Steel and Cast Iron
The basic cleaning for both carbon steel and cast iron is the same: cleaning is done with hot water, a gentle scouring pad, and minimal or no soap at all.
You'll need to wash your pans with soap once or twice a year to keep them in good shape.
Carbon steel should be cleaned with no soap, harsh chemicals, or scouring pads. The best wash you'll get is when the pan is still a little warm.
After cleaning, it is important to dry well, and season with your choice of vegetable oil (below you'll find how to season), let dry, and store in a cool and dry place.
How to Season Cast Iron vs. Carbon Steel Pans
When you purchase a cast-iron skillet, it has a dull, dark grey color. Cooking with it before seasoning it will get your food stuck to it in seconds.
However, if you properly season it, it turns into a nonstick skillet or frying pan.
To season a cast iron pan you'll apply a light layer of oil (Chefs recommend vegetable oils with a high smoke point, including grapeseed oil, and avocado oil), then heat it to a certain temperature until it is dry.
Carbon steel usually comes with a protective coating to prevent them from rusting (when exposed to moisture).
The first thing to do is to remove that coating and replace it with seasoning, which will both protect it from rusting and turn it into a nonstick surface.
After removing the coating and washing it, dry it right away and then heat the pan.
Then season with the thinnest layer possible of your choice of vegetable oil. rub the oil into the pan and buff away any access oil, until it looks dry.
This small amount is enough for seasoning – without leaving you with a sticky coating.
👉 What you don't want to use: lard and shortening.
What's Better for Steak – Cast Iron or Carbon Steel?
Carbon steel is slightly better for steaks because you get the same brown crust as you do with cast iron skillets, but cooking time is shorter due to the thinner build of carbon steel – without compromising on durability.
Below is a video demonstrating the steak cooking experience with both skillets (fast forward to 7:20)
READ: The Top 4 Steak Knives Made in the USA
The KM Team