The waffle maker is one of the most used gadgets in our kitchen. Since it is often used, we found it highly important to find a Teflon-free waffle maker.
(We prefer ice cream on our waffles, instead of toxic fumes).
The good news?
PFOA & PTFE-free waffle makers do exist, though they are hard to find.
(PFOA-free is not the same as Teflon-free – more on that below).
In this post, you'll find the 6 best true Teflon-free waffle makers – all of them are ceramic waffle makers or cast iron waffle makers, with no PFAS in sight.
Through our research, only ceramic or cast iron waffle makers are completely absent of Teflon (PFAS chemicals).
👉 PFOA-Free is a marketing trick to make you think the waffle maker is Teflon-free. Instead, it contains other PFAS. More on that is below.
This post contains affiliate links, at no extra cost to you.
In a Hurry? See our top 4 picks compared, or jump to our Teflon-free waffle makers' reviews.
Why We Chose a Teflon Free Waffle Maker
Most nonstick waffle makers contain Teflon, which contains hazardous chemicals such as PFOA and other PFAS.
According to studies, PFAS are toxic and their effect includes nerve damage, reproductive damage, immune system damage, and cardiovascular toxicity.
According to the EPA, PFAS builds up in your body and stays there for ten years or more.
These chemicals are released mainly when heated and exposed to high temperatures, such as inside waffle makers.
Waffles require 350-375 degrees F to cook. When you exceed these temperatures and reach 460 F, PFAS chemicals start breaking down, and you begin breathing these toxic fumes, which are also known as harmful to birds.
Unfortunately, Teflon is still being used inside the nonstick coating of many cookware items, ovens, air fryers, and more.
Why Is Teflon Still Being Used Inside Cookware and Kitchen Appliances?
In 2010, the EPA demanded manufacturers stop using Teflon-containing PFOA.
Did that solve the problem?
No, because these companies replaced PFOA with any other PFOA alternative (there are 4200 of them), mainly GexX and PFBS – which are still PFAS chemicals, found to cause damage to the kidneys, the blood, the liver, and more.
Then they labeled their products as PFOA-free, and now most people believe that PFOA-free means toxin-free and Teflon-free.
A true Teflon-free waffle maker is labeled as PFOA and PTFE-free.
The 6 Best Teflon Free Waffle Makers (2022)
True non-Teflon waffle makers exist, although they are hard to find.
Below you'll find the 6 best waffle makers without PTFE and PFOA in sight, to make the healthiest version of homemade waffles – smelling heavenly on a Sunday morning.
Plus, these waffle makers are eco-friendly, so you'll contribute to making the environment cleaner and safer for people and animals.
1. Best Classic & Belgian Combo – GreenPan Ceramic Waffle Maker 
Size – 12.6 x 8.6 inches
Waffle count – 4
The GreenPan Ceramic Waffle Maker is a 4-square classic/Belgian waffle maker, with removable plates you can pop in the dishwasher for easy cleaning.
You can go for classic waffles or Belgian waffles (or both) and you'll have no PFAS, PFOS, lead, or cadmium leaching from the Thermolon Volt coating, which is a diamond-infused ceramic nonstick material.
Plus, GreenPan uses recycled materials and solar power to manufacture this kitchen gadget.
This waffle maker allows you to adjust the shade (light or darker, just like a toast), and the crunch level you or your guests prefer – with the great LED display.
The coating is truly nonstick and waffles come right off, you won't need any cooking spray since it's completely nonstick.
We love that you can just remove the plate and put it in the dishwasher.
Pros
Combined classic and Belgian waffle maker
Comes with a good recipe book
Toxin free and manufactured in an eco-friendly manner
Removable dishwasher-safe plates
No spill area around each square
Cons
More expensive than average
✅ Price – $239 with coupon code SAVE30 – at GreenPan (free shipping, 60-day returns, and 2-year warranty).
👉 You can also consider the lower-cost and smaller model, which is exactly the same, only it only makes 2 waffles at a time, and only Belgian waffles:
2. Best Belgian – Calphalon Intellicrisp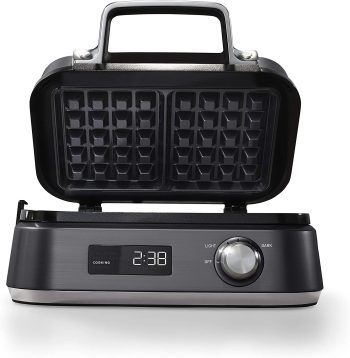 Size -11.26 x 5.83 inches
Waffle count – 2 (4″x5″ each)
The two square Calphalon Utellicrisp waffle plates are made from Teflon-free ceramic coating, which is highly durable and nontoxic (if you don't scratch it with metal utensils).
It produces two 4"×5" waffles every 4-5 minutes.
The easy-to-use LCD display offers 5 different texture settings – from soft and fluffy to dark and crispy, while the countdown timer lets you track the cooking process. When the waffles are done – you'll hear a beep – so you don't have to constantly track the cooking process.
The plates are not removable, but since it's completely nonstick, you'll only need a damp cloth to clean them.
Pros
Has locks for vertical storage
No Teflon, lead or cadmium
5 texture options
The timer beeps at the end of cooking
Cons
✅ Price – best price found on Amazon
3. Best Rotating – Hamilton Beach Belgian Waffle Maker 
Size – 14.8" x 9.9" x 9"
Waffle count – 1 (6.5″)
For about $60, the Hamilton Beach Belgian waffle maker is probably the best Teflon-free waffle maker for the money on this list.
It has a unique copper-ceramic coating which is toxin free and completely nonstick while heating up faster and more evenly. The plates are removable and dishwasher safe, and there's also a removable drip tray.
The great rotating flip feature makes evenly-cooked Belgian waffles with no risk of soggy, half-cooked coming out when the indicator light turns on to tell you they are ready.
This one also has a turn dial to help you choose the crispiness level of the round 6.5-inch and 1-inch deep waffle – in 5-6 minutes.
Pros
The extra thick grids make deep Belgian waffles
Removable plates for easy cleaning
Rotating flip feature for even cooking
Cool touch handle
Indicator lights
Relatively low price for the abundance of features
Cons
No audible beep so you'll have to watch for the light to turn green
✅ Price – $67 at Hamilton Beach, samee price on Amazon
👉 Lower cost alternative – if you can let go of the flip feature and the removable plates, you'll find all the other features on the Hamilton Beach 26081 model – for half the price.
The Hamilton Beach Dura-Ceramic waffle maker makes a 7″ wide x 0.9″ thick waffle in 3-6 minutes and has a browning selector and the same copper-infused ceramic nonstick coating and indicator lights.
It can be stored vertically to save counter space, but the plate is not removable and there is no flip feature.
✅ Price – best price on Amazon
4. Best Cast Iron – Rome Industries Old Fashioned Waffle Cast Iron
Size – 6.75″D x 10″W x 1″H
Waffle count – 1 (6.8″)
The Rome Industries Old Fashioned Waffle Maker is the only cast iron waffle maker on this list and is quite different than the others on this list. But, we had to include it for several reasons:
It's made out of 100% cast iron (100% toxin free) which is naturally nonstick with its seasoning layer and gets even more nonstick with time.
The highly durable cast iron plates make a great classic round waffle (6.5"– time varies) and is best used on a stovetop or a two-burner stove when you go camping.
It has a secure hinge system that connects both sides of the pan, and basically, all you need is heat – no electricity is required.
Here's how to use cast iron waffle plates:
On the flip side, it does take some trial and error until you learn how to make perfect fluffy waffles, and cast iron needs proper cleaning and seasoning. If you buy it, make sure to clean the protective wax layer before you use it.
Pros
No electricity required
Completely toxin free
Durable and lasts for years
Great for camping
Cons
Needs regular seasoning and gentle cleaning only
Short handle
✅ Price – best price found on Amazon
5. Best Vertical – Oster DuraCeramic Waffle Maker
Size – 5.8″D x 12.5″W x 13.5″H
Waffle count – 1 (7″)
The Oster Titanium-Infused Waffle Maker is made with ceramic coating with infused Titanium inside – to make it 8 times more durable than Teflon – without any toxins.
The vertical design, the pre-measured batter cup, and the top funnel allow for maximum precision and minimum mess – the batter is completely locked in and evenly spread on the plates – for perfect crispy outside and fluffy inside waffles.
Fill the batter cup, pour, bake, and enjoy – with no mess.
It produces a 7″ round x 1″ deep waffle in 3-6 minutes.
Pros
Vertical design saves space and spreads the batter evenly
Cooks fast and heats up quickly
Precise batter cup for the exact amount of batter for no-mess waffles
Wide top funnel
Cons
No beep when ready, plates are not removable
✅ Price – best price found on Amazon
How to Choose the Best Nontoxic Waffle Makers
Once you've made sure the waffle maker is PTFE & PFOA free, choose from the following features the ones that are most important to you:
Rotating flip – contributes to even heat distribution
Adjustable temperature control – to adjust the level of crispiness and shade (light to dark)
Cooking indicators – the best waffle makers indicate the waffles are ready with a beep
Removable plates – plates you can easily remove and put in the dishwasher
Vertical storage – for saving cabinet and counter space
Multi-Waffle Surface – some waffle makers have cooking irons for both classic and Belgian waffles.
Ceramic Waffle Makers FAQ
Can You Use Cooking Spray on the Waffle Maker Iron?
If you have a nonstick waffle maker, cooking spray is not necessary and can damage the nonstick surface while creating a tacky surface that makes the cooking iron useless. If your waffles stick, brush some lightly over the plate instead. Cast iron waffle irons need regular seasoning.
How Long Do Ceramic Waffle Makers Take to Heat Up?
Most ceramic waffle makers take 2-5 minutes to heat up. We recommend letting it preheat all the way because waffles tend to stick when the waffle iron is not hot enough. Most waffle makers have an indicator light that turns from red to green once the pre-heating is done.
How Do You Clean a Ceramic Waffle Maker?  
In most cases, ceramic waffle iron plates are completely nonstick and only require 2-3 quick wiping motions. High-end waffle makers (such as the GreenPan Ceramic Waffle Maker) have removable plates that are dishwasher safe and make cleaning a breeze.
Otherwise, you can wash a ceramic waffle maker just as you wash a regular one. Wait for the plates to cool down and use a dish towel or a sponge to gently scrub the plate with a few drops of dish soap. Rinse and dry with a clean towel.
References
Zhuotong Zeng, Biao Song, et al. Assessing the human health risks of perfluorooctane sulfonate by in vivo and in vitro studies, Environment International, Volume 126, 2019