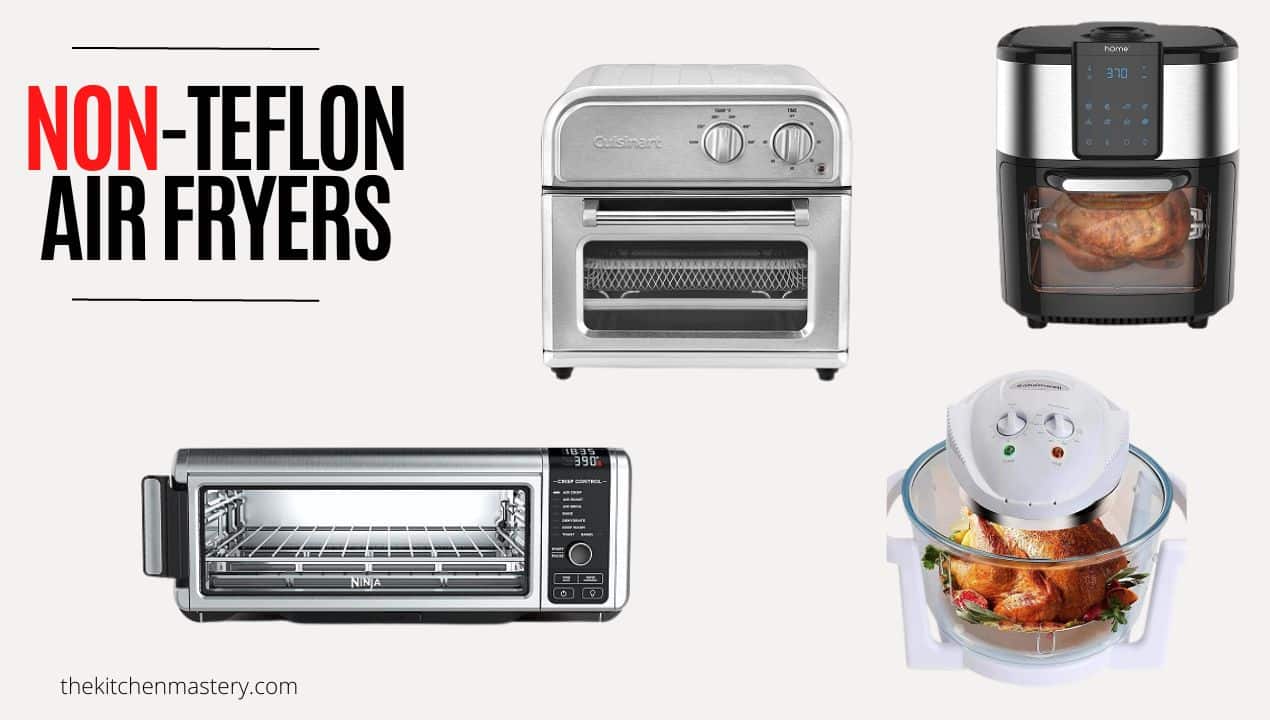 The more we learn about the dangers of Teflon, the more we try to avoid it in our kitchen – at all costs.
This is why we've researched extensively to find the best non-Teflon air fryers for 2023.
(👉 We've also found the best Teflon-Free Waffle Maker!)
Teflon and other PTFE coating can be found on the air fryer basket, accessories, and sometimes on the metal liner that goes into the air fryer bucket, and its toxic fume is released at high temperatures.
In this post, you'll find the 5 highest rated and safest air fryers, made by established brands, that do not contain Teflon (PTFE) and PFOA.
👉 In a Hurry?
See our top picks compared below, or jump to our Non-Teflon air fryers reviews
Air Fryer
Materials
Capacity
Price
Ninja Air Fryer

Plastic/ceramic-coated pot
High-Rated
4 Quart
✅ $90 on Amazon
Sahomwell Glass Air Fryer

Glass, stainless steel, plastic
The Least Toxic Air Fryer
18 Quart
✅ Best Price on Amazon
Cuisinart Compact Airfryer Oven

Stainless steel/PTFE-free nonstick
2.5 lbs. of food
✅ $99 on Amazon
hOmeLabs Air Fryer Oven

Zinc-plated steel/Chrome-plated steel
Best with Rotisserie
1.9 Quart
✅ $150 on Amazon
This post may contain affiliate links, at no extra cost to you.
What is Teflon and Why Do We Avoid It?
The actual technical or scientific name for Teflon is Polytetrafluoroethylene (PTFE) – a group of man-made chemicals, that are very stable and do not react with other chemicals.
PFOA, another man-made chemical, was being used in the process of making Teflon and was found to cause flu-like symptoms when released into the air and increase the risk of certain tumors.
This use of PFOA for Teflon production was eliminated in 2013, but you should check if it exists in other nonstick coatings.
Teflon was found to start degrading and release toxic fumes at 570 F. An air fryer is not supposed to get that hot, but we'd rather have the "better safe than sorry" approach.
Also, some nonstick coatings have been known to peel, and we don't want this material to end up in our food.
How Do You Find a Nontoxic Air Fryer?
Most air fryers are made from plastic with nonstick baskets or pots, with vague information about the materials from manufacturers.
The best way to find the least toxic air fryers is to look for ones made mainly from stainless steel interior and stainless steel or ceramic coated baskets and accessories.
Make sure that the nonstick inner coating is PTFE-free and BPA-free as well.
All air fryers on this list are BPA-free.
The least toxic air fryer will be made from a stainless steel interior and exterior, a stainless steel basket and accessories, or glass air fryers, which contain a glass bowl. All food contact surfaces must be PFAS-free.
The 5 Best Non-Teflon Air Fryers (PTFE & PFOA Free)
Finding Teflon-free air fryers was not a simple task, since most air fryers are made from plastic.
However, we managed to find established brands that make ceramic-based coating on the basket or even better – stainless steel.
Also, we have looked for air fryer toaster oven combos with no Teflon inner coating (safe for birds as well!).
1. Elite Platinum Air Fryer – with a Stainless Steel Basket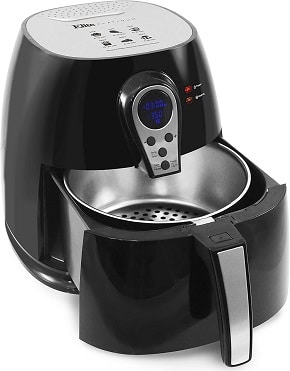 Materials – plastic exterior/stainless steel basket
Temperatures – 140 -400 F
Size – 11″ x 12″ x 11.5″
Capacity – 3.2  Quart
The Elite Platinum air fryer comes with a stainless steel basket, so you don't have to worry about PTFE, PFOA, and aluminum.
The inner coating of the air fryer is PFOA-free as well.
While stainless steel may not be very non-stick, there's no risk of anything leaching into the food, and stainless steel cookware is long-lasting.
According to consumers, this air fryer is easy to operate with a touch screen LED display and cool-touch handle, is easy to clean (parts are dishwasher safe), and fits in your cabinet.
However, it's a pretty small air fryer (3.2 Qt.) and can contain, for example, up to 2.2 lbs. of french fries, fish sticks, or pork chops – that will come out tender inside and crispy on the outside.
Pros
Healthiest cooking basket
Dishwasher safe
Easy-to-use digital display
Includes 26 full-color recipes
Cons
Stickier cooking basket
Relatively small
✅ Available on Amazon
2. Ninja Foodi Air Fryers – High Rated
Air fryers by Ninja Foodie are selling like hotcakes right now, and they are all highly rated and loved by home cooks, so we wanted to find out which models are Teflon-free.
We were pleased to find two models that have a ceramic-coated pot– without PTFE and PFOA.
(👉 See the top brands making PTFE & PFOA free cookware)
The first one is the basic Ninja Air Fryer, and the second one is the Ninja Air Fryer Oven, which is made from stainless steel.
Here are the details:
Ninja Air Fryer – 4 Quarts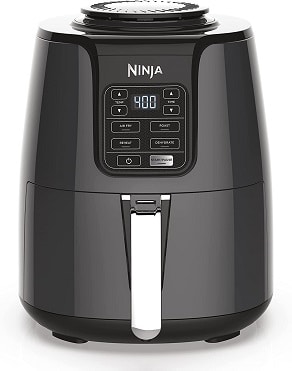 Materials – plastic exterior/ceramic pot
Temperatures – 105-400 F
Size – 8.5″ x 12″ x 11″
Capacity – 4 Quart
✅ $90 on Amazon
The basic Ninja Air Fryer has a 4-quart ceramic nonstick bowl that can contain 2 pounds of French fries, which is enough for 1-2 people in one round of cooking.
With this model, you can also dehydrate roast, and reheat your food perfectly.
You can prepare a full meal for one person, but you'll need two rounds of cooking or more for 2-3 people. However, it will still cook much faster than a toaster oven.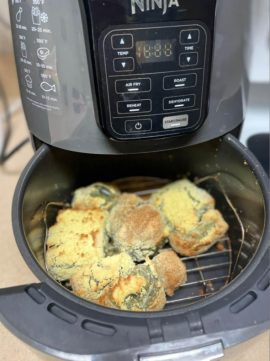 It is lightweight and easy to pull out of the cabinet to use and is perfect for student kitchens as well.
✅ Available on Amazon ($90)
Ninja Air Fryer Oven – Larger Capacity
Ninja also has a completely toxin-free air fryer oven, made from stainless steel interior and exterior, and comes with 8 stainless steel and ceramic-coated accessories.
However, some users have complained about the difficulty of cleaning.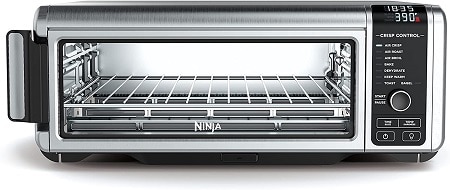 With its basket, wire rack, and crumb tray, you can cook and bake anything – without anything leaching into your food – for years to come.
This powerful oven (1800 W) allows you to choose from air frying, air broiling, baking, toasting, and dehydrating, and the keep warm mode is very useful.
Preheating takes only 60 seconds, and you have a full meal ready in 20 minutes, and it can hold 4 pounds of chicken, a 13″ pizza, or 9 slices of toast.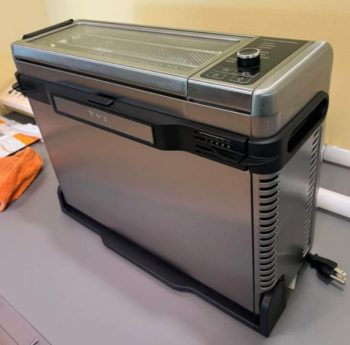 If you think you don't have enough counter space for it, think again.
This Ninja oven has a flip-away functionality, that you can use to flip it up and save counter space.
✅ Available at Ninja Kitchen ($240), and Amazon ($180)
3. Sahomwell Glass Air Fryer – Least Toxic Air Fryer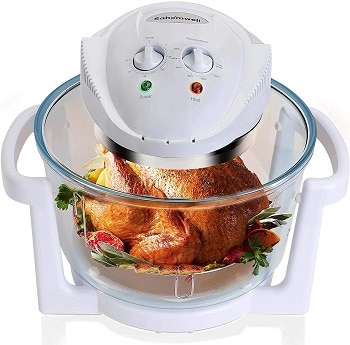 Materials – high borosilicate glass, plastic, stainless steel
Size – 18 " x 13″ x 13.5″
Capacity – 18 Quart
Temperatures – 149℉-500℉
The Sahomwell Air Fryer is made only from stainless steel and the frying bowl is made from high borosilicate tempered glass,  so there are no plastic materials that can leach PFAS at all.
It combines heated air and powerful halogen heating for even and quick cooking.
Though a similar air fryer, the Big Boss Air fryer, is made from the same materials, we found too many complaints about the heating head melting, so we looked for a better choice and found this one.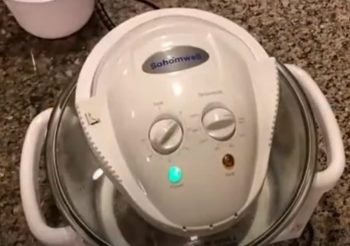 The extra large 18 qt. glass bowl is enough to feed 3-4 people, is super easy to clean, and is dishwasher safe.
The air fryer comes with dual racks, an extender ring (to extend the capacity), tongs, and a steam basket.
The glass bowl allows this one to cook at high temperatures – up to 500 F.
Another benefit we love is that you can stop or add food during cooking, and you can always see through the glass.
✅ Available on Amazon
4. Cuisinart Compact Airfryer Oven – Stainless Steel & Ceramic Coating
Materials – stainless steel exterior/PTFE-free nonstick accessories
Size – 12″ x 12″ x 11.5″
Temperatures – up to 450 F
Basket size – 11" x 10"
✅ $99 on Amazon
[/su_note]
The Cuisinart sleek air fryer oven has a gorgeous brushed stainless steel exterior and a stainless steel interior – coated with PTFE-free nonstick coating for easy cleaning.
All accessories (mesh basket/baking & roasting pan) are made from stainless steel and are dishwasher safe.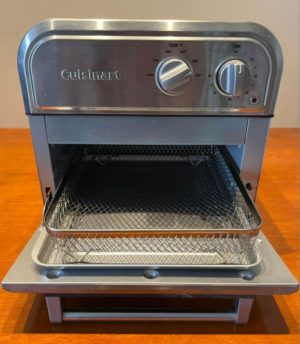 This Cuisinart model can cook up to 2.5 lbs. of food in its wide and shallow mesh basket, which allows for better air heat distribution and decreases cooking time to a minimum (it will cook a whole batch of chicken wings in 15 minutes).
Monitoring recipes is easy through the glass door, and there is a drip tray to catch any grease, crumbs, or melted cheese from foods.
However, many consumers warm that this is a hotter-than-average air fryer, so it's better to cook food at a lower temperature than you are used to – to prevent the burning of the food.
✅ Available on Amazon ($99) and at Walmart ($129)
5. Home Labs Air Fryer Oven – Best with Rotisserie
Materials – zinc-plated steel exterior, chrome-plated steel
Size – 15.5″ x 12.5″ x 14″
Capacity – 1.9 Quart
✅ Available on Amazon ($150)
The hOmeLabs large-capacity air fryer oven combo holds up to 11.6 qt. of food (a full dinner for 3 people) and even has a rotisserie chicken function (a whole chicken crispy cooked in 40 minutes!), a rotating basket for fries, dehydrating racks, adjustable skewer racks, an oil tray, and a rotisserie fetch tool.
You can take a look at the food being cooked via the unique see-through glass door – without having to constantly open a drawer to check.
You won't have to worry about PTFE and PFOA because the interior is made from zinc-plated steel, the fetch tool and dehydrate tray are made from chrome-plated steel, and the rest of the accessories are made from stainless steel.
All accessories are dishwasher safe.
Consumers absolutely love the Home Labs air fryer oven, the only complaint we found was that the beep signaling the end of cooking is loud and you cannot turn it off.
✅ Available on Amazon ($150)
Is a Ceramic Air Fryer Safe?
Ceramic-coated interiors and baskets inside air fryers are the second-best alternatives to Teflon (after stainless steel) as they are free of PFOA and PTFE and are just as nonstick and easy to clean.
Ceramic coating is environmentally friendly and established brands make it to be strong, durable, and long-lasting, though not like stainless steel.
Using oil on ceramic coating will shorten its life, but you are not supposed to use oil inside an air fryer, so this is not an issue.
How Do You Clean an Air Fryer Without Damaging the Coating?
When you handle nonstick coating on any cookware (including nonstick skillets), it's important to not scratch it because then it can leak toxic ingredients into your food. Here's how to clean an air fryer the right way:
1. Unplug the air fryer and let it cool completely.
2. Remove the basket and tray and wash them in warm soapy water (or in the dishwasher). To remove grease stains use the simple baking soda hack (baking soda paste with water), let it sit for 15 minutes, and all the grease will come off easily.
3. Wipe the exterior and interior with a damp cloth. For stubborn stains inside, use a soft brush or a sponge only.
4. Dry the basket, tray, and interior completely before you reassemble and store the air fryer.
More Ways to Reduce PFAS in Your Kitchen
Here at Kitchen Mastery, we do our best to avoid "forever chemicals" in our kitchen as best we can. Here are some tips for keeping PFAS out of your kitchen:
The KM Team
Studies
Sajid M, Ilyas M. PTFE-coated non-stick cookware and toxicity concerns: a perspective. Environ Sci Pollut Res Int. 2017 Oct;24(30):23436-23440. doi: 10.1007/s11356-017-0095-y. Epub 2017 Sep 14. PMID: 28913736.