In 2023, it's quite difficult to find USA-made frying pans.
Most American companies have moved production of their cookware elsewhere – mostly China, but also Italy, France, and Germany.
However, it is still possible to find a few high-quality American-crafted frying pans and to support the local economy and employment of Americans.
In this post, you'll find the 4 best American-made frying pans, including cast iron fry pans, stainless steel, and nonstick frying pans.
Check out our top 3 choices – compared below – followed by full reviews.
This post may contain affiliate links at no extra cost to you.
What Brands Manufacture Frying Pans in the USA?
With most retailers reducing profits for manufacturers, and the rise in labor costs, most cookware brands keep moving their production facilities overseas.
Through our research, the only American-made frying pans are those manufactured by:
1. All-Clad
2. Made In (only stainless steel pans)
3. Lodge
4. 360 Cookware
5. Viking (only the professional series)
6. Nordic Ware
Below you'll find each brand's best frying pan – according to hundreds of consumer reviews analyzed by us.
Let's start with an American-made frying pan:
1. All-Clad – High-End Stainless Steel Skillets
All-Clad is a premium brand that manufactures almost all its cookware in the USA (Canonsburg, Pennsylvania) since 1967 and specializes in fully clad cookware – using American-made steel.
You can find their cookware on Amazon (best price), William Sonoma, and Macy's.
However, some nonstick pans are now produced overseas.
All-Clad offers 3 types of full-clad skillets which differ in the exterior material (stainless steel /copper/hard-anodized aluminum), core material (heavy-gauge aluminum/copper), and the number of plies (5-ply/3-ply).
You can choose from 3 to 5 layers of alternating heat conductive materials – an aluminum or copper base, and a beautiful and sturdy stainless steel exterior.
Most of All-Clad's stainless steel lines are induction-compatible, oven and broiler safe, and beautiful enough to use as a serving platter, offering a seamless flow from the cooktop to the table.
They come in sizes 8-inch, 10.5-inch, 12-inch, and 14-inch. Their most popular stainless steel skillet is the d3 12-inch one:
Our Choice – All-Clad d3 12-Inch Stainless Steel Frying Pan
Materials – aluminum core bonded together with 2 layers of durable, stainless steel
Weight – 4.7 lbs.
Handle & lid material – stainless steel
Warranty – Limited Lifetime
The All-Clad 12-inch frying pan is well constructed, allows for superior cooking performance, and is highly durable.
According to most consumers, this stainless steel pan can be as nonstick as Teflon – when used the right way.
It's easy to clean, durable, sears better than cast iron, and keeps its looks for years.
The bonding process (a patent invented by All-Clad founder) strengthens the layers of the skillet and provides long-lasting cookware that lasts for years to come – if cared for properly.
The stainless steel skillet collection excels in even heating, heat retention, and precise temperature control.
It is safe for induction, oven (up to 600 F), and broiler, and looks great as a serving platter as well.
The downsides of this skillet, though not many, are that stainless steel is not a nonstick material and takes some time to get used to.
Also, the pan does have some weight to it, and it does not have a helper handle.
✅ Available on Amazon ($130)
2. Made In – USA-Made Stainless Steel Fry Pans
The Made In stainless steel collection is still manufactured in the USA (Illinois/Kentucky/Southern US), while their nonstick collection has moved production to Italy, as were the blue carbon steel cookware (made in France, and their copper cookware (also made in France).
Made In was founded in 2016 by Chip Malt and Jake Kalic (lifelong friends) as a direct-to-consumer brand, and you can only find their products on the Made In website.
This allows them to make premium cookware that is less expensive than their competitors and to offer a generous return policy if you do not like their products (with free shipping for returns).
Each cookware is created carefully with the home chef in mind, so you won't find as many collections to choose from as with All-Clad.
Made In cookware is not cheap, but it's definitely less expensive than other premium brands that are American Made.
Note that some of the stainless steel pans are partly made in Italy.
Our Choice – Made In 12-Inch Clad Frying Pan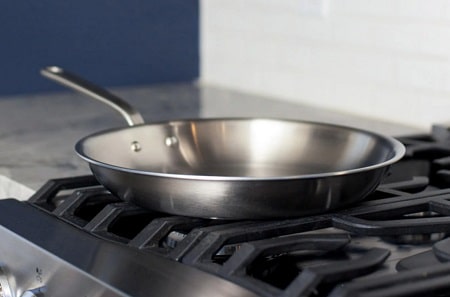 Materials – fully-clad stainless steel base and aluminum core.
Weight – 3 lbs.
Handle & Lid material – stainless steel
Warranty – limited lifetime (45-day trial)
The Made In 5-ply stainless steel skillet is probably the best value skillet made in the USA.
Here's why:
Made In stainless steel pans are made with a fully-clad stainless steel base and aluminum core: the surface is made with 18/10 stainless steel, the exterior is magnetic 403 stainless steel, and the core is made of 3 layers of heavy-gauge aluminum.
Fully clad skillets offer amazing heat conduction and retention and are more durable (which is why they are induction, broiler, and oven-safe up to 800 degrees F!).
The pan sits flat on the stove, heats evenly, and the handle stays cool.
The stainless steel interior is very smooth, and the exterior has a modern-looking brushed finish
👉 This is similar to the All-Clad quality construction – for a smaller investment.
Through our research we've found countless high reviews from home cooks and professional chefs – you can see many chef reviews on their websites.
Consumers also seem to love the stay-cool, ergonomic handle, and ease of cleaning.
The only disadvantage of this skillet is the fact that you can only order it online, so you can't go and feel it in a store.
✅ Available at Made In ($109 with free shipping and returns)
3. Lodge – Best USA-Made Cast Iron Skillets
Lodge has been making cast iron skillets and other cookware since 1986 in Tennessee and is a family-owned business for generations.
They are the oldest manufacturer of cast iron in the USA.
Note – enameled cast iron made by Lodge is now made in China.
Lodge is the most budget-friendly American company on this list and is highly popular among home cooks.
All USA-made cast iron skillets by Lodge are oven-safe up to 600 F, broiler-safe, and compatible with induction.
Their cast iron skillets have been trusted by home cooks for over a century, and are well constructed and highly durable – without emptying your bank account.
Through reading hundreds of customer testimonials, here's their best cast iron frying pan (which was featured on our list of the best 12-inch cast iron skillets of 2023!):
Lodge 12-Inch Cast Iron Skillet 
Materials – a mix of steel and pig iron
Weight – 7.7 lbs.
Handle material – cast iron (with silicone handle holder)
Warranty – limited lifetime
Lodge seasoned cast iron skillet is made from a proprietary mix of steel, pig iron, and other heat-conductive materials that are toxin-free, in a process called sand molding – and is brutally tough and durable.
It comes with a very helpful silicone handle that is heat resistant up to 500 F and is dishwasher safe, and a much-needed helper handle.
You can use this relatively low-cost skillet in an oven, on the grill, and over a campfire for years to come.
It is pre-seasoned with 100% vegetable oil and can be used out of the box.
Consumers love that this pan is relatively cheap, durable, and generally non-stick – if you cook at the right temperature and use the right amount of oil.
It takes longer to heat, but the heat retention is amazing.
However, since cast iron is heavier, this skillet weighs more than stainless steel skillets, and it can rust if not maintained properly.
✅ Available at Walmart ($25), and on Amazon ($29)
4. Viking – The Only USA-Made Nonstick Pan 
Viking has been making professional, chef-worthy cookware for the past 40 years, but in 2022, only one collection (out of 12) is still being made in the USA (Wisconsin factory) – the 5-ply stainless Professional line.
The 5 plies include an 18/10 Stainless Interior, a 3-Ply Aluminum core, and a Magnetic Stainless Exterior, with the Eterna nonstick coating (PFOA free) for easy cleaning and reduction of oil used in the cooking.
The American-made professional line is safe for all cooktops including induction, oven, and grill – up to 500 F.
Here's their most popular nonstick skillet from the 5-ply professional line:
Viking 12-Inch Nonstick Fry Pan
Material – bonded steel and Eterna nonstick coating
Weight – 4.3 lbs.
Handle material – stainless steel
Warranty – Limited Lifetime
The Viking nonstick fry pan is made from 4 professional-grade aluminum exterior layers with an 18/10 stainless steel interior.
The performance of this cookware is driven by three layers of aluminum alloy, bonded between the magnetic stainless steel exterior layer and stainless interior, that attempt to deliver optimal heat transfer and cooking performance.
Do we recommend this frying pan? not really.
Consumer reviews show that this fry pan may not be the best return for your money.
Some say that a month later everything sticks, and others say the nonstick coating peels off.
It looks great and the description sounds promising, but we found too many complaints about it online.
Plus, it's pricy.
It's only for people who insist upon USA-made nonstick coating.
✅Available on Amazon ($184)
What is the Difference Between USA-Made Pans and Foreign-Made Pans?
The main difference between USA-made frying pans and foreign-made frying pans is in their manufacturing and production processes.
USA-made frying pans are typically produced using strict quality control measures and regulations that ensure the use of high-quality materials and ethical manufacturing practices.
Frying pans made outside of the USA (mainly China) have varying manufacturing standards, and the quality of materials used can also differ.
Also, foreign-made are subject to different regulations and safety standards compared to USA-made frying pans.
Another difference is the price range – USA-made frying pans tend to be more expensive due to the higher manufacturing costs and regulations.
However, they are generally considered to be of higher quality and may last longer.
USA Made Cookware
If you want to continue to support American-made products, see our reviews for the best USA-Made dinnerware sets, and the best American-crafted steak knives.
The KM Team