A mini frying pan (3.5-7 inches) is not only adorably cute and compact, but it is also a must-have in any small kitchen.
The smallest frying pans are not only perfect for 1-2 eggs and single servings, but their uses are also surprisingly versatile. They are space-saving, lightweight, and easy to clean.
In this post, we've found the best small frying pans you can find, including the smallest cast iron skillets, the smallest nonstick fry pans, the smallest ceramic and granite frying pans, and everything you can do with them.
👉 In a Hurry?
See the best mini frying pans in the table below, followed by full reviews, and their pros and cons.
Mini Frying Pan
Review
Size
Material
Price
Lodge Mini Skillet

Smallest Cast Iron Skillet
3.5 inches
Cast iron
✅ Check price on Amazon
Bene Casa Frypan

Smallest Frying Pan with Lid
6 inches
Aluminum
Nonstick coating
✅ Check price on Amazon
GreenPan Mini Egg Pan 

Smallest Nonstick Fry Pan
5 inches
Aluminum
Ceramic coating
✅ Check price on Amazon
de Buyer Egg Pan

Smallest Fry Pan for Induction
4.75 inches
Carbon Steel
Most Eco-Friendly & Nontoxic
✅ Check price on Amazon
Granitestone Mini Skillet

Smallest Granite Fry Pan
5.8 inches
Aluminum
Granite coating
✅ Check price on Amazon
Cuisinart Mini Skillet

Smallest High End Cast Iron Skillet
6.3 inches
Enameled Cast Iron
✅ $130 at Le Creuset, or on Amazon
Comparing the smallest frying pans by size, material, and price
What is the Smallest Frying Pan Size?
The smallest frying pans you can find are 3.5-4 inches in diameter, but any frying pan under 8 inches is considered a mini frying pan, and you can also find 4-inch, 5-inch, 6-inch, and 7-inch frying pans, made from cast iron, stainless steel, and nonstick coating  (usually labeled as egg pans).
Frying pan sizes are determined by the pan's overall diameter (wall top to wall top, and not by the cooking surface diameter, which is smaller.
Single-egg frying pans can also be used to make tableside appetizers, entrees, desserts, and more.
What Can You Cook in a Mini Frying Pan?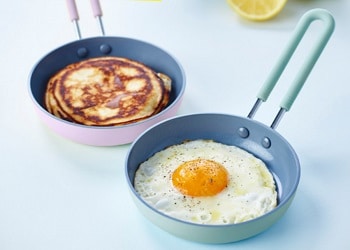 Small frying pan uses are surprisingly versatile. With a mini skillet, you can cook individual servings of anything, including a perfectly crisp, normal-sized egg, a nice crepe or pancake, a chicken breast, a mini pizza, a small frittata, baby steaks, a side of veggies, and individual super cute desserts.
You can also use a tiny skillet to melt butter and toast a small amount of spices.
Also, oven-safe fry pans (such as cast iron pans) are the best way to go straight from the oven to the table with an eye-catching presentation.
The 6 Best Small Frying Pans (3.5″-7″)
We've researched and found the best mini frying pans for solo meals, eggs, and much more. See our reviews below:
1. Smallest Cast Iron Skillet – Lodge Mini Skillet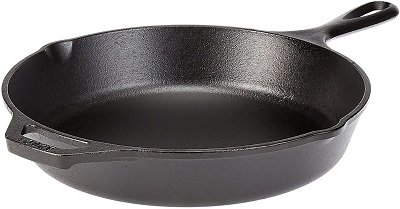 Diameter – 3.5 inches
Cooking surface size – 3.3 inches
The Lodge 3.5-Inch Mini Cast Iron Skillet is the smallest of the iconic USA-made manufacturer, is highly rated by consumers, and is perfect for single-egg cooking, individual desserts (a molten brownie/a pie), and melting butter and toasting spices.
👉 See the 4 best American-Made frying pans
Lodge's cast iron has excellent heat retention and cooks evenly, and the pan comes pre-seasoned with vegetable oil. You can use it on almost any heat source, including over a campfire.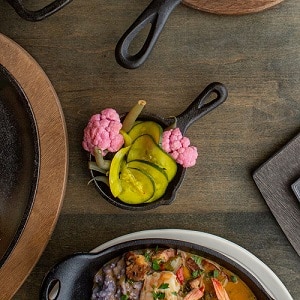 However, you can not wash this pan in a dishwasher (hand wash with mild soap), and you'll have to dry it and lightly season it after each use.
👉 Note – this pan is really tiny. We recommend considering the 6.5″ one, which is still very small, but not too small. You can find it on the same Amazon page.
If you want more than one, you can choose Lodge's 4-also find Lodge's tiny skillets in a set of 4 or a set of 6.
How Do You Cook Eggs in Cast Iron with Sticking?
First, you'll need a well-seasoned cast iron skillet. Second, the key to eggs not sticking is temperature control. You'll need to preheat the skillet on medium heat for a few minutes and keep it at this heat level for the entire cooking time.
Third, you'll need a generous amount of butter or vegetable oil all around the skillet before you fry. That's it!
2. Smallest Frying Pan with Lid – Bene Casa Frypan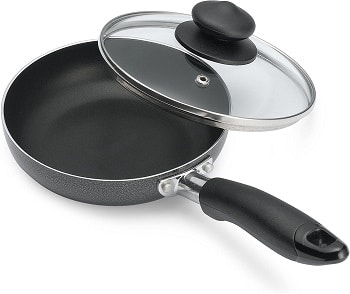 Diameter – 6 inches
Cooking surface size – 5 inches
The Bene Casa 6-inch fry pan with nonstick coating comes with a tempered glass lid, which is perfect for cooking 2 eggs, up to 3 scrambled eggs, or a single frittata/omelet, small breakfasts, and solo meals.
The handle is heat resistant, and the price is affordable.
However, this pan is made from aluminum with aluminum nonstick coating, so if you are worried about Aluminum leaching into your food, or about the nonstick containing Teflon, you may want to consider the best alternative below:
MSMK 7-inch nonstick frying pan: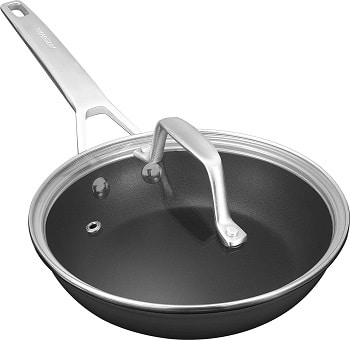 Diameter – 7 inches
Cooking surface size – 5.3 inches
While it does cost more and is one inch larger, the MSMK nonstick frying pan also comes with a glass lid, but the nonstick material does not contain PFOA, PFOA, or any other PFAS, and is highly resistant to scratching and peeling, while also being oven safe (up to 700 F!).
(See also the best Teflon-Free air fryers and non-Teflon waffle makers!)
The MSMK (4-inch sides!) is also compatible with all cooktops, including induction, and is made from a 4 mm stainless steel base, and a smooth bottom that won't scratch a glass stovetop.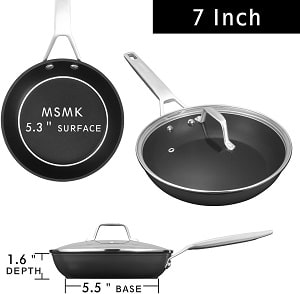 It is dishwasher-safe and comes with a lifetime warranty!
✅ Available on Amazon ($49)
👉 See the top 5 PFOA & PTFE free cookware brands you can trust – in 2022
3. Smallest Nonstick Fry Pan – GreenPan Mini Egg Pan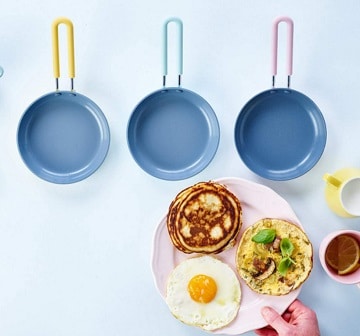 Diameter – 5 inches
Cooking surface size – 4.7 inches
GreenPan Mini Egg Pan (5 inches) comes with a healthier ceramic nonstick cooking surface, so you don't have to worry about Teflon or other toxic chemicals leaching into your food – even if you accidentally overly heat them.
Thermolon ceramic non-stick is made without PFAS, PFOA, lead, and cadmium.
The 5-inch model can perfectly cook one 1 egg, one hamburger, one toast, or any quick single-serving breakfast (egg muffin sandwich) or dinner (baby steaks/Quesadilla). You can also reheat leftover baby food.
The GreenPan mini skillet is oven safe up to 400 F, the silicone sleeve keeps the handle cool, and it is dishwasher-safe.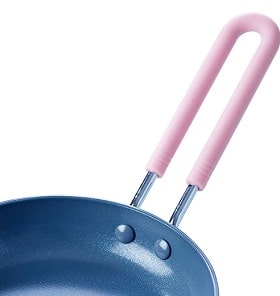 And, you can choose from 5 beautiful colors, including Lavender, Mint green, and pink. So cute!
However, this pan is not induction compatible, and you may need a smaller spatula to work with this egg pan size.
✅ Available at GreenPan ($9) and on Amazon (same price)
Do You Need to Oil a Nonstick Pan for Eggs?
Yes, you need to oil a nonstick pan for eggs, but you need much less oil than you would need for a cast iron or a stainless steel pan. You don't even have to cover the entire pan, just make sure there's a thin barrier of oil between the eggs and the pan.
4. Smallest Fry Pan for Induction – de Buyer Egg Pan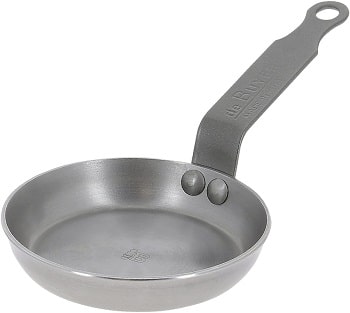 Diameter – 4.75 inches
Cooking surface – 3.75 inches
The de Buyer 4.75-inch egg and pancake pan is made from carbon steel (99% iron/1% carbon) and has no synthetic coating. This makes it ideal for induction cooktops, and it's the most eco-friendly and chemical-free frying pan on this list.
The beeswax finish protects the pan from oxidation, and seasoning is easy, while each use makes the pan more nonstick.
This is not just a cheap throw-away pan that you use for a few months, the de Buyer Mini Fry Pan is a carefully produced product that meets French quality manufacturing, but it may not be perfect for new home cooks.
✅ Available on Amazon ($27).
5. Smallest Fry Pan for Induction – Granitestone Mini Skillet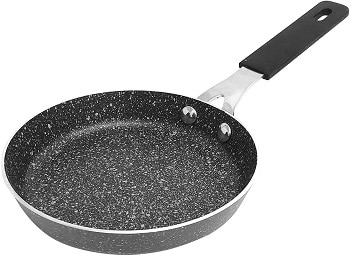 Diameter – 5.8 inches
Cooking surface – 5.5 inches
The small Granitrstone egg pan has a steady and even-heating Aluminum base, with a Teflon-free nonstick granite coating, and is scratch-resistant (compatible with metal utensils), dishwasher safe, and oven safe up to 500 F.
This affordable mini skillet has a cool-touch handle for safe carrying, and it's very easy to clean.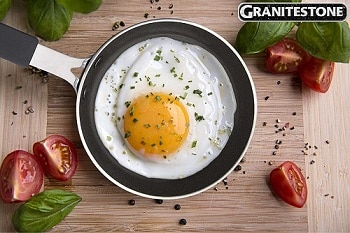 As with all granite cooking, we recommend cooking on medium heat or less. If it gets too hot – the food will stick. Also, this pan is not compatible with induction.
✅ Available on Amazon ($12)
6. Smallest High-End Egg Pan – Le Creuset Mini Skillet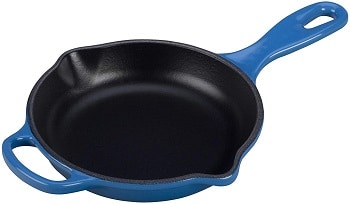 Diameter – 6.33 inches
Cooking surface – 6 inches
We were thrilled to find a mini fry pan made by the high-quality French manufacturer Le Creuset. The mini, 6″ inches enameled cast iron skillet is expensive, but is irresistible for design, quality, and function enthusiasts.
It holds 2 eggs perfectly, and the coating is nonstick when used properly. Unlike other cast iron skillets, the black enamel interior doesn't require seasoning.
It also protects the pan from staining, dulling, and scratching.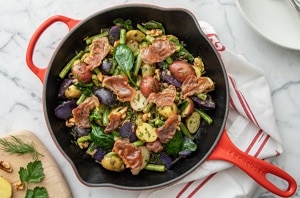 The Le Creuset gorgeous little pan is compatible with all cooktops and oven-safe up to 500°F and makes perfect sauteed vegetables, pan-fro potatoes, hamburgers, scrambled, and more.  It is dishwasher safe too.
✅ Available at Le Creuset ($136 with free shipping) and Amazon (same price)
How Do You Cook an Egg in a Mini Fry Pan?
When you cook an egg in a mini fry pan, you'll need to consider that due to their size, they heat up faster and retain heat better. We recommend adding a teaspoon of olive oil (or a little butter) to the pan even if it's a nonstick pan, turn up the heat to medium-low, crack the egg into the pan, and let it cook for around three minutes.
If you use an egg pan with a lid, the egg will need less cooking time.
Why do Eggs Stick to a Frying Pan?
Usually, eggs tend to stick to a frying pan due to a lack of cooking oil, high heat levels, or a low-quality egg pan. Proteins in the eggs form a chemical bond with the metal in steel skillets, and they can also stick on a nonstick skillet – when not used properly (for example, on too-high heat).
Make sure to follow the manufacturer's instructions for seasoning and cleaning to properly care for your mini fry pan, and you'll use it for years.
What size is a One-Egg Frying Pan?
One-egg frying pan size is usually 4 to 5 inches in diameter, with an even smaller cooking surface size. The smallest single-egg frying pan is the Lodge 3.5 inches cast iron skillet, which has a 3.3-inch cooking surface.
If you want to make 2 eggs, or a great omelet, choose a 7-8 inches mini skillet, which can also make the perfect pancake, single desserts, and solo meals, such as a tortilla.
What is the Most Common Size Frying Pan?
The most common size frying pan is a 12-inch skillet, which allows cooking, roasting, and searing for 3-5 people. A frying pan that is larger than 12 inches may have hot and cold spots, is too heavy to toss around food in, and is harder to clean and care for.
The second most common fry pan size is a 10-inch skillet, which is perfect for couples and smaller meals, is lighter in weight, and is easier to clean.
👉 See the 6 best 12-inch cast iron skillets of 2023
The KM Team