In this post, you'll find our Ozeri stone earth frying pan reviews and comparison with the Ozeri professional series Ceramic Earth frying pan.
Stone frying pans can easily withstand higher temperatures without burning off fumes into the air (which could be harmful to you to inhale) and are a much healthier option when compared to Teflon-made cookware.
Plus:
They provide you with non-stick properties and are free from harmful chemicals like PFOA and PTFE.
This post may contains affiliate links, at no extra cost to you.
Ozeri frying pans have a few different models when it comes to eco-friendly cookware.
Today we'll review their top two models:
Ozeri Stone Earth Frying Pan
Ozeri Professional Series Ceramic Earth Fry Pan
Ozeri Frying Pans Overview

Ozeri has four different series of cookware, all eco-friendly, and claimed to be toxin-free.
One of Ozeri's professional series of cookware is the Stone Earth Series, offering the same pan – in different sizes and colors.
Ozeri Stone Earth Frying Pans are Topped with Stone-Derived Coating
All the Stone Earth frying pans are primarily made of die-cast aluminum topped with a stone-derived coating.
This coating by Ozeri was originally made in Germany and is one of the best alternatives to Teflon-based items.
Are They Safe? 
Every frying pan in this series offers non-stick performance – without chemicals such as PFOA and PFOS.
The pans do not set off fumes when heated, and have a unique feature that allows you to cook food with less amount of oil (another health benefit).
However, we should note that the pans in this series are not PTFE-free. 
PTFE breaks down into simpler compounds when strongly heated, which can harm you.
This is why we recommend you to check out the Ceramic Earth Series.
Ceramic cookware is widely known to be toxic-free and the best alternative to Teflon. It also offers an even distribution of heat to prevent the food from being burned.
Design
The stone earth frying pans are available in three different sizes; 8″, 10″, and 12″.
All of these have been carefully designed and come with a firm, sturdy construction.
Thanks to the flat, magnetized bottom, the heat effectively distributes itself across the pan; this also makes the pans induction and oven safe, and the capacity to withstand around 450 degrees Fahrenheit.
Non-stick Properties
Thanks to the aluminum base with a layer of stone-derived coating, you can easily bake, fry, and boil your food on these – with very little oil.
The company's unique Stonehenge coating offers you non-stick properties that are better than Teflon-based cookware or stainless-steel frying pans.
The coating doesn't burn off quickly and does not produce any toxic fumes.
Heat Distribution
The heat is equally and evenly distributed on all frying pans this series includes, and prevents your food from getting burned while ensuring you get a meal thoroughly cooked.
Nevertheless:
The handles stay cool at all times so you don't need to worry about burning your hand while moving it around.
Cleaning
Ozeri advises against using a dishwasher to clean their frying pans, especially the ones in the Stone Earth Series.
On the other hand:
Stains can be removed quite easily and the pans can be wiped clean with a little bit of soap and warm water.
A good tip is to make sure the pan has cooled down before you start washing it to avoid it from being harmed.
Ozeri Frying Pans Reviews & Comparison
And now, let's compare the 2 most popular Ozeri frying pans – in 2022:
1. Ozeri Stone Earth 12″ Frying Pan Review
This 12" Stone Earth Frying Pan by Ozeri is one of the most popular and highly-rated non-stick pans in 2021.
It comes covered with a stone-derived, non-stick coating and provides you with complete germ-free and chemical-free use.
Moreover, this pan was listed as the best frying pan in Thinkcook's 2017 list of the best non-stick frying pans.
Ozeri Stone Earth Frying Pan Pros
The Stonehenge coating (eco-friendly and safe to use) – no PFOA, NEP, NMP, and APEO
The coating is scratch-resistant
Uniform heat conduction
A magnetized base that is nickel-infused for better conduction and heat transfer. The nickel helps a lot in preventing corrosion and decolorization of the pan.
Silicon heat-resistant handle that is thick and provides you with a firm grip while preventing your hand from burning while cooking.
Cons
Not PTFE-free
Small chance of the coating rubbing off into the food
✅ Price – best price onAmazon
Bottom Line
All things considered, the Ozeri Stone Earth Frying Pan is highly durable, non-stick, and free from most possibly harmful chemicals. It comes in various colors and is available in two more sizes; 8 inches and 10 inches. The prices vary according to the size as well as the color you choose.
2. Ozeri Professional Series 10" Ceramic Earth Fry Pan Review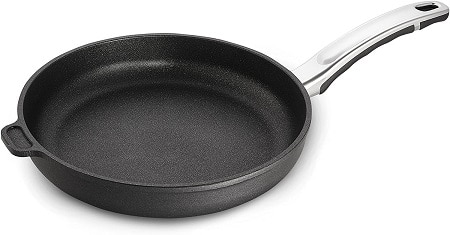 On the other side, we have Ozeri's Ceramic Earth Fry Pan, which is made with a hybrid coating of both stone and ceramic.
What does this mean?
It means that its non-stick heat conduction is better in comparison with the Stone Earth pan. Plus, there is no PTFE inside, while the quality of the pan is still not compromised.
Ozeri Ceramic Earth Frying Pan Pros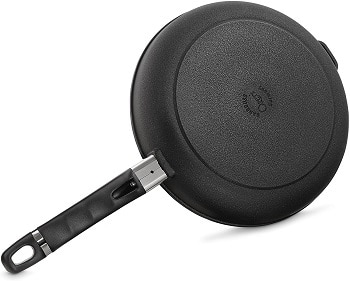 The hybrid coating here is hardened carefully to prevent and resist scratches. It has a beautiful rustic finish, and the best part – you can use your metal

kitchen utensils

with this pan.
No BPA, APEO, PFOA, NMP, NEP as well as PTFE. It is oven-safe so you can easily cook your meals without going through the hassle of switching pans in between.
Better heat distribution and a tough anti-scratch surface along with a firm and fixed handle that won't twist loose.
Can withstand heat of up to 500 degrees Fahrenheit
Handles stay cool at all times
Cons
The price is more than double than the Stone Earth pan
✅ Price – check today's price on Amazon
Bottom Line
All in all, the Ozeri professional Ceramic Earth frying pan is durable, convenient, easy to clean, and saves your time and energy with fast heat distribution.
Unlike the previous pan, this one has had no complaints about the coating peeling off, and it is PTFE-free.
Ozeri Stone Earth vs. Ceramic Earth
Though both of the products are good, when comparing the stone earth frying pan vs the Ceramic Earth, we believe the 10" Ceramic Earth Frying Pan is better than their top-selling model – the Stone Earth pan.
Both come with a unique layer of coating, but the ceramic coating keeps you safe from PTFE as well, which the Stonehenge coating does not.
Both have a similar temperature-bearing capacity and are induction-oven safe. The ceramic coating does not chip or peel off so you don't have to worry about it mixing into your food.
Where is Ozeri Cookware Made?
The Ozeri frying pans are made and assembled in China. Ozeri claims that the ceramic coating is formulated by the German company Weilburger, but it doesn't say whether this company supplies the ceramic itself, or just the formulation for the ceramic.
Who Owns Ozeri Cookware?
Ozeri is a brand affiliated with Commonpath LLC, located in Ventura, California, and imports household goods from overseas. It has existed since at least 2009 and has existed since at least 2009. Ozeri's president is William Huckestein.
Did we help you make a decision? do you have any more questions? let us know in the comments below 😊
The KM Team