If you're serious about juicing (for the crazy amount of minerals, vitamins, and antioxidants you get from it), or just realized how expensive is the bottled stuff – a masticating (cold press) juicer is a wise investment for you.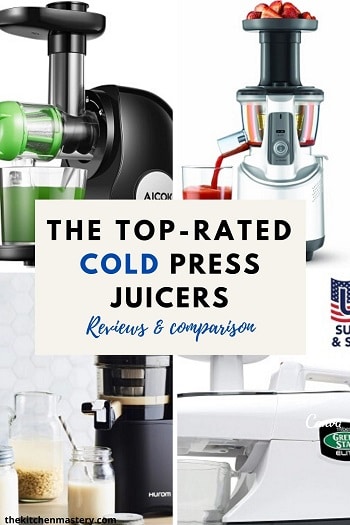 What is the best cold press juicer to buy?
In this post, you'll find the 8 top-rated slow juicers in 2023 (according to consumers) – to help you make the best of your juicer, and maximize output with no pulp and foam – with minimal oxygenation.
👉 In a Hurry?
See our top 3 picks in the comparison table below, then scroll to see our full masticating juicers' reviews.
No ads, reader-supported: This post may contain affiliate links, at no extra cost to you.
Cold Press Juicer vs. Centrifugal Juicer
My grandma used a potato masher and a strainer to make vegetable juice. These times are definitely over. 😉
A cold press juicer (also known as a masticating juicer/slow juicer) extracts the most juice and nutrients out of your vegetables, fruits, and superfoods.
It slowly crushes them and then presses the fruits and veggies for the maximum amount of juice.
Cold press juicers do not produce much less heat than centrifugal juicers, so this keeps more fresh nutrients intact. Generally, slow juicers extract significantly more juice than regular juicers.
This process is called HPP (High-Pressure Processing), and it maximizes the number of vitamins, minerals, enzymes, and anti-oxidants you get – and the taste is unmatched.
You can use a juice press machine to make a bigger batch and keep it in the fridge.
Freshness will last for up to 3 days!
How Do You Choose a Masticating Juicer?
A slow juicing process (via masticating juicers) is more gentle on ingredients and will extract all the goodness from your vegetables and fruits (unlike centrifugal or citrus juicers).
And, because there's no heat in the process – they will keep all the nutrients intact.
Here are the important features to look for in a good  masticating juicer:
1. Easy to use – juicers should be easy to use and clean up. When buying, make sure the product can be operated by children and comes with a reverse mechanism in case the juicer gets clogged up.
2. Power – Most slow juicers are, well, slow. That's the point. But if you need to juice greens and celery, you'll need a bit more power – look for 400W juicers and upwards.
3. Easy to clean – this is one of the most important aspects to look for.
When the juicer is not easy to clean, it may deter you from sticking to your daily juicing routine.
4. The size fits your kitchen – make sure the juicer is not too big to fit the space you want to place it in.
Some juicers are too big and end up sitting outside the kitchen (and forgotten).
5. Durability – you'd want your juicing machine to last as long as possible.
Vertical steel-made cold press juicers are known to last much longer than ones made from plastic.
6. Feeding Chute size – If the juicer comes with a wider feeding chute, you can add bigger chunks and get your juice ready much faster.
7. Juice Output – Look for the amount of juice that can be created with the juicer, and how dry the pulp is. The drier the better because this indicates that the maximum amount of juice was squeezed out.
8. Accessories – Some cold-press juicers come with strainers (of different sizes) that allow for various amounts of pulp and even smoothies. Some can also be used for making sauce, nut butter, and sorbet.
These have to come with cleaning brushes so you'll be able to keep them sanitary and properly cleaned.
👉 Need to blend on the go? See the 6 Best Portable Blenders in 2023!🥤
The 8 Best Cold Press Juicers 
Now that you know why cold press juicers are beneficial and what you need to look for, here are the best cold press juicers in 2023  – reviewed and compared.
1. Kuvings Whole Slow Juicer – Best Overall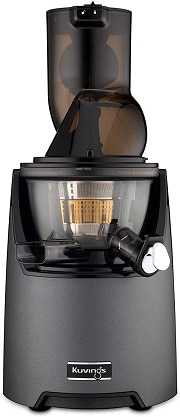 RPM – 50
Power – 240W
Size – 8″ x 9.5″ x 19″
Capacity – 0.6 liters
Warranty – 10 years
😍 Pros – has extra functions like a Citrus Module and Smoothie Module, a consistently high-performer, large feeding chute, can handle wheatgrass, nuts, and soybeans
😣 Cons – can be challenging to lock each component into place, expensive
✅ $599 on Amazon
Heavy research on the Kuvings Whole Slow Juicer (upgraded model – EVO820GM) has led us to conclude that it is a do-it-all slow juicer, and one of the easiest ones to assemble, operate, and clean (though you'll have to read the instructions carefully to maximize its benefits).
This upgraded masticating juicer requires less preparation (for example, quarters of an apple are small enough) and the pulp squeezes dry so maximum juice is extracted.
The Kuvings has a wide 82mm feed tube (which means less prep) yet easily liquifies thin ingredients such as green leaves.
This excellent machine comes with an extra-fine mesh strainer, and is great for juices, smoothies, delicate herbs, and baby food, and will squeeze out even berries.
3 different cleaning tools make this one a very easy-to-clean juicer, and with a 10-year warranty from a trusted (40-year) brand, this looks like a very wise purchase.
However, some users have complained that it's not very quiet.
Kuvings Pros
No mess, no hard work, no pushing at all, yield is fantastic
Easy to assemble and operate
Easy to clean
BPA free
Wide feed tube (less prep. time)
Safe – The flap gate system is designed to prevent children's small hands from getting inside the feeding chute
Cons
Relatively loud
Higher than average cost
✅ Available on Amazon ($599)
2. Omega Nutrition Center Slow Juicer – Best Value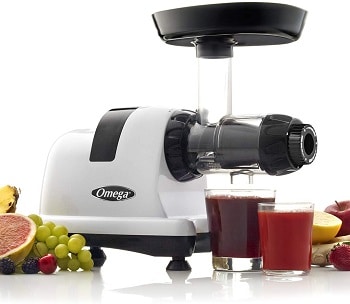 RPM – 80
Size – 6.5" × 14.5" x 15.5"
Power – 200W
Warranty – 15 years
😍 Pros – efficient in extracting juice from fruits, vegetables, and leafy greens, durable and high-quality build, dishwasher-safe parts, can be used to make nut butter, baby food, pasta, and more
😣 Cons – small feed chute, expensive, bulky size
✅ $249 on Amazon
The Omega stainless steel cold press juicer is a powerful device that can work for 30 minutes straight – without overheating – and is the most versatile juicer on this list (for the money).
It's called a "nutrition center" because it doesn't only make juice, it also turns nuts into nut butter, minces herbs and garlic, grinds coffee, and makes baby food and frozen desserts – quickly and efficiently.
All the juicing parts (except the motor body) are dishwasher safe, and it is easy to assemble and clean (with the automatic pulp ejection feature).
It is a great cold press juicer for leafy greens, organs, crisp apples, cucumbers, celery, carrots, beets, and more, and a durable and trustworthy homogenizing juicer as well.
Pros
Relatively low price
Durable and high quality – made with stainless steel
Quiet operation
Can handle all leafy greens, including wheatgrass
Versatile – serves both as a juicer and a food processor
Can be used with frozen ingredients
Easy to clean
Excellent warranty (15 years)
BPA-free
Cons
Users say it doesn't juice soft fruits well
Not the quietest
Heavy and takes up space
✅ Available at Omega ($249) and on Amazon ($249)
3. Hurom slow juicer (H-AA model) – 100% Pulp Control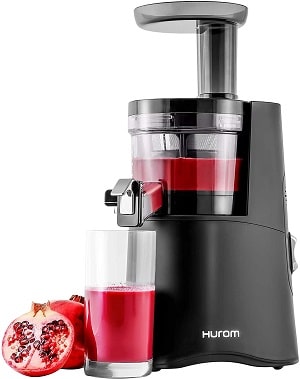 RPM – 43
Size – 7″ x 9″ x 16″
Power – 150W
Warranty – 10 years
😍 Pros – full taste and pulp control, most efficient masticating juicer, durable, compact, space-saving, handles wheatgrass, dishwasher-safe parts
😣 Cons – Expensive
✅ $399 on Amazon
The Hurom H-AA is the brand's flagship model, with a powerful motor that gives it an excellent ability to liquefy whatever you throw in the hopper.
This family-size juicer has a multi-armed spindle that twirls around and keeps things moving down the auger, and an outstanding ability to make the maximum amount of juice from any green leaves you throw inside.
With only 43 rotations per minute, this slow juicer doesn't get heated or oxidize your food.
It comes with 3 different strainers to control the amount of pulp you'd like:
The Fine Strainer – make pulp-free juice or nut milk, fruits, veggies, leafy greens, and nuts.
The Ice Cream Strainer – Switch out the fine/coarse strainer and spinning brush for the ice cream strainer. Take your choice of frozen fruit and continue as if juicing.
The Coarse Strainer – makes smoothies, pulpy juice, soups, frozen yogurt, and baby solids.
Hurom Slow Juicer Pros
Handles all leafy greens and hard foods, including nuts well
Highly versatile – serves as both cold press juicer and food processor
10-year motor warranty
BPA free
Quiet operation
Cons
✅ Available on Amazon ($399)
4. Dash Compact Cold Press Juicer – Smallest Juicer
Size – 5″ x 4″ x 14″
Power – 130W
Warranty – 2 years
😍 Pros – small footprint and space-saving, affordable, can make nut milk, easy to clean, affordable
😣 Cons – Overheats after making small-ish batches of juice, may struggle with harder fruits, vegetables, and leafy greens
✅ $99 on Amazon
The Dash Cold Press Juicer is the smallest and most space-saving juicer on this list (the base size is only 4 inches!), and it looks super-cute too (we love the aqua color, but you can find it in standard metallic grey/black as well).
It is perfect for small kitchens, or homes with 1-2 busy people because it is simple and easy to use, and it takes less than 30 seconds to reassemble it after cleaning!
Testing the Dash juicer has shown excellent juice yield, with mostly dry pulp coming out.
See an unboxing and juicing test that will show you why we love this one:
Pros
Comes with suction cups underneath that glue it in place
Perfect for small kitchens and saving counter space
Excellent juice extraction, very little pulp left
Easy to take with you on vacations and trips
Cons
Smaller than average yield
No pulp control
Preparation required
✅ Available on Amazon ($99)
5. Tribest Greenstar Elite Masticating Juicer – Best Twin Gear Juicer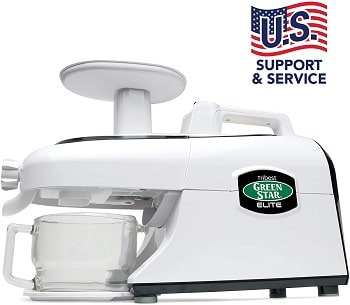 RPM – 110
Size – 18.5″ x 7″ x 12.5″
Weight – 17.2 lbs.
Warranty – 15-year
😍 Pros – Efficient juice extraction, high juice yields (demonstrated in tests), nutrient optimization, durable and sturdy
😣 Cons – not the easiest to clean, not the most stylish design, slower than average
The Tribest Greenstar cold press juicer is made with stainless steel and bio-ceramic magnetic twin gears that help preserve the living enzymes and vitamins in your fresh juice.
The slow rotating speed prevents oxidation of the fruit and veggies and yields the maximum amount of juice (while keeping the great taste), and the reverse function prevents jamming.
The Tribest masticating juicer includes homogenizing accessories that make it also a food processor and allow you to make sorbets, salsa, nut butter, and more.
This versatile juicer comes with 4 different screens:
The fine screen  -for minimal pulp
The coarse screen – more pulp
The homogenizing blank – for basic food processing)
The breadstick set – for breadsticks and rice cakes
👉 When you order it from Amazon, it comes with cleaning brushes and a unique scraping tool that allows for easy and fast cleaning.
Pros
High blending power
Versatile with 4 different screens
Adjustable pressure
Easy to assemble
Can work on both 120V and 240V
The highest yield of juice (according to users)
A 15-year warranty and a great customer service
Cons
Needs to be regularly cleaned for smooth operations, not easily cleaned if you are in a hurry
✅ Available at Walmart ($599), and on Amazon ($599)
6. Breville Big Squeeze – Best Compact Juicer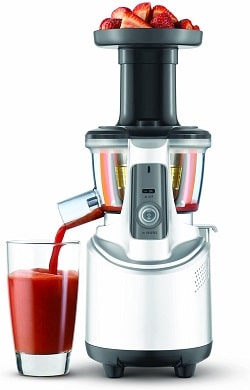 Size – 8.5″ x 7.5″ x 16″
Weight – 14 lbs
Warranty – 1 year
✅ $699 at Breville
The Breville Fountain Crush Slow Juicer is a compact juicer that will fit any average counter and is easy to clean – thanks to the filter basket (pour a cup of water in the feed to clean – without disassembling).
It is also extremely quiet!
The cold spin technology makes the juice flow through the cutting disc to control the increasing rise in temperature, and the width of the feeding chute is larger than average (3 inches), which allows you to insert larger pieces of your food – for more juice in less time.
It has a very quiet (yet powerful) motor that allows for great-tasting and nutritious juicing – without any heat in the process.
Ultimately, it is the best masticating juicer for beginners.
However, hard foods need to be cut and prepared before going down the juicer, otherwise, it will clog.
Breville Masticating Juicer Pros
Quiet yet powerful motor
Large feeding chute (3 inches)
The pulp doesn't go through the chute
Cons
According to Breville, this juicer is not BPA-free (but BPA is released only with heat, so it's not so relevant)
Users claim it's not easy to clean
✅ Available at Breville ($699), and on Amazon
7. Aicok Slow Masticating Juicer

Best Budget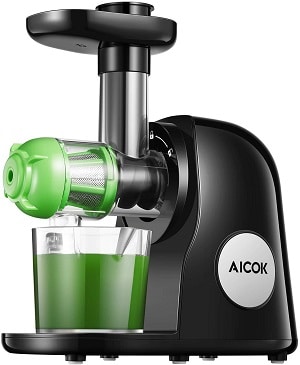 RPM – 80
Size – 16″ x 8″ x 11.5″
Power – 150W
Warranty – 3 years
😍 Pros – easy to clean, affordable,  can effectively juice dense fruits and vegetables, citruses, and leafy greens
😣 Cons – mixed performance, small feeding chute
✅ $50 at Walmart
The Aicok slow masticating juicer is the easiest cold press juicer to clean on this list, thanks to its reverse function.
When we tried it, it took less than 2 minutes to clean up all parts, and most parts were dishwasher safe as well.
The relatively low price is attractive as well.
(See the top-rated compact dishwashers for small spaces – in 2023)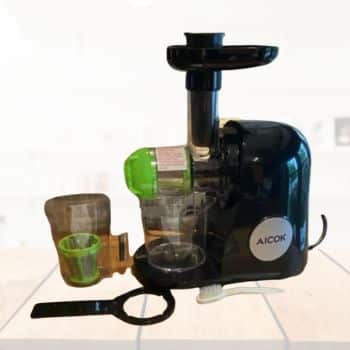 The maximum juice amount is achieved via the 7-part spiral screens and a slow 80 RPM masticating and grinding, that leaves no pulp inside your healthy juice.
This UL & ETL-certified cold press juicer is relatively quiet (less than 60 decibels) and is very easy to assemble and operate.
Aicok Slow Juicer Pros
Takes less than 2 minutes to clean
Easy to assemble, disassemble and operate
Made with safe PMMA material
Comes with a brush for cleaning
Takes 5 minutes to get a full cup of juice
Cons
Can not handle frozen foods and ice
✅ Available at Walmart ($50)
Is it Cheaper to Juice Yourself?
Juicing at home is more labor-intensive, but works just as well, and if you drink juice more than twice a week – it will be cheaper to juice yourself.
8. Ninja Cold Press Juicer Pro 

Easy to Clean
Size – 14″ x 7″ x 14″
Power – 150W
Warranty – 1 year
😍 Pros – affordable and compact, quiet, customizable pulp levels (3 filters), reverse function for greens and carrot pulp
😣 Cons – Undersized chute, occasional difficulty with leafy greens, may produce foamy vegetable juice and wet pulp
✅ $80 on Amazon
The Ninja Cold Press Juicer Pro is an upgraded model, which is 3 times quieter than the previous model.
Consumers say that it produces the same quality of juice as other high-end models, but is much easier to clean (all parts are dishwasher safe) and operate, and the price is less than average.
The cleaning aspect is important for people who plan to juice every day, especially if they are always in a hurry (like most of us).
It comes with a brush for those hard-to-reach areas as well.
It's easy to control the pulp amount with the 3 pulp filters – no pulp/some pulp/lots of pulp, and the one-touch start/stop and reverse button.
Since this is an easy-to-assemble and operate juicer – we recommend it to beginners who don't want to be discouraged from a healthier lifestyle.
Pros
Juices leafy greens
Easy to assemble, operate, and clean
Budget-friendly
Cons
Slower than other juicers
Struggles with small leafy greens such as parsley
Can run up to 12 minutes before heating up
✅ Available on Amazon ($80)
What Vegetables and Fruits Can Be Used in a Cold Press Juicer?
Slow juicers work best with hard foods, such as fuji apples, kale, carrots, beets, spinach, cucumbers, celery, kale, wheatgrass, ginger, turmeric, etc.
It is recommended to alternate between harder and softer produce to ensure a smooth juicing experience.
Some fruits and vegetables, such as bananas and avocados, are too soft to be processed in a cold press juicer.
How Do You Juice Leafy Greens?
Juicing leafy greens (like kale and spinach) is tricky because they are usually lightweight and thus hard to pack into the feed chute.
The solution is to stack the leaves and then bundle them tightly as if you are about to chop them.
This way they'll fit best into the chute and be easier to juice.
Masticating Juicer vs. Centrifugal Juicer
Centrifugal juicers (fast juicers) work by shredding the fruits and vegetables with blades and then spinning at a high speed to separate the pulp and juice.
Slow or masticating juicers crush and grind the foods to extract the juice, then filter out the pulp.
They spin slowly, to prevent heating and oxidation of the fruits and vegetables, and to extract the maximum amount of juice.
How Long Does Cold-Pressed Juice Last?
As a result of zero-heat extraction, cold-pressed juice preserves enzymes and vitamins for up to three days.
However, according to experts, after day one, the juices lose about 40% of their nutritional value.
Cold-pressed juice is highly perishable and has a short shelf life.
The shelf life of cold-pressed juice depends on various factors such as the pH level of the juice, the preservation method used, and the type of fruit or vegetable used.
Masticating Juicers Features Explained
What is RPM?
RPM stands for Rotations Per Minute.
This term tells you how many times the juicer rotates per minute.
It is assumed (though not proven) that a slow rotation can prevent oxidation of the fruits and veggies and keep more nutrients intact – than fast, centrifugal juicers.
What is a Homogenizer?
Homogenization is the process of reducing a substance to extremely small particles and distributing it uniformly throughout a fluid.
What is a Twin Gear Juicer?
A twin-gear juicer (also known as a triturating juicer) can rub, grind, and pound fruits or vegetables into fine particles.
They extract much more nutrients than single-gear juicers and can be used to make sorbets, nut butter, and more.
Happy green moments, 
The KM Team